2/9/2008
Anticipation is a curse. It's like watching the hands of a clock slowly and methodically work their way to the magic hour. Although I know the moment I'm waiting for will come its the lack of control I have over time that tortures me. A clock is devoid of emotion and is impervious to the excitement and impatience that anticipation brings to the table. But I'm not a machine that is run by gears and bolts, rather I'm run by emotion and thus subject to the hold that anticipation has on my emotions.
As a child in grade school I can recall watching the hands of the clock move in breathless anticipation as I would wait for the magic hour of 3:00 to arrive when I would be released from my bondage. And sure enough when that moment would arrive, the anticipation of being able to leave school would be released and I would run out the doors into the afternoon sunlight and immediately be confronted with the aftermath of anticipation, which of course is the beginning of the countdown until I would have to go back to school. As an adult I have found not much has changed in my up and down relationship with anticipation.
For the last five months I have eagerly been anticipating the trip of a lifetime, almost a month on the road in Europe, working my way through Italy into France. A 24 day excursion beginning in Rome and ending in Rome with 16 magical cities in between. Five long months of anticipation, of watching a seemingly endless clock slowly make its way to this point. The point being sitting in the waiting area of Gate D1 in the SLC airport awaiting the departure of a redeye flight to New York City and a ten hour layover until my flight to Rome. My bags have been checked and my ticket is in hand and the anticipation complete. The long wait is over; the countdown to the end of my trip has begun.
This is why anticipation is curse; as soon as the glass is full it immediately begins to empty. Sadly the conversion rate of anticipation to real-time is much like the US dollar compared to the Euro, completely unbalanced. The 24 days I have in Europe will surely pass much quicker than the 150 days I've waited in anticipation. The idea for the trip spawned five months ago after during a nine day trip I had taken down to the Yucatan Peninsula to visit the different Mayan sites.
The nine days represented the longest I have been on a trip by myself and the also the first time I didn't just stay in the same place the whole time. During my previous visits to the Yucatan I spent the entire time in the same place, soaking up the sun on the beach. On my most recent visit however I decided to rent a car and tour the Yucatan and visit as many Mayan sites as I could. It was nine days of paradise and adventure that opened up my mind to what it meant to feel free. Speeding down a lonely Mexican highway, thousands of miles away from my home, with a vibrant, lush green jungle on either side of me, sent a jolt of lightening into me and I realized what I had been missing by just sitting on a beach.
I realized what the difference was between a trip and a vacation. Sitting on a beach for a week is a vacation, exploring the world is as trip, I decided I wanted to take more trips. On the long drive back to Cancun to catch my return flight I relived the wonder of all the different things I had seen, Chichen Itza, Tulum, and Palenque, just to name a few, and I knew that I needed more. It was though I had tasted sugar for the first time and realized that one taste wasn't going to be enough, I need more of the sweet stuff in my life. With the sugary, sweet taste of the Yucatan still on the tip of my tounge I begin to plant the seeds of an extended trip to Europe. Back in the summer of 2000 my parents took me on a two week whirl wind visit through France and Italy.
At the time I wasn't mature enough to have appreciated the way I should have and my memories of Europe had long since faded into a grainy black and white. I decided I needed to go back and revisit the place I had seen and forgotten, and then add some new places to visit as well. I desperately wanted to have the same memories of Paris and Rome that I knew I was going to have of the Yucatan Peninsula. My visit to Europe had been more like an excursion, I was no more than a jaded tourist, I wanted to explore Europe the same way I had just finished exploring the Yucatan. I wanted to experience the sweet taste of freedom on a different continent. I began planning the trip the week after I got home from Mexico, the hardest part was going to be trying to get almost a month off from work. I work at a job that gives roughly four weeks of vacation, but it was going to be a stretch to ask for all of it at one time.
However a thoughtful boss, and fours years of tenure was just enough to get the time I needed. Plus it helped I asked almost four and half months in advance. It turned out that asking for the time off was the easiest part of the whole process. To make this trip work, it had to fit into the extremely tight budget I was working with. A budget that was solely dependent on my tax refund. My last three tax refunds had been an average of $2700 so that sum represented exactly what I had to work with. I had earned just enough frequent flier miles through Delta to qualify for a free flight to Rome, but my options on departure were limited. By limited I mean I my only option was to leave in Febuary and come back in March.
I had initially planned on three weeks, but suddenly my trip was extended by almost another week, fine by me but a strain on the budget. With the flight taken care of lodging became the next issue. I'm a pansy, I was raised Middle Class and I'm used to the comforts that my upbringing afforded me, but there was no way I was going to be able to afford 24 nights at hotels. The cheapest hotels I found online in cities like Rome and Paris bottomed out at just over $100 a night. Hotels were simply not an option. So I reluctantly looked towards the possibility of hostels.
I had never stayed at a hostel and the thought of sharing rooms with strangers and having to use shared shower facilities as well was just not appealing but it was sink or swim. I decided to at least test the water. I was referred to a website called hostelbookers.com that enabled me to see the prices of hostels and also be able to reserve them in advance. At an average of about $22 a night the price was right and my standards quickly lowered. From there the rest of the trip fell into place and the anticipation set in. The proverbial clock had been officially winded all I had to do now was wait it out and try not to be impatient.
Everyday I woke up with smile, it was though I had a flower beginning to bloom inside of me, I just had to be patient and I would receive my reward of a trip of a lifetime. My patience finally paid off and so here I sit waiting for my Zone to board the plane, my excitement already tempered by the realization that with each passing minute my trip of a lifetime is already coming to a close. But for the moment I'm at peace as I think again upon the cities of ageless wonder I'm about to visit. My senses tingle as I think about seeing the glorious city of Rome once again, I think of walking through the long reaching shadows of the Coliseum toward the eloquent beauty of the Roman Forum.
My heart is warmed by the thought that there are many more cities besides Rome that I will have the privilege to walk through and temporally call my own. Before my 24 days are up my eyes will seen not only Rome but Naples, Positano, Capri, Pompeii, Florence, Pisa, Cinque Terre, Venice, Nice, Monaco, and Paris. So although the clock is already ticking towards the end of my journey it ticks in rhythm to the beating of my heart. The flower within had finally bloomed.
2/10/2008
Red eye flights are aptly named, as I have found on the numerous overnight flights I have taken over the years. No matter how carefully I plan my sleeping pattern around a red eye flight it's never enough and I'm left feeling like I'm sleep walking through the next day. My flight from SLC to NYC was no exception. I landed at JFK at 6:00 ÀM with high hopes as I felt a rush of adrenalin as I walked off the plane, and why not I had quite a layover planned for myself.
When I booked my flight five months earlier I purposely chose the flight the arrived in NYC at 6:00 and left for Rome at 5:00 PM leaving me with an 11 hr layover. Some people would look at that as a sign of insanity; I looked at it as a daytrip into Manhattan. However I had only a loose understanding of exactly how to get to Manhattan from JFK and then from there to the Empire State Building. So this is why I got of the plane with such excitement, I had no idea what to expect in terms of how long the travel time between JFK and Manhattan would be and how long I would have to wait in line at the Empire State Building to go up to the Observation Deck.
In my mind I have always envisioned NYC as a complete and total madhouse, teeming with people forming endless lines for everything. I figured 11 hrs would barely be enough time to go to the Observation Deck of the Empire State Building and get back to the airport. It turned out that I completely underestimated the effiency of one of the largest cities in the world. It took me all of 45 min to catch the Air Tram to the Jamaica Station and then catch the Long Island Rail Line into Penn Station. I had figured I would get to Manhattan by 9:00 but instead I was there by 7:00.
This was an unexpected surprise, a surprise that was only surpassed by two other events, how quickly I got up to the Observation Deck and how helpful and friendly the vast majority of New Yorkers were that I came across. As open-minded as I've always considered myself I must admit I allowed a Simpsons episode to shape my opinion of New Yorkers. One of the most popular episodes of the Simpsons is when Homer has to go to NYC to retrieve his car. The entire episode portrays New Yorkers as boorish and rude with an obnoxious accent.
It turned out in my experience that the Simpsons were right about one thing, the accent, otherwise I was treated with courtesy and almost everyone I asked help from gave it with a smile. It was through the help of several friendly New Yorkers that I was able to arrive so quickly at Penn Station. However that just proved to be one of the many surprises of the morning. As I exited Penn Station I was pleasantly surprised to find out that Penn Station was connected with Madison Square Garden. For many sports fans Madison Square Garden is a Mecca, some of the biggest sporting events of all time, from Ali to a limping Willis Reed have taken place in that arena. But I was even more surprised by how empty the streets where. Granted it was 7:00 on a Sunday morning but I had always assumed NYC was one big never-ending traffic jam. Instead, the streets were relatively free of cars with the exception of a few taxis.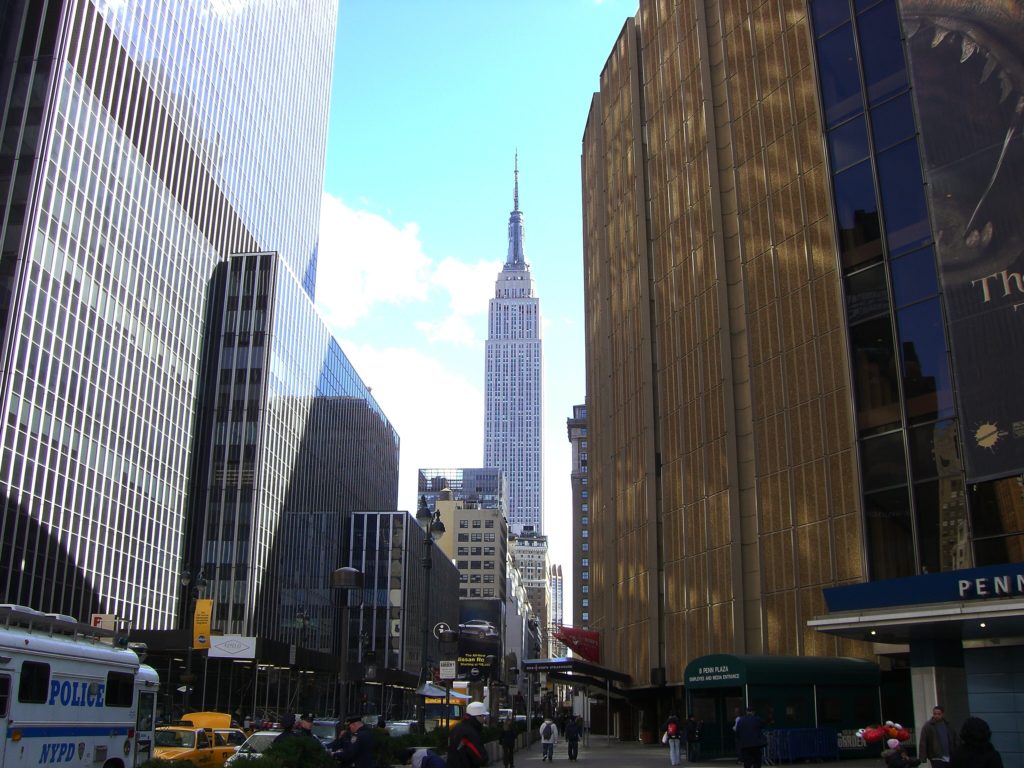 A bigger even better surprise awaited me as I came to the corner of 34th St and 7th Ave and looked to my right and there it was, the Empire State Building rising majestically into the early morning sky. I stumbled towards it simply awestruck by its size and simplistic beauty and the added shock of seeing it so unexpectedly. As I walked towards it I happened upon a rather surreal moment in which I became aware that there were no cars on the streets and no pedestrians in sight and for the briefest of moments even the sounds of the city seemed muted and it was just me and the majesty of the Empire State Building sharing a private moment One I'm sure I shall never forget.
Who could have imagined that even for the briefest of moments I would have the presence of the Empire State Building to myself in one of the busiest cities in the entire world? And the hits kept on coming, as I walked into the lobby of the ESB I found it empty as well with the exception of a receptionist at the information desk who informed me that I would be first in line to go up to the observation deck as soon as it opened up. I had heard the horror stories of people having to wait hours in line to take the elevator up to the observation deck but today this was not the case. Not only was I going to be the first person admitted, I was only going to have to wait 15 minutes and thus have the observation deck to myself for about five glorious minutes before the barbarian hordes of people carted in by tour buses, invaded my space.
But for those precious few minutes I lorded around the deck looking out into the vast cement jungle that is NYC and felt like I was on top of the world and some ways I really was. Funny how fast expectations can change in a New York minute. After about an hour on the Observation Deck I could no longer taking the violent, whipping winds that swirled around and through me. I started feeling claustiphobic from the now cramped conditions from all the tourists that seemed to fill every little space available and so I decided to leave. However it was only 9:00 and I was a full three hours ahead of schedule with nothing else planned. I decided to go for a walk in the general direction of Times Square and Central Park which I had observed from the Empire State Building.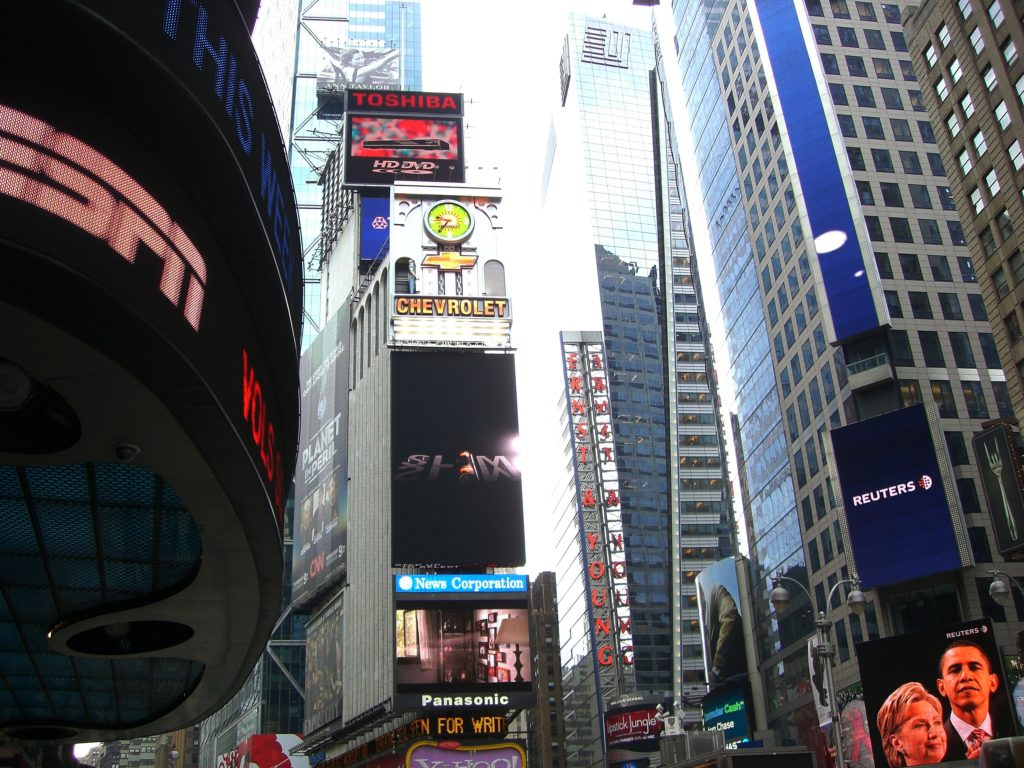 It was 10 blocks to Times Square and another 10 blocks from there to Central Park. But in a vibrant, pulsating city like New York every block has its own identity and the walk seemed more like a tour. I walked passed derelicts muttering to themselves and pizza joints filling the air with the heavy scent of tomatoes and bread. I could hear the grates on the sidewalks rattle as a train rumbled by below. There was so much to see, so much to hear, my senses were already overloaded. I didn't believe anything could top what I had already seen. But then again I had never seen Times Square and now that I have I know better.
I saw bright neon lights that were on display even when competing with the light of day, billboards that covered entire sides of buildings. There were TV Screens the size of billboards advertising everything and anything. I read the latest news updates scrolling digitally around buildings. It took all of my concentration to not walk out into the middle of the now busy streets as my attention was completely captured by the digital madness around me. So it was a very pleasant transition to ease from the lights of Broadway into the serene ambience of Central Park.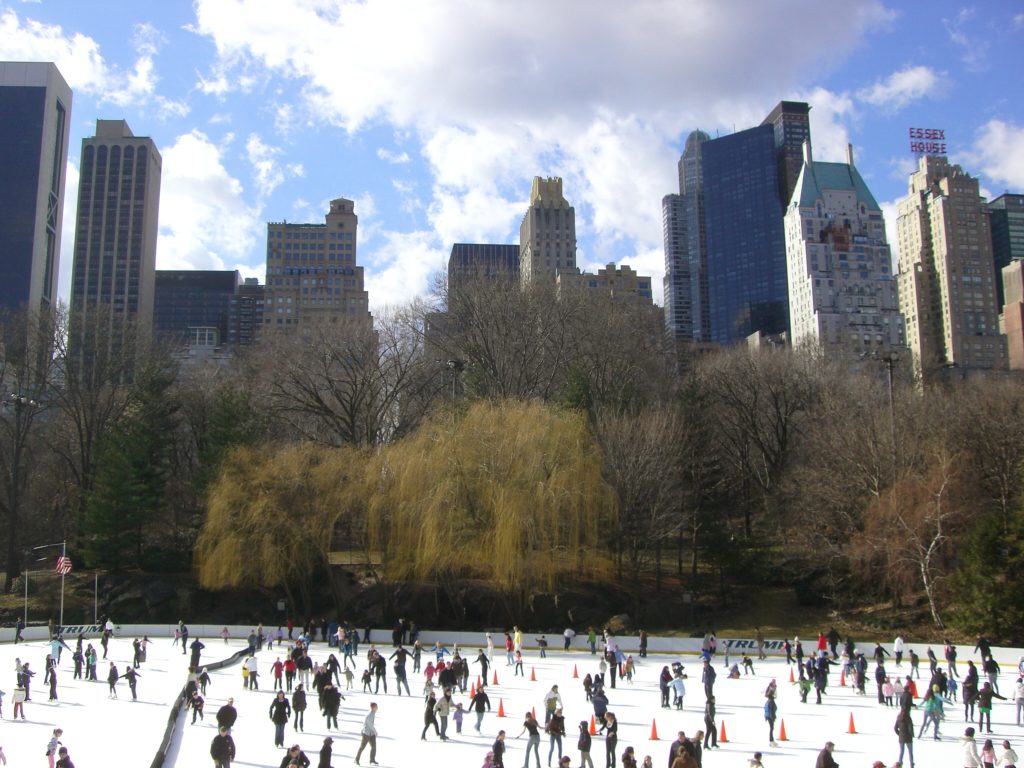 I stand with my mouth wide open as I take in the buildings that tower over the park and surround it like a gate. As I walk farther into the park only the top half of the buildings were visible through the leafless trees. I then stumbled upon the final gem of my day excursion into NYC. I came upon an ice rink surrounded by the trees of the park with the top of the buildings peeking in over the trees as though spying on the ice skaters below. It was a scene I had seen in movies but to see it in person sent shivers down my spine and not because of the chilly weather.
What was supposed to be a quick, difficult trip into the city to see the ESB turned out to be an entire vacation in itself. I thought about the irony of my initial expectation for the day as I walked slowly down fifth ave munching on pretzel in my hand as big as a baseball glove and for once in my life I was glad to be wrong. My first full day of my trip hadn't even come to a close and already I was filled with wonder and excitement and I hadn't even arrived in Italy…23 more days to go….I have no idea what to expect.
2/11/2008
When in Rome, do as the Romans do. That's how the old saying goes anyway. Trouble is that the Romans are half crazy, at least in how they drive and cross the streets. But at least they are on the same page with their insanity. As crazy as the Romans drive at a breakneck speed through the tight and crowded streets, the way the Roman pedestrians cross the streets is as equally insane thereby bringing balance to it all. So as much as I wanted to do as the Romans do, I just couldn't bring myself to walk straight into the street while talking on my cell phone and somehow timing the distance in between oncoming cars and having the foresight to know which cars will brake and which cars will just keep on coming.
That's how you tell a tourist from a Roman on the street. Romans cross the street, pedestrians do the a little dance of one foot off the curb and then back up again, mesmerized by the insanity of the streets and to paralyzed by fear to attempt crossing them. As I left the Rome Termini this was the world I stumbled into, one of wonder and fear. But for me wonder overcame fear and I attacked the city with the zeal of a child on Christmas morning. One thing I had going for me was that this was my second visit to Rome so after awhile I got used to the madness of the streets and forgot my fear. Visiting Rome for the second time is like waiting impatiently for Christmas to arrive, keeping with the metaphor, even though you know what your getting you still can't wait to open your presents and the excitement is always genuine.
As I hurried down Cavour Street toward the Coliseum I was filled with that kind of excitement. I don't like using the Metro system when I'm in Rome, I prefer walking and seeing the city on foot. This works being that it's such a compact city and addtionally every street has a personality of its own. Rome is a city that's meant to be walked. Every street has something new for the eye to see, there are shops jammed into impossibly small spaces, and sidewalks literally teeming with people. The heavy scents of pasta and spicy marinara sauce fill the air and the sugary temptations of the many gelato shops compete for my attention. The streets are narrow with buildings flushed right up against them. It's as though I'm in a maze as I make my way through the city and the Coliseum is my reward at the finish. Although I don't really remember any street names I do remember what they look like and I know exactly which one to turn on off from the street I'm on.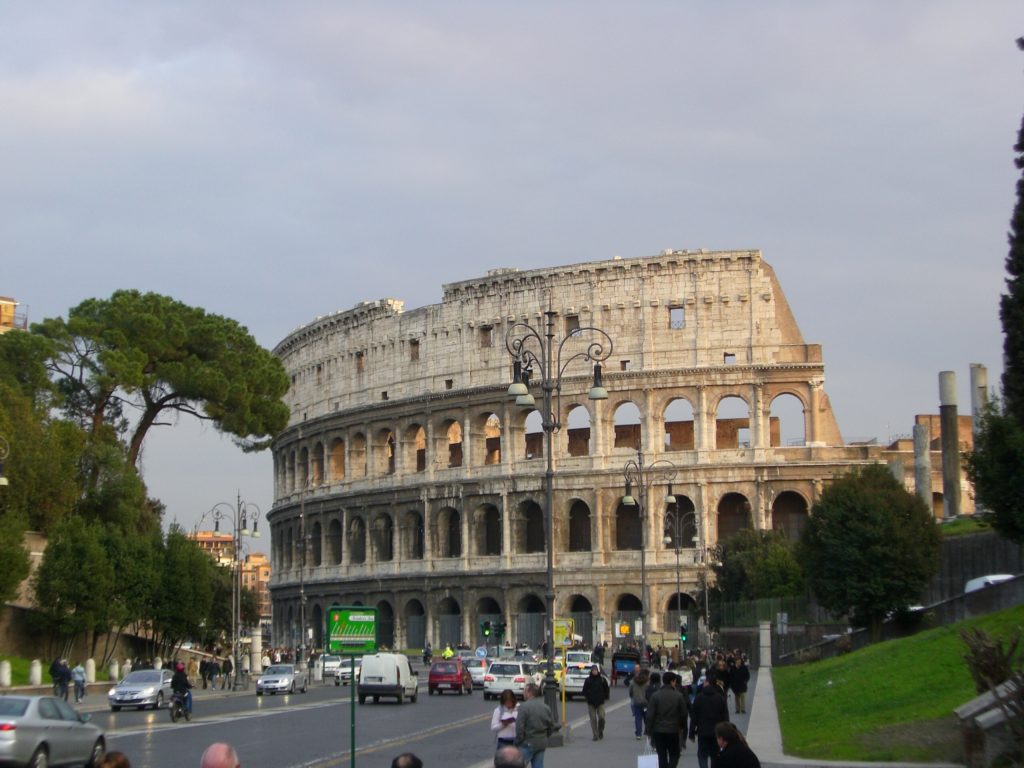 I keep my eyes open and my mind sharp and sure enough I find the street to my left with the Coliseum looming at the end, its shadow cascading down, throwing the entire street into shade. As I walk down the street my mind is in a tailspin, seeing the Coliseum sends a jolt of realism into my consciousness, I'm actually in Rome! The magic of it all leaves me feeling like I'm still in the middle of a wonderful dream. However I'm awakened quickly from that dream as a group of about 50 teenagers walk past me towards the entrance of the Coliseum. I have one of two choices, I can speed walk past them and make it look natural or I can just swallow my pride and run past them and look like a jerk but guarantee I won't be behind them in line.
Much like most of my choices in life I choose the jerk route and ran past them. I didn't come to Rome to wait in line behind 50 French teenagers. Once I get through security I whip past the long line of people waiting to buy tickets, a line that wrapped around the inner corridor of the Coliseum. Unlike all the other people in those lines I had purchased my ticket online, allowing me to bypass the seemingly endless queues. It cost a few extra dollars but well worth the added expense as I was able to go right through the main gates. At last I'm in the Coliseum, a world within a world. I do my best to block out the hordes of people around me and revel in the mystical ambience of one of man's greatest creations. The history of the Coliseum swirls around me. Of course by history I mean all the fight scenes from the movie Gladiator.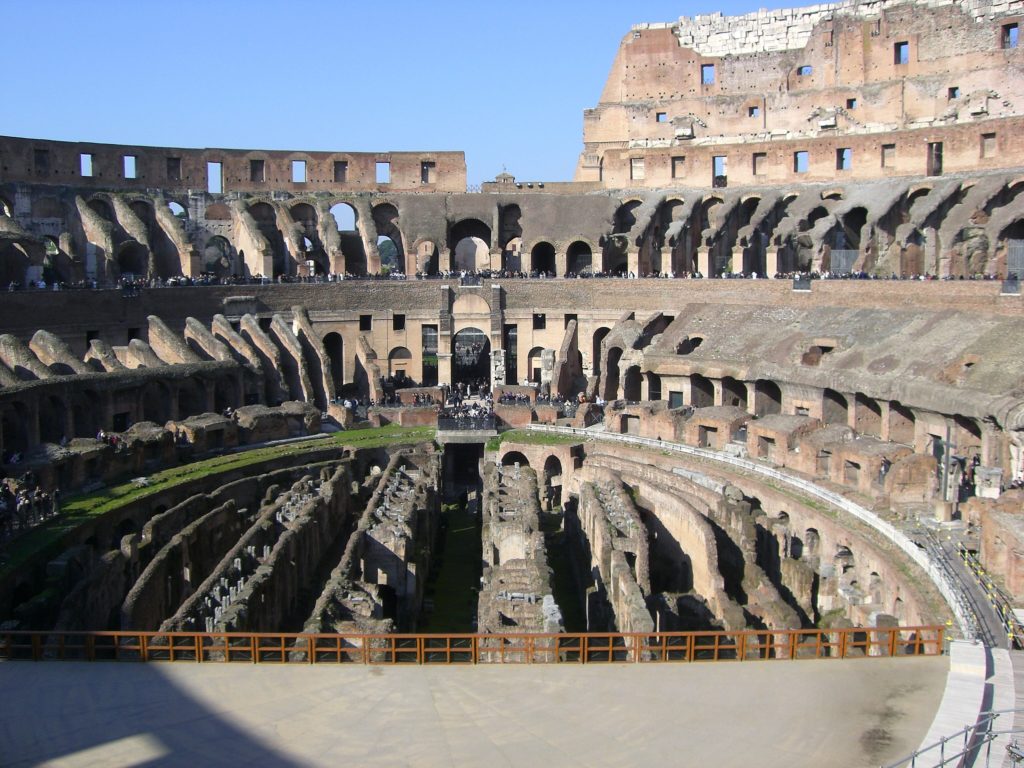 I can almost visualize that recreation of the battle of Carthage and the scene where Russell Crowe initially defies the emperor by turning his back on him. I try to imagine the roar of 50,000 bloodthirsty Romans. The floor of the Coliseum is uncovered and I can see the maze of the underground where the gladiators awaited their fates. I decide I should probably not base my entire historical knowledge of the Coliseum from the movie so I roam around until I find a group with an English speaking tour guide and I listen in. Why pay for what I can get for free? After all I'm on a budget.
After I soak in all the free history lessons I can handle I decide its time to leave the Colisuem and make the trek up to Palatine Hill. At the entrance to Palatine Hill I run into some trouble as they don't want to take my entrance ticket which is the same ticket I used to get into the Coliseum. However it was a ticket I printed out at home and I assumed that it included Palatine Hill as most tickets to the Coliseum do. Initially the ladies at the gate tried to explain to me in Italian why it wouldn't work while I tried to explain to them in English why I felt it should. But fortunetly for me they realize just before I realize that it wasn't worth arguing over a 4 euro difference, but again luckily for me they realized that just before I did and they let me in for free, which was great because I needed that 4 Euro for a Coke. That's right the vendors here have the nerve to charge 4 euro for a bottle of Coke and I of course have the nerve to pay it thereby completely the vicious circle.
Once through the gate I attack Palatine Hill with great vigor, after winning a battle of wits with those Italian ladies I felt full of confidence that this time around I wasn't going to give up on finding the Circus Maximus like I did the last time I visited. Part of the reason I gave up so easily during my last visit was that I ran into the part of Palatine Hill that overlooks the Roman Forum and I was completely entranced and as a result I forgot about finding the Circus Maximus. But on this occasion I was determined to find it and I did, without much effort, so all that vigor I had going for me went to waste. However I was still rewarded with a view of just about the largest track and field event I have ever seen.
What used to be a track for great chariot races was now reduced to a place to run laps for the locals. After I tired myself out watching the people running around the track I wandered down into the Roman Forum and turned on my imagination. The Roman Forum is like an incomplete jigsaw puzzle, all you need is the missing pieces and you have the full picture. But since I didn't have the missing pieces I used my imagination to recreate the splendor of what once was the Roman Forum. It didn't take too much creativity to imagine what the building would have looked like fully intact. What was stunning was how big they must have been, just from what remaining columns still stood I could tell that the buildings must have almost blocked out the sky with how big they were and how close they were to each other. I could almost imagine myself walking around in a toga with leaves in my ears and sandals on my feet.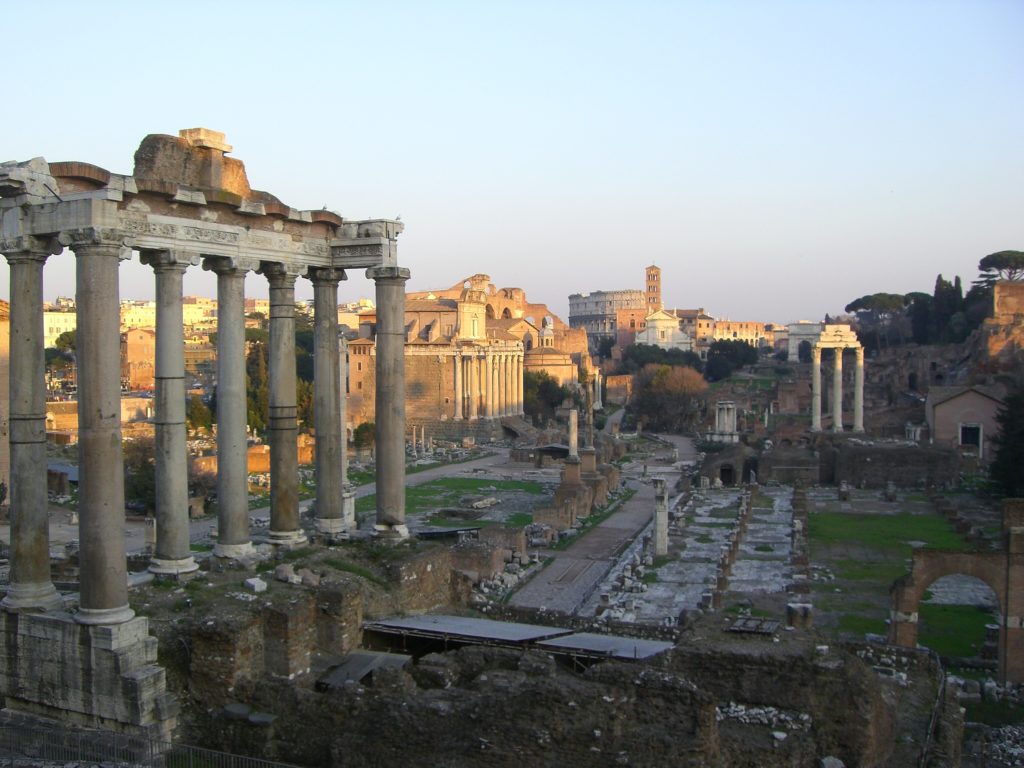 Which actually wasn't a stretch since back I my younger days I enjoyed my share of toga parties, but here, walking through the remains of the great Roman Forum the whole idea of wearing toga's seemed better placed. The Forum was the one place I remembered the most from my previous visit to Rome, while the Coliseum certainly is more imposing, the Forum has a more romantic feeling to it. It was at one point the heart and soul of ancient Rome and here I was walking among the ruins breathing in the past. By the time I reached the other end of the Roman Forum I realized I had completely lost track of time. I decided to go on to the next phase of my walking tour of Rome. I walked up some stairs and past the statue of Marcus Aurelius and took a gander at the Emmanuelle Vittorio Monument.
As usual they were fixing something so there was plenty of scaffolding to keep me from getting the full effect. However it was still a treat to walk up into the monument and see the eternal flame and the guards who stand at attention. Normally I would use the opportunity to tease them but unlike the British guards who stand at attention without any visible weapons, the Italian guards each have machine guns pointed straight ahead and so I left them alone.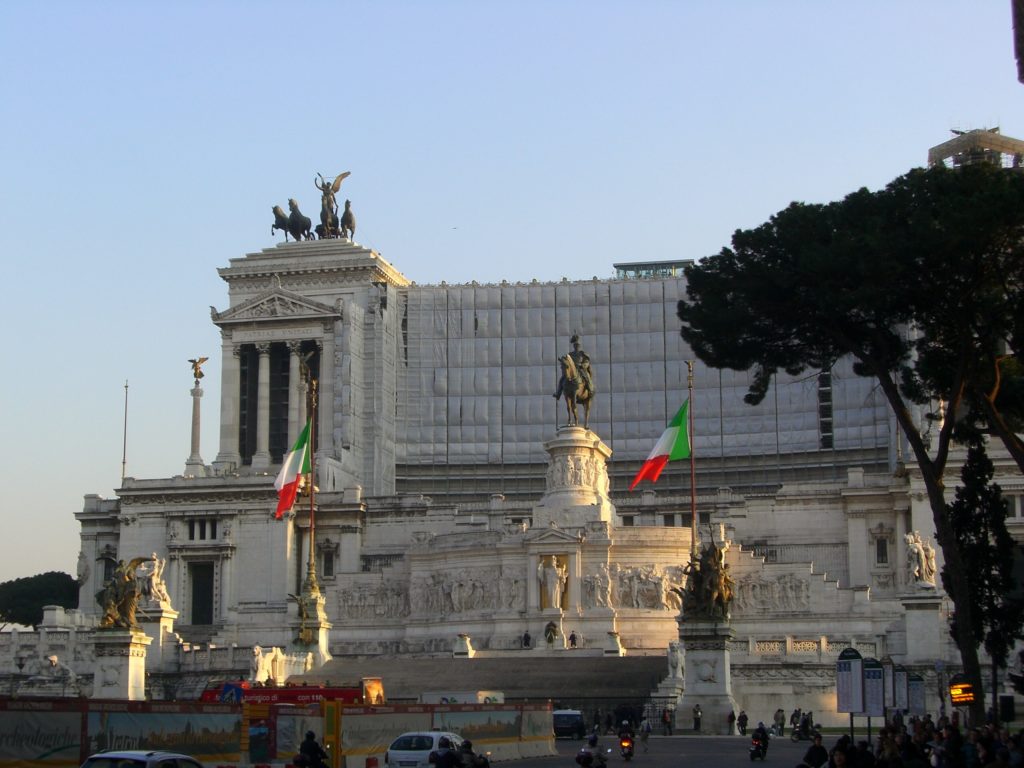 After deciding not to mess with the guards I walked down some streets in the general direction of the Pantheon and sure enough, as usual, I found it. The best part about walking around Rome is that eventually you end up somewhere worth being so as long as your at least pointed in the right direction. The Pantheon has loomed large in my thoughts after my first visit to Rome. Seeing such a large and ancient structure among the more modern buildings of Rome inspired such awe in me that even though my initial visit was a quick one the memory of it stayed with me over the years.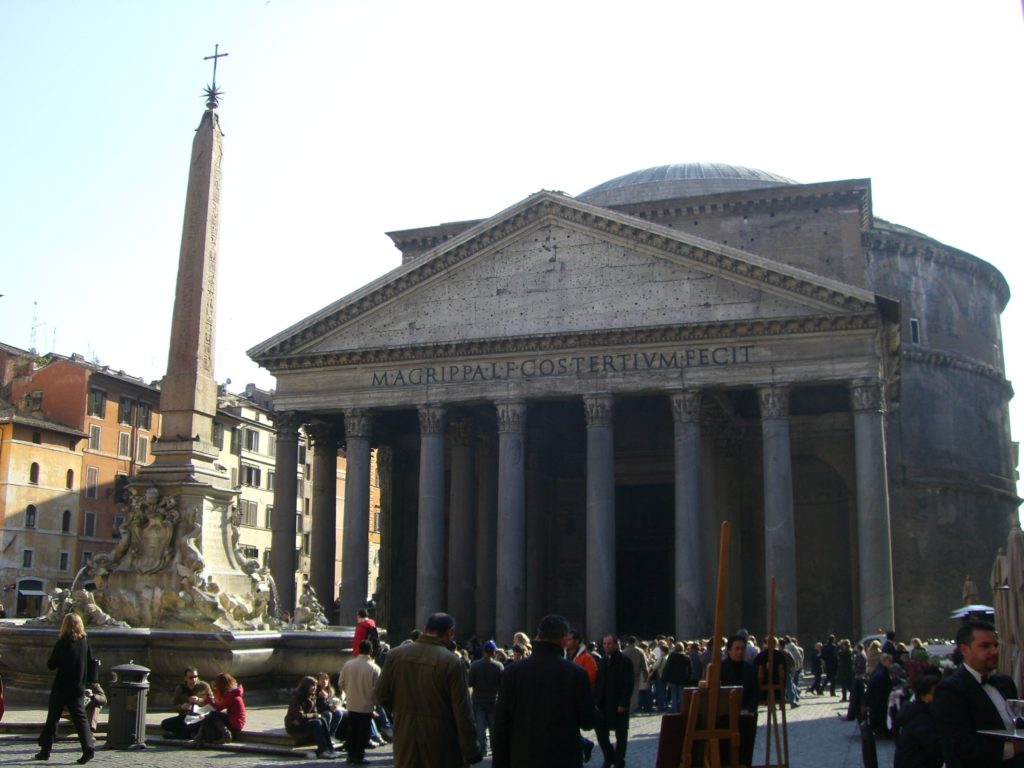 The one thing that stood out the most to me about the Pantheon was how well preserved it was, unlike the other ancient buildings of Rome, the Pantheon was almost completely intact. Standing inside the Pantheon and staring up at the huge hole in the dome made me dizzy in more ways then one. Mostly it made me dizzy thinking about how such a huge dome could be constructed back in those ancient times. I also found myself with an overwhelming desire to go outside and grab a pitching wedge and see if I could chip one into that big hole, I decided to hold on to thought for another day. It was interesting to observe how clean and crisp the interior of the Pantheon was as compared to the exterior of the Pantheon which had an ancient, crumbling look to in even though it was mostly intact.
The interior is circular and open, there weren't pews like I was used to seeing in cathedrals, there was some benches by the walls and so I took a seat and rubbed the back of my neck that was stiff from looking straight up for too long. After I was able to get the circulation going in the back of my neck I begin my search for Trevi Fountain and the wonderful pizza place with the anchovy and tomato sauce fold over pizza that I had been dreaming about since my last visit. I didn't even care so much about Trevi Fountain, there are too many people jammed into that small piazza to be able to enjoy it so I was going for the pizza and of course to throw a coin into the fountain to ensure my return. What a deal! Toss a one euro coin over my left shoulder and I'm guaranteed to return so as long as I add about two thousand dollars to the coin I just threw away; money that ironically could be used to help pay for a return trip.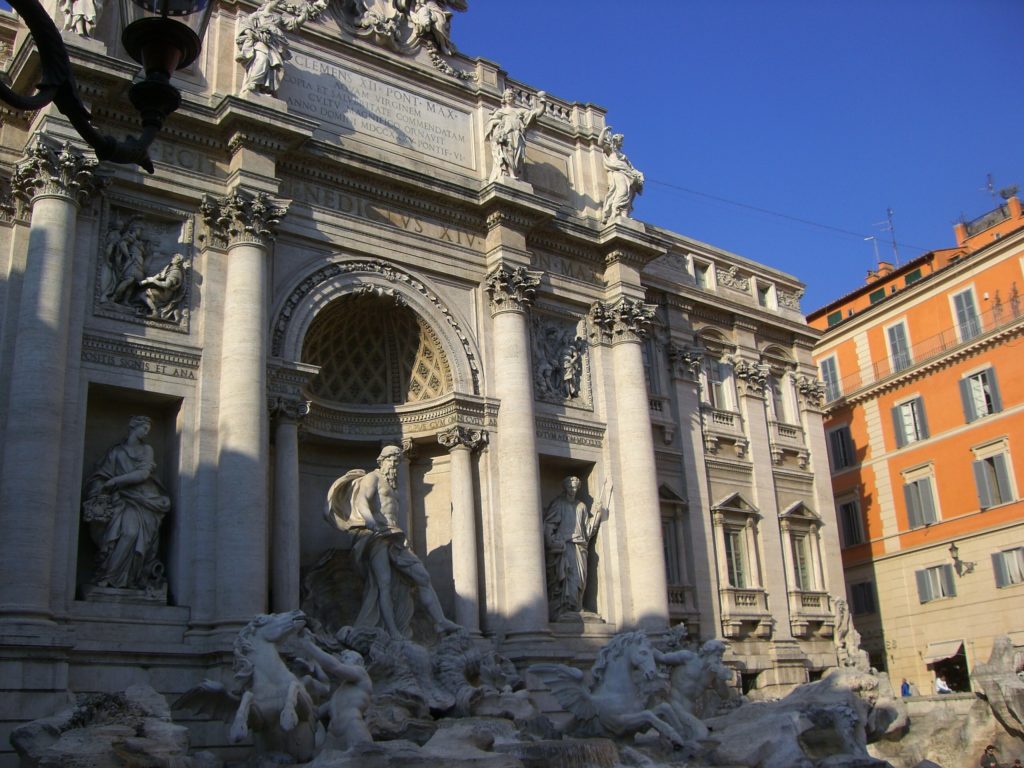 However that's part of the tradition and it obviously worked because the last time I was in Rome I did just that and here I'm back in the eternal city. Finding Trevi wasn't as hard as I hoped it would be, there were signs pointing the way to Trevi Fountain from the Pantheon so it wasn't the challenge I had expected, which actually was fine because I was starving. Once I arrived at Trevi Fountain I headed right for the pizza place and spent the next 30 minutes indulging myself in the ultimate Italian delicacy, anchovies and tomato sauce on baked bread. I stumbled out of the pizza place and into the dense crowd of tourist craning their necks to get a better view of the fountain.
While it certainly is a beautiful fountain, its kind of hard appreciate the sculpted muscular statues that seem to be urinating water when there are hundreds of loud, sweaty tourist jammed into a small square all trying to enjoy the same view. So I got as close as I could and tossed the a coin of my shoulder and hopefully into the fountain, there were too many people in front of me to tell for sure if it made it in. Worst case if it didn't go in it most likely hit someone on the back of their head so it was win – win. Last on my grand tour of Rome was the Spanish Steps which I knew I wouldn't have any trouble finding because of the massive flow of tourists that are always headed in that direction.
My previous memories of the Spanish Steps were of the hordes of people jammed into every possible space available and the artists at the top of the Spanish Steps selling their masterpieces, or at least copies of their masterpieces. Because I was with my parents the last time I was here and because we were on a tight schedule I didn't have the chance to sit down and soak I the sun while observing all the different people that congregate at the Steps. Today however, I was going to have as much time as I wanted to sit on the Steps, one of the freedoms afforded to the solo traveler.
When I arrive at the Spanish Steps I'm pleasantly surprised to find that it was not as crowded as I remember, though all the good steps in the sun are taken. But fortuneltly for me I'm like Gumby, I can force my body to fit in anywhere. I jam myself into a sliver of space and try to ignore the stench of all the cigarette smoke that billowing around me and I turn my face towards the sun and my eyes toward all the different people gathered around me. I watch the groups of tourists who are blatantly American with their baseball caps and billowy FUBU shirts, loudly try to talk over each other as they eat hamburgers from McDonald's. I observe the even larger groups of Japanese tourists posing for countless pictures, while they chatter excitedly to each other.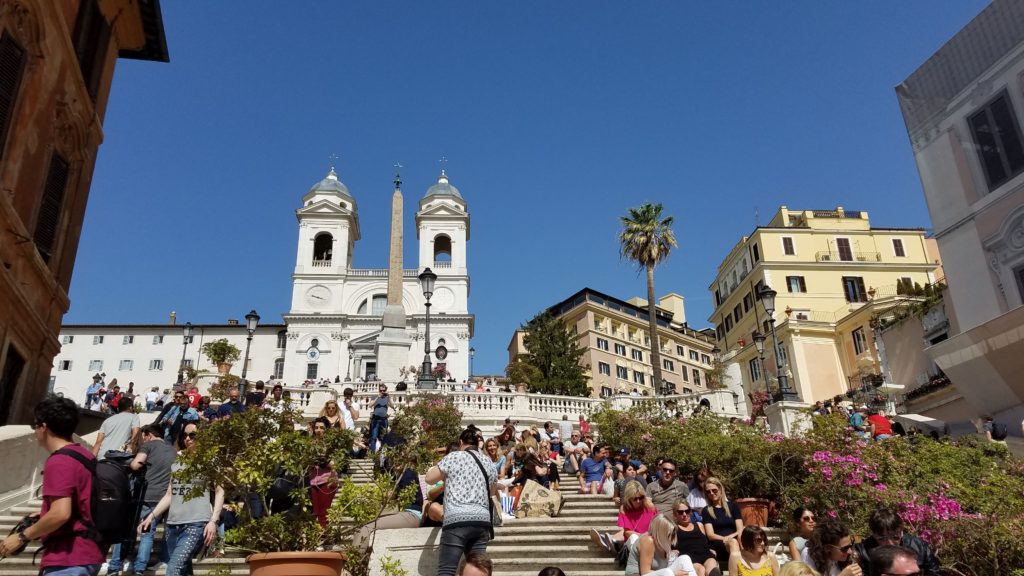 I'm most interested in the locals that still use the Spanish Steps as a meeting place. They are easy to spot out with the stylish way they dress. The men with their black leather jackets, black boots, and almost skin tight jeans; the woman with black wool coats and brightly colored scarves. They seem oblivious to the teeming crowds of tourists around them as they smoke cigarettes and casually engage in animated conversations, their focus completely on each other. I feel like a fly on the wall, invisible to everyone around me, but fully aware of my surrounding. I don't feel the least bit lonely, I'm here to simply sit on the steps, observe the crowds and soak in the last remaining rays of the day.
As the sun sets lower into the sky the shadows move farther up the steps with me in pursuit, it's as though I'm racing the sun. As the sunset I made my way back from the Spanish Steps towards the Pantheon in search of a restaraunt I ate at on my previous visit. All I knew for sure was that it was by the Pantheon and was called "The Black" something. There is a certain pleasure that is derived from trying to find a place without a map or name and from memory only. I walked down several unfamiliar corridors and then finally I came upon a semi familiar alley and there it was "The Black Duke". The food was not the reason for returning rather it was for a feeling of familiarity, which is to say that the city of Rome was starting to become mine, part of me.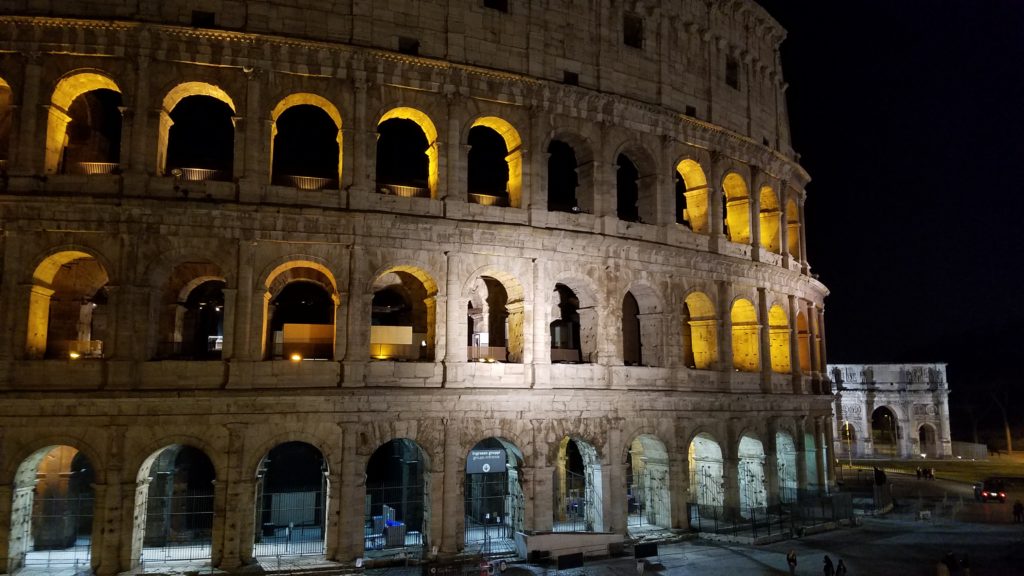 After dinner I strolled towards the Coliseum. Rome at night is a thing to behold. Its lighting scheme leaves one feeling as though you walking on the table of a candlelit dinner, its not to bright but bright enough to make out the buildings around me. My stroll ends at the Hotel Monerestlla which was to be my home away from home. It also represented my first stay at a hostel. It started out good enough. I had my bags and instructions to take the elevator to the fourth floor. One problem however, the elevator was nothing but cables and wires and a shaft. I wasn't quite sure how to even call for the elevator. Fortunately for me an attractive girl from Hungary came along and happens to be staying on the same floor as me so she shows me how to call for the elevator by pushing a little red button I had missed and waiting for what looked like a egg crate to come down.
We ended up talking for a little while as we came to our floor and entered a hallway. She seemed nice enough and I remember reading somewhere that the dorms were often mixed gender, my hopes started to rise. She asked me what room I was in. "403" I replied, "And you" I asked. "402" was her reply. Damn…so close. The room was something to behold, six tightly packed bunk beds and luggage spread everywhere. The showers were small and cramped and without much water pressure. The shower head of course was not connected to the wall but rather a sort of metal rope so showering turned out to be a real adventure in itself. I found myself tiptoeing around the bathroom as I'm afraid of stepping on the countless germs and hairs that surely must be everywhere. I get back to room and wonder how exactly this whole setup works, there seems to be no particular order to how the luggage has been tossed around so I don't bother moving mine closer to my bunk.
There is only one available plug outlet and there was already a Ipod charging on it so my Ipod was just going to have to wait. As I begin to change into sweats and a t-shirt I can hear a key in the lock and so I quickly throw the rest of my clothes and turn to greet the first roommates of my trip. They turn out to be two younger guys speaking to each other in German, they enter the room without hesitation and head straight for their bags, barely acknowledging me, apparently they are used to the whole hostel thing. For me it's a bit of a relief as I'm not really looking forward to having conversations with people I didn't know and wasn't interested in talking to, but being that we were in such tight quarters I figured I was going to have to in order to be courteous. But these German fellows simply got what they needed from there bags nodded at me and where gone all in a span of three minutes.
By this time I was exhausted and ready to hit the sack. I crawled up onto my bunk and tried to get comfortable, I decided there wasn't any point in turning out the lights because there were five other bunks that would be occupied before the night was over so rather than have to deal with light being turned on and off all night I just left it on. I was worried that it would be tough to get to sleep with the light but I was so tired I was out before I knew it. However an hour later I was awakened by some guy who rattled his things around unmercifully for almost twenty minutes before he finally went to bed. It took me another thirty minutes to fall back asleep. Not long after I fell back asleep the two Germans returned and while they didn't make too much noise their presence interrupted my sleep anyway. About an hour after that my final two bunkmates came in, chattering loudly in Spanish and making more noise than I thought was possible for anyone with at least an ounce of common courtesy.
By that time though I was so exhausted I fell back to sleep fairly quickly. However I was awakened later that night by the incredibly loud and obnoxious snoring of one of the Spanish fellows to my left, it was like listening to the roar of an old car starting on a cold morning. It starts out sputtering and gradually evolves into a full out roar. I listened to for what seemed like most of the night and wondered if I had made a huge mistake by staying in hostels. I definitely felt uncomfortable and out of my element. I laid on my top bunk wide awake and stared at the cracks in the ceiling that were illuminated by the silver moonlight pouring in from the window and wondered how much more it would cost me to cancel every hostel reservation I made and get hotel rooms But after quickly doing the math in my head I remembered how much I was saving per night by staying in hostels and the cheap bastard in me regained control and I finally got some sleep.
2/12/2008
I hate waiting in lines. I realize that most people hate waiting in lines as well, but I really think I have an affliction. Even when at Disneyland I would end up skipping all the good rides because I just couldn't stand the thought of waiting in line for an hour just to take a two and half minute ride. So one could imagine my horror during my last visit to Rome when I saw the line for the Vatican. It literally winded around several blocks. I waited in line for about an hour and a half. I figured that the Vatican was worth it, unlike a ride at Disneyland the Vatican gives you more for your buck. But even so the misery of waiting in line for an hour and a half staring at the back of some guy's jacket was fresh in my mind when I began planning this trip. I found a way on line through Viator tours to pay twice the amount of an entrance ticket and be able to skip the line. Sold! The cheap bastard in me is only outdone by my impatience.
As I neared the prearranged meeting place to get the tickets a couple of girls roughly brushed passed me as though they thought I was going to get ahead of them in the line for the Vatican. I chuckled to myself, I would be probably be leaving the Vatican by the time they even got through waiting in line. When I saw the two girls a few minutes later waiting in line I smirked at them and thought to myself, "Sorry Sucka's", I barely finished that thought when I saw the line was less than a block long or about a twenty min wait. Guess I was the sucker….yet again. The cheap bastard in me began harping at my impatient side and it turned into a full scale war in my head. Luckily I had some extra strength Tylenol in my pocket, which I took dry.
Anything to get rid of the voices in my head. Even though I was right on time to meet with the Viator tour operator who had my ticket, I still had to wait for everyone on their list to show up before they dispersed the tickets. As the Viator lady checked my name off the list she put a yellow sticker on my jacket, apparently I was now part of some sort of tour group, this was not what I had in mind. Finally after everyone had been checked off the list the Viator lady gathered us all together and instead of handing out the tickets said that we would be going in as a group through a special line. The special line turned out to be a line for groups and it turned out to be just as long as the line for the normal folk who were going to be paying half of what I paid to get in. I was doing a pretty good job of holding down my temper until I saw those same two girls I saw earlier enter the Vatican ahead of me, one of them looked over in my direction and I could of sworn she smirked at me.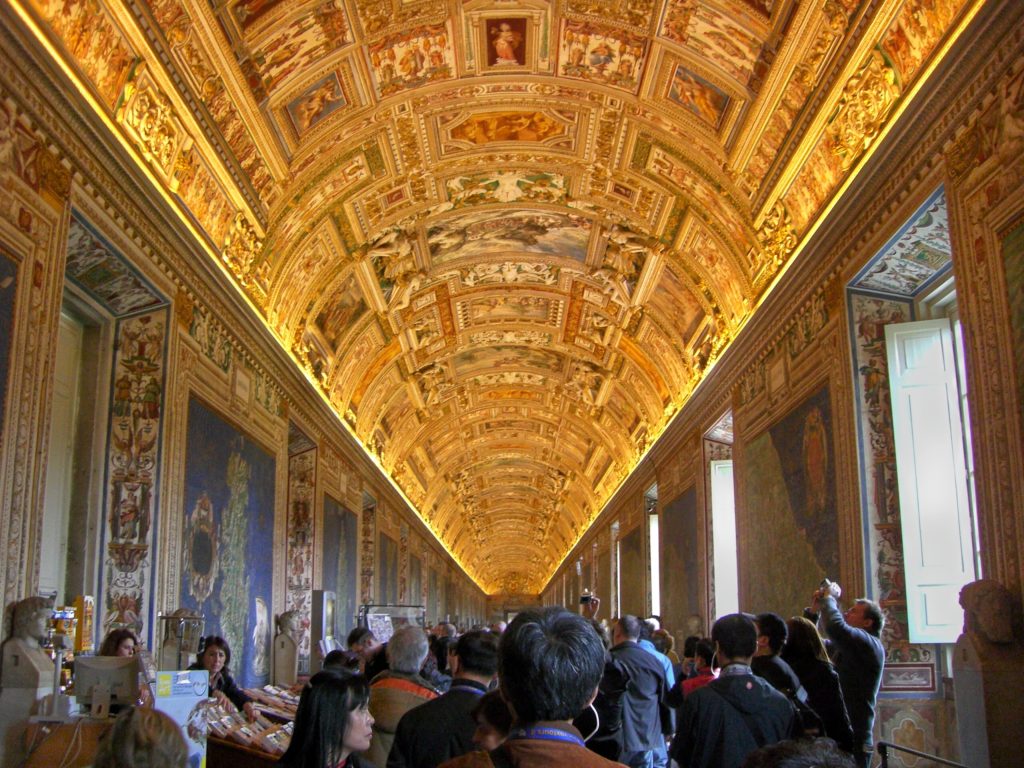 I could feel my exasperation at the whole situation about to get the best of me but I quickly reminded my self that I would be in the Vatican in less then five minutes and I didn't come all this way to be ticked off. The pep talk worked and five minutes later I as in the Vatican with a ticket in hand and the freedom to explore the museum as I saw fit. I tore off the yellow sticker from my jacket and immediately felt like myself again. The Vatican never ceases to amaze me with its long hallways full of history, art, and mind blowing décor, it's impossible to fully comprehend all that the eye has to see. I don't have the attention span or desire to actually want to know everything behind what I'm seeing, I prefer the ignorance is bliss route.
Ignorance allows me to just appreciate the beauty of the Vatican rather than get too involved trying to understand it all, I prefer saving that for the Sistine chapel. Which is the real reason I'm here, everything up to the Sistine chapel is just an appetizer to me. One thing I like about visiting in the off season is the fact I can actually get a seat on one of the benches against the walls within the first few minutes. During the high season forget about it. Once seated I crane my neck back and assume the position of looking up for the next hour. I can almost imagine seeing wooden scaffolding in an empty chapel and Michelangelo on his back painting his master piece suspended high above the floor.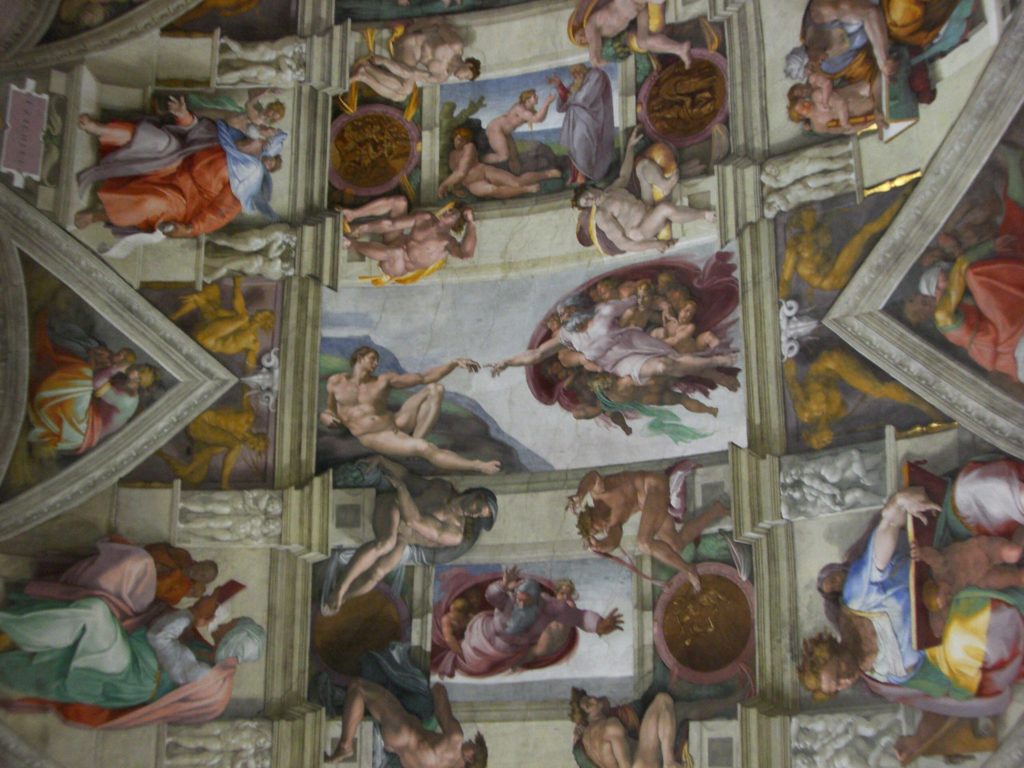 My concentration is interrupted by the incessant nagging of the Vatican guards who every few minutes send a piercing "Shhhhh" slashing through the chapel followed by shouts of "No Photo" over and over. Of course none of the tourists are listening, after all they didn't travel thousands of miles to not take pictures of the most famous chapel in the world. I on the other hand refrained from taking pictures. Not out of obedience or fear of being struck by lightening but because I took about 45 pictures of the place during my last visit so I was good. It was also during my last visit that I made a mistake when I left the Sistine chapel, instead of going left out the door with everyone else I joined one of the tour groups going out a reserved door to the right that takes you right to the Basilica and the line for climbing the cupola. I just like briefly latching on to tour groups I guess.
This saves a lot of time as everyone else has to wait in line again to get into the Basilica. As I left the Sistine Chapel I chose to make the same mistake yet again, though this time around I guess it really doesn't count as a mistake when its premeditated. Thankfully, just like last time, nobody noticed I didn't have a colorful sticker on my jacket and I passed through along with everyone else into the Basilica. I went right for the line to climb the dome of St. Peter, I was in luck it was a very short line unlike the last time I as here when I had to wait an hour, even so it was well worth it and I would have been willing to wait twice that. Climbing the dome of St Peters is a must do, not only is it an amazing and unique climb it also offers the best and highest views of Rome.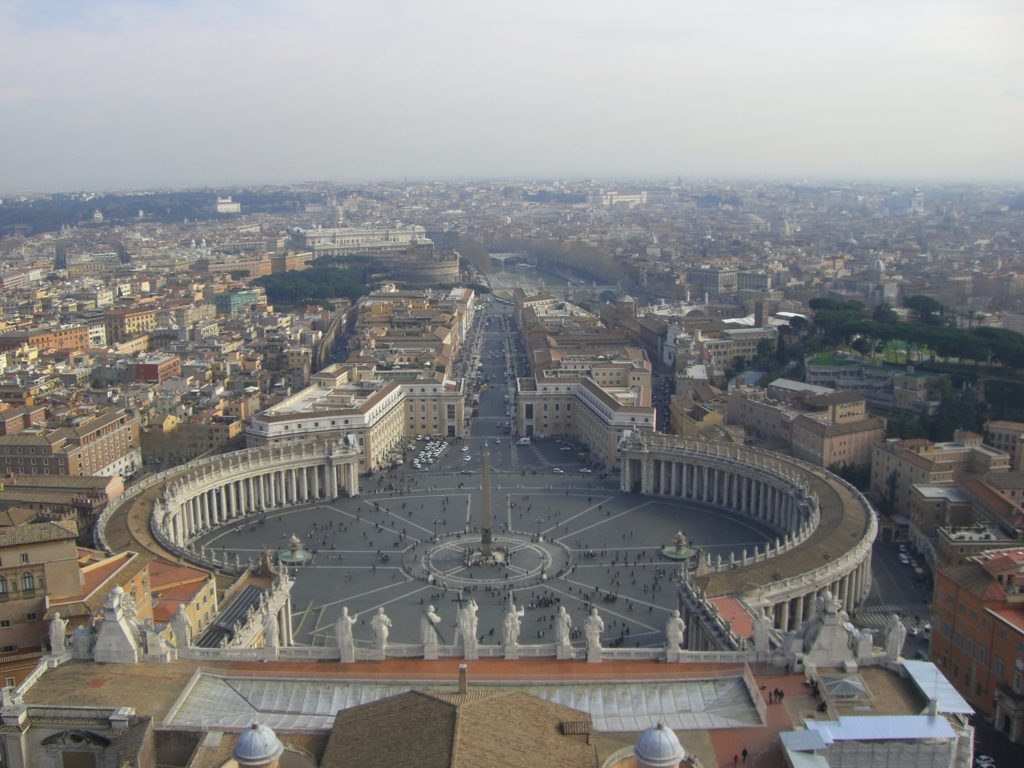 The climb itself is a steep, windy, claustrophobic experience that's worth every bit of the 5 euro it costs to get in. Once at the top the views are tremendous, I could see from the Spanish steps to the Pantheon and as far as the Coliseum. It also gives great views of the grounds inside of the Vatican, which is a treat, the pope lives quite well. Another benefit of climbing the dome is when you leave the dome it exits right into the Basilica, a perfect way to end a visit to the Vatican. Staring up at the vastness of St Peter's dome is a religious experience in itself. It's hard not to believe in a higher power when something like this is built to honor a their idea of God, and yet somehow I still manage not to.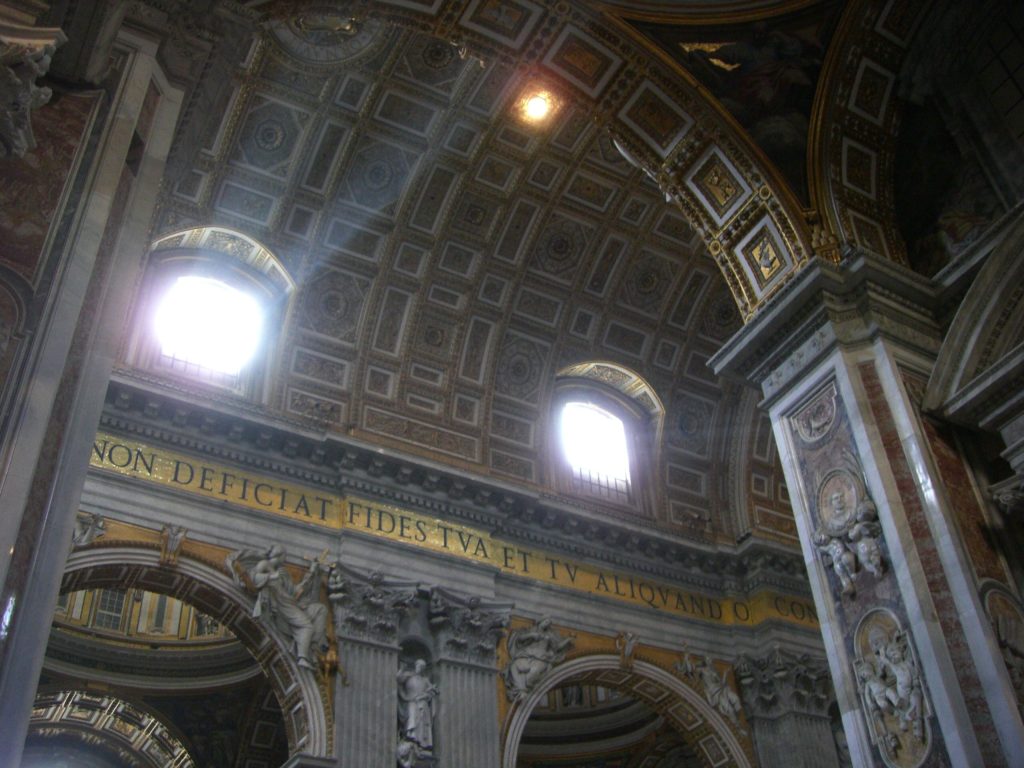 This time around I was quite fortunate to be visiting on a sunny day I the early afternoon. The sunlight streamed through the stain glassed windows sending rays of light that cut through dimly lit Basilica like the beam of a flashlight I the fog. It was quite a thing to see, something I won't forget anytime soon, thanks to my razor sharp memory and the itchy trigger finger on my camera. Part of me feels kind of bad about taking pictures and wandering around such a sacred place in jeans and a sweater. The majority of the people in St. Peter's are slack jawed tourists like myself, but I notice there are quite a few Catholic faithful who are dressed to the nines and are very respectfully on their knees in different parts of the Basilica showing their faith.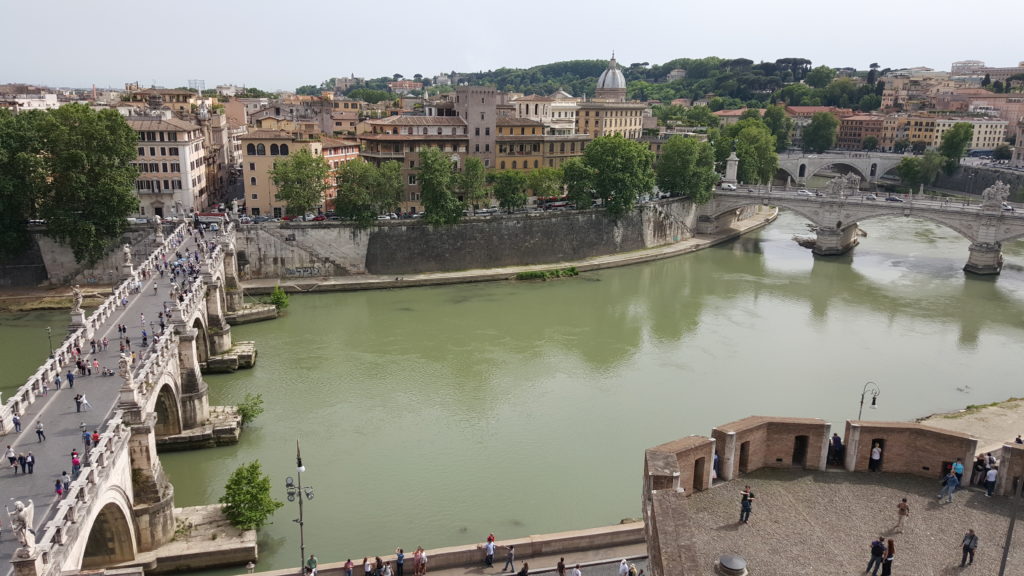 I feel like an imposter in their midst, but just the same I'm grateful that the Catholic Church see's fit to open up their doors to the public. I'm sure all the Euro that passes through helps to soften the blow of having jean clad tourists like me wandering around snapping pictures. I left the Vatican by way of the Tiber River that leads past San Castel, a massive old school fortress that once protected one of the popes. However I have had my fill of visiting old buildings for the day and so I decide to head over to Piazza Navona instead. I'm heading down the street that runs along the river towards the Piazza when I hear a furious honking.
This is not unusual for Rome but its loud enough that it draws my attention. I'm treated to a scene right out of Seinfeld, it turns out some lady is trying to back into a space on the side of the street which is direct conflict with some old guy in a Mercedes try going in front wise. Both drivers refuse to yield and traffic is brought to a halt, hence all the honking. Drivers are yelling in rapid-fire Italian but the two people involved in the dispute are to busy yelling at each other to pay much attention. This was simply too good to pass up so I took a seat on the curb and watched the drama play out. Theatre in the streets of Rome, Shakespeare would have been proud. While the two drivers argued the other cars behind the blockade somehow finds a little space between the Mercedes trying to go in frontward and the parked cars on the other side of the street and zips through while still cursing in Italian.
The other drivers follow suit which worked just fine because the majority of the cars were small enough to fit but then a truck tries the same maneuver and is unable to make it through and is forced to stop inches away from the Mercedes. As a result traffic is backed up again and the man driving the Mercedes decides to solve the problem by just taking the space. The stout Italian lady is having none of that and moves herself into the space and stands there defiantly with her hands on her hips and gives the man a stare from hell. Apparently the guy driving is married and has seen that stare before because he gives up and yells at the driver of the truck behind him to back up so he can move his car and thus the dispute finally ends. I spend the rest of the evening in Piazza Navona, sitting on a bench and watching the artists paint the sunset.
I took my time walking back to the hostel, after all I wasn't looking forward to meeting new roommates and finding out how a Frenchman snores, listening to the Spanish fellow snoring was quite enough. But I wasn't worried about getting to sleep tonight, I had a little trick up my sleeve, I was going to break into my stash of Tylenol PM, tonight I was going to sleep like a baby!
2/13/08
I love the word free, not because it can represent getting something for nothing but rather it can represent free to do whatever I want. One thing I loved about elementary school was when after I would finish an assignment in class we were granted free time to do what we wished. Free to let my mind wander into the clouds and beyond if I was so inclined though I recognize a need for structure I feel it needs to be balanced out with the freedom to do whatever comes to mind. And so even on a highly struggled, detailed trip like this I still put aside one free day. Today was my free day in Rome. I had nothing planned and so I allowed myself to wander the city without restraint.
I started off towards the Coliseum first. I have always been drawn to the Coliseum and the Roman Forum, it's as though they have a magnetic force. I settled down on some cobble stone with the coliseum to my left and the arch of Constantine to my right. I sipped on a Coke and listened to U2 on my Ipod and watched the people around me. I watched two men dressed as gladiators try and hustle euros from tourists wanting to have the picture of a lifetime with a costumed gladiator, personally I would almost do it just to have a picture of a grown man playing dressup. In between pictures they would light up cigarettes and talk loudly to each other. I took a picture of them smoking, I wasn't aware that gladiators smoked, imagine if the tabloids got a hold of that.
I remember seeing the gladiators when I visited last so clearly they must be able to make a living at it. What a life. From the Coliseum I drifted over to the Circus Maximus and walked around it a few times trying to envision what it must have looked like back in the day when the joggers and dogs were replaced with roaring chariots, madly racing in front of thousands of rabid fans cheering on their favorite color. I sat on some steps and people watched for awhile. I was struck by the sight of an older Italian couple shuffling slowly down the track. They were bundled up in their old fashioned wool jackets and shawls and the man wore a hat with a brim.
They held on to each other closely as they walked for support and I would like to imagine for the sake of love and companionship as well. Two old Italian birds taking one more stroll around the Circus Maximus soaking in the sunlight and each other. Seeing the two old people together reminded of how alone I really was so I decided to head over to the Roman Forum where there were more people and a tour group I could join in on. Once I got to the Forum I decided Id rather just sit down on one of the fallen columns and soak in the sun instead of soaking in another history lesson, after all it was my free day. I enjoyed the sunlight and the clear blue sky and did my best to once again try to reconstruct in my mind what the Forum must have looked like during its heyday, its something I never tire of doing that; sort of like a mental jigsaw puzzle.
After I visited the Pantheon I decided to pick up a couple slices of my favorite anchovy and tomato paste pizza by Trevi Fountain and eat it on the Spanish steps. There I spent the reminder of the afternoon eating pizza and watching the throngs of tourists and locals that congregate at the steps. I was fascinated by the gypsy vendors who wander all over the tourist attractions in Rome selling pure unadulterated junk. I watched as they milled around throwing these metallic silver charms in the air that made whirring sounds. They were trying to get peoples attention by holding their hands out with the charm without saying a word. Their efforts were met with an indifference I haven't seen since the last time I asked a girl out, I didn't see any of them make a sale.
I walked up to the top of the Spanish Steps where all the painters gather to sell their work. One painter was selling very large oil paintings on canvas. I made him show me over thirty different ones till I found a painting of the Ponte Vecchio Bridge in Florence. He wanted 280 euro and quickly went down to 160. I decided I would spend about a 100 euro and call it good on souvenirs as the painting was quite large. But to get to 100 I figured I would have to lowball him with a 70 euro offer, however luck was with me. As I prepared to make my offer a policeman came to start shooing the painters away as the day was ending, so when I offered 70 euro he surprised me by taking it.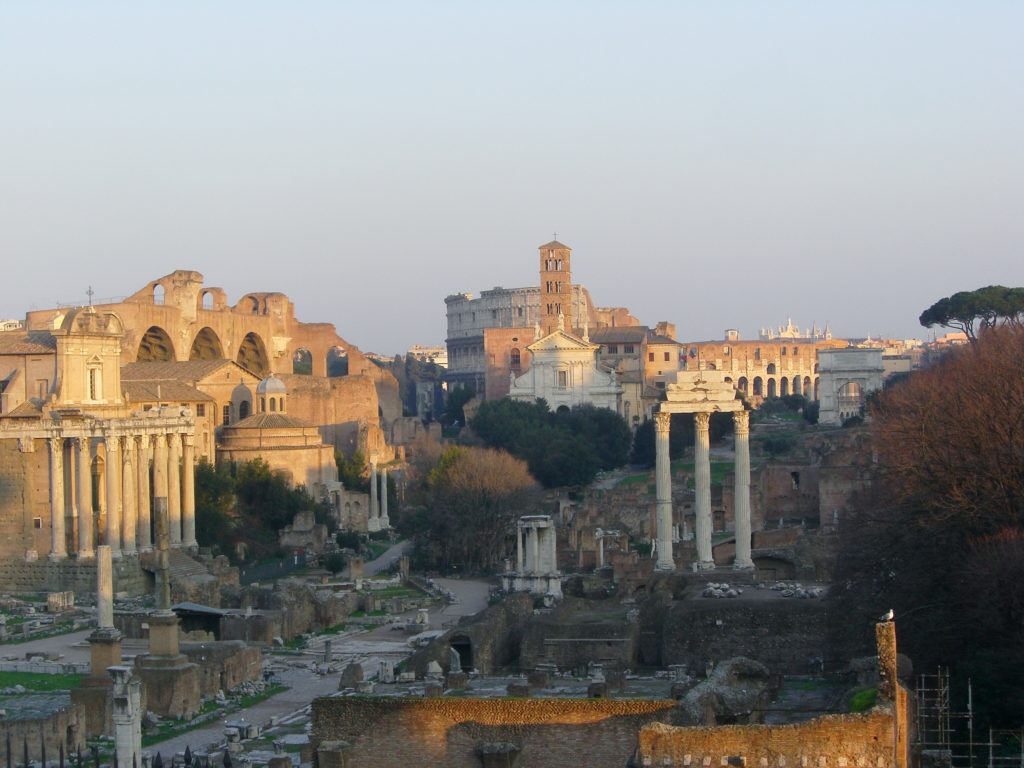 By the time I finished with my dickering , the sun was beginning to set, I was determined to end the day by seeing if what Bill Murray's character in Groundhog Day says is true when he says, "It reminds of Rome, the way the light reflects off the buildings…" I made my way back over to the Roman Forum overlook and watched as the ruins and the coliseum were lit up in a golden light as the sun set. By golly the movies got it right for once. There were only a few other people taking advantage of the beautiful sunset so I was able to have a little privacy. Only five hours ago the Forum was bustling with people, but now the Forum was deserted with only the fading shadows of the day making any movement.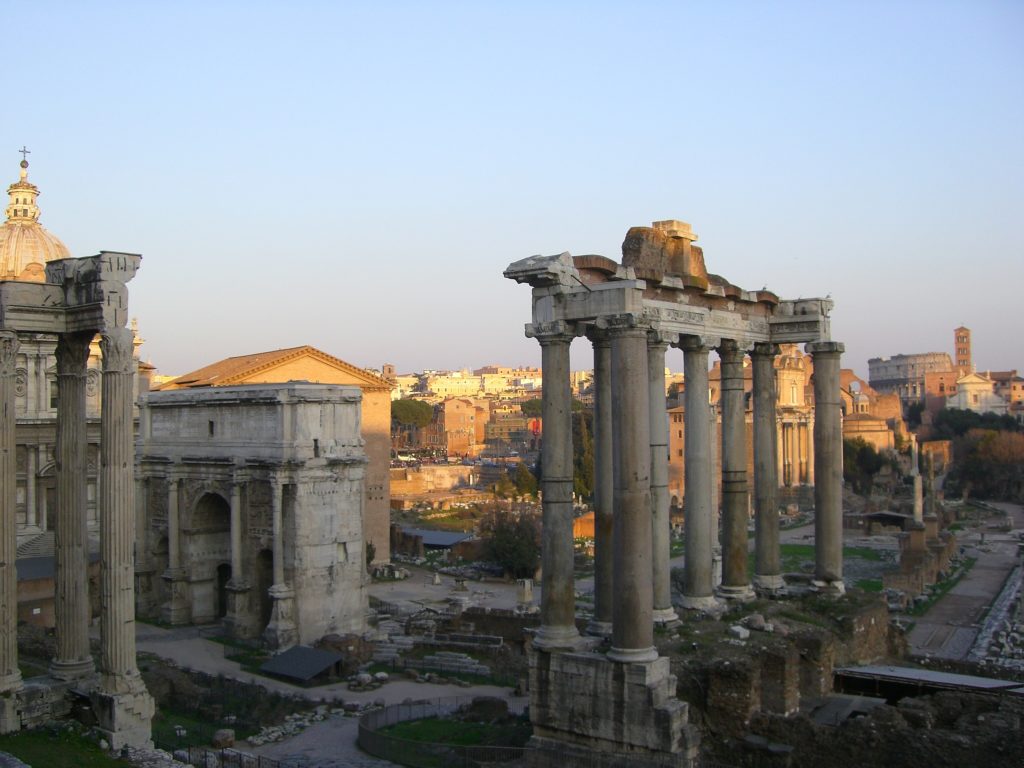 As the slowly faded the ruins gradually begin to lose some its golden luster but the effect was still mesmerizing. It was as though as I was staring into playground of the God's. I could have stayed there for hours, but hours I didn't have, I was due on a train heading to Naples so very relunctantly I tore my eyes away from the spectactular view in front of me and walked towards the hostel to pick up my backpack. As I walked back to the hostel I begin to be excited about the next leg on my journey. Although I wasn't planning to do any sightseeing in Naples, the city itself was a jumping point for Positano, Capri, and Pompeii, three places I was looking forward to visiting.
What I wasn't looking forward to was the 2 and half hour train ride which would get me to Naples at 11:00 PM followed by what looked to be a 40 minute walk down one of Naples busiest streets to get to my next hostel. The train ride itself proved to be painless and I even managed to get a few winks of sleep in before the train pulled into Naples. I had been to Naples previously so I had a general idea of where to go, however what I didn't count on was how tired I was and how heavy the 70 pound backpack was already feeling. As I left the train station a taxi driver came up to me and tried to negotiate a fare, however the lowest he would go was 15 euro for a ten minutes cab ride.
As tired as I felt I couldn't in good conciense pay what would be roughly the cost of two meals just because I was tired. So I gritted my teeth and took off into the night. My memories of Naples is of a crowded, dirty city of hustle and bustle. Naples in many ways reminded me of a melting pot of the old and new world. I remember that the closer I was to the harbor the older Naples seemed and the closer I got to the train station the more modern it seemed. As I turned left on the main street of Naples, Corso Umberto, that I would follow all the way down to my hostel I found I was in for a bit of surprise. When I was in Naples last I remembered how crowded the streets were with car's honking and brakes screeching, the streets were full of people going in both directions, but at just a few minutes before midnight, I found to my surprise that the streets were empty of both cars and people.
Although normally I would welcome such an event, it was almost midnight in one of the most dangerous cities in Italy, not to mention that Naples is practically run by the mafia, so I was a more than just a little concerned. Usually during my travels when I feel unsafe I take comfort in the fact that I'm extremely fast and so if I did ever run into trouble I could easily run away from it, or if it came to it, fight my way out of it, though I prefer the running away option. But with a heavy backpack that had me lumbering around like an overweight linemen I wasn't a threat to run away from anyone, much less fight. Rather then feeling scared I actually felt a rush of adrenalin go through me as I headed down the deserted street, I was on my own and anything could happen.
While I didn't want anything bad to happen this was part of the reason I was anxious to be a on a trip like this, to experience life outside my comfort zone and this was definitely a whole new experience. I walked as quickly as I could down the quiet sidewalk and took in a different side of Naples, the laidback, serene Naples that I didn't know exsisted. After only 25 minutes I arrived at an intersection that according to my map was only two blocks away from the side street where my hostel was. At this point I was sweating like a hog and even far more ravenous with hunger, however I was in luck. Right on the edge of the intersection was a pizza parlor and it was actually open. I knocked on the door just to make sure and the people inside motioned for me to come in.
I feasted on a freshly made hot salami pizza and allowed myself to cool down, I felt completely relaxed, I had hot food in my stomach and my hostel was only two blocks away, an excellent combination. On a full stomach I started back off toward the hostel looking for the side street it was on and knowing like most Italian streets it would be unlikely to be marked. But thanks to the map I knew it was the second left from the intersection where I had eaten so I found the street and begin looking for the Hostel of the Sun. Being that it was a hostel I wasn't expecting it to be in a grand location, but the dark, seedy looking alley I was walking down didn't exactly inspire confidence in my surroundings.
Even worse was when I got to the end of the street I still hadn't seen a sign for the Hostel of the Sun. I retraced my steps and took a closer look at the doorways, finally on the third doorway I checked I saw a list of floor number and the residents on those floors and by the call button for the sixth floor there was a small index card indicating that I had finally found the Hostel of the Sun. I pressed the call button and they buzzed me in with the directions to take the elevator to the sixth floor. While it sounded like it would be an easy thing to do, it actually turned out to be a bit of a challenge. For starters, it was a pay elevator, something I had never come across. It required a 10 cent euro coin for the elevator to work.
This presented a problem as I didn't have any change on me, so I prepared myself for a six story climb, but then I remembered that I had change in my other pair of jeans that unfortunetly was at the bottom of my backpack. So I proceeded to unpack everything in my bag in the hopes that a 10 cent euro coin is among the change in my jeans pockets. However at this pointed I don't have the energy to climb six flights of stairs so its worth the unpacking. Luck is with me once again as I finally dig out the proper coin and I'm on my way to the top. The Hostel of the Sun turns out to be quite the boisterous joint, almost like a frat house. I'm immediately greeted by a girl about my age who starts making small talk and then goes over all the perks of staying at the Hostel of the Sun. Just by looking around I can see there are quite a few already, I see a bunch of girls in the kitchen area having drinks and chatting up a storm, in the living room area in front of me are couches and beanbags and there are about five weary travelers relaxing and watching Die Hard with a Vengenance.
I notice four computers and am quickly told by my host that internet is free, I immediately like this place. She also tells me that the next night is pasta night and everyone eats for free and that on Friday they do a walking tour of Naples that includes pizza and beer for a small fee. The hostel seems more like a clubhouse at this point and despite the horrors of the hostel in Rome I find that I'm really looking forward to staying here. The bathrooms are clean and modern, meaning that the shower head is attached to the wall instead of a metal rope, the bunk beds in the room I'm staying in are much more comfortable and the pillows actually have padding in them. I find that I actually feel like socializing a bit but I'm truly exhausted from the nights adventures and I decide to go to sleep, I figure there will be plenty of time to socialize over the next three days.
2/14/2008
I wake up today feeling like I want to celebrate, it's Valentine's Day after all, and regardless of my circumstance it's always a day to celebrate, and despise at the same time. Last year at this time I had a girlfriend so Valentine's Day was both a blessing and a curse. It's a blessing in because I have reason to celebrate the most romantic day of the year with a girl that I think is special enough that I didn't break up with her beforehand to avoid having to spend Valentine's Day with her. This is where the curse comes in with having a girlfriend on Valentine's Day, the responsibility of planning some both sweet and romantic, while at the same time not breaking the bank.
All that work for some girl that I probably won't even be dating in a month's time. Which brings me to the reason why I feel like celebrating today, I don't have a girlfriend this year so I'm off the hook, if I were at home the flipside of that would be that I would have to see other couples celebrating Valentine's Day with each other which can get a bit depressing. This time around though, I'm in Italy and so I have plenty to keep me busy and not thinking about the fact I'm alone on the one day of the year most people don't want to be alone. So whereas in previous years, regardless of whether or not I had a girlfriend or not, Valentine's Day was going to be both a blessing and a curse, but not this year, this year I was free and clear.
To make sure that I wouldn't be mooning over the fact it was Valentine's Day I made sure to plan my trip so I would be in Positano, the one place in Southern Italy that I was looking forward to visiting the most. Ever since I had learned that John Steinbeck had spent significant time in Positano and had been inspired by the beauty of the town, I wanted to see it for myself and see if any of that inspiration would rub off. Getting there was going to be a bit of challenge as Postiano is about two hours from Naples by train and bus. I took the circumvensuia commuter train from Naples to Sorrento and then from Sorrento caught the Sita bus to Positano.
The bus ride was an adventure as the roads winded sharply around sheer drop-offs that stared straight down into the ocean. I could fee my stomach churning as the bus went round and round a seemingly impossibly narrow road. I arrived at the top Positano and as I stepped off the bus I was greeted with a sweeping panoramic view of the town nestled up against the cliffs with the peaks of the mountains towering over, highlighted by a crisp blue sky. In that moment of breathless wonder, as I stared out into the impossible beauty of Positano, I fell in love. As irony would have it, I found I had a Valentine's date after all and her name was Positano. I followed her down a steep staircase that led past doorways and winded around tightly constructed buildings that were built into the grooves of the cliffs.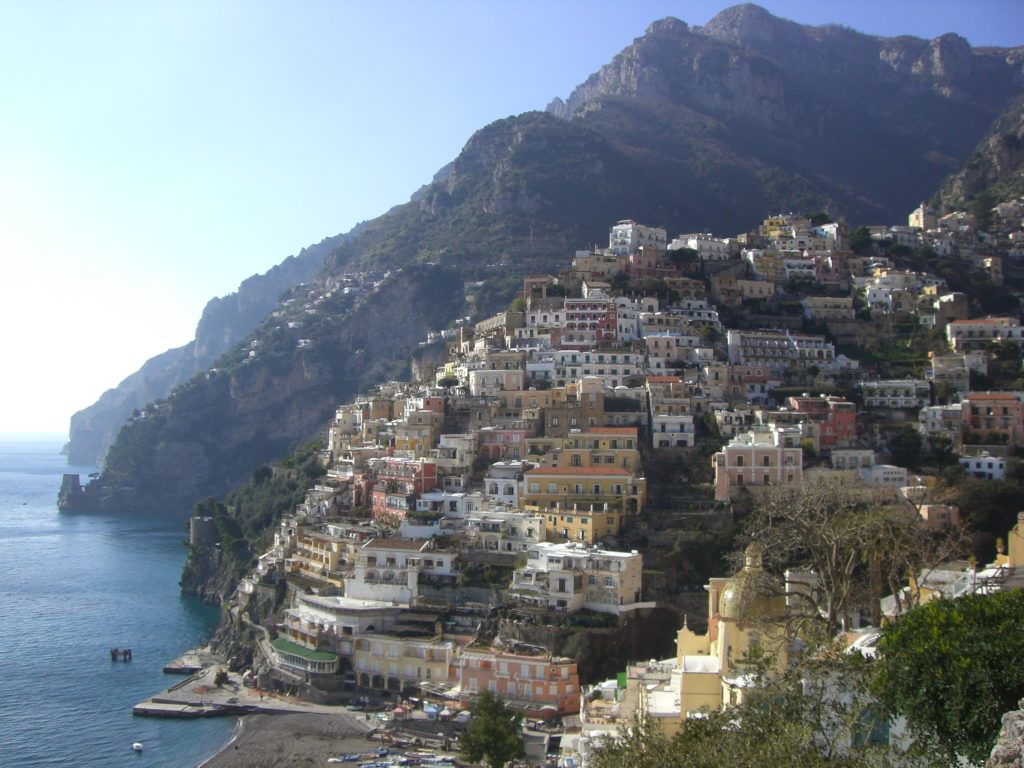 I was led down to a black sand and pebble beach where I turned around and beheld my fair lady Positano in all her beauty. Rising sharply into the sky was town, meshed perfectly around the bends of the cliffs that dropped sharply into the sea. I spent hours admiring my newfound love. My eyes feasted on her impossible beauty. I explored the myriad of different stairways that wrapped and slithered their way through the crevices of the city, I walked hand in hand with my lady and gave her my full attention. On one of the upper levels of the town I watched reverently as an artist stood on the edge of an overlook and painted the magnificence of my Positano. She didn't even budge an inch as the gifted artist tried in vain to replicate her timeless beauty on canvas.
As my new found love was having her portrait done an older lady found her way over to take in the view, we struck up a conversation and it turned o.ut she was an American from Colorado. She told me the story of her first experience with Positano, which occurred not long after her husband had died. In an effort to escape her grief she took for Italy in the hopes the beauty of the land would help to heal her emotional wounds. She was looking for something to fill the gaping void that her loving husband had left when he died. She decided t visit Positano almost as an afterthought. She had planned to spend a few days in Sorrento but a wise local convinced her to take a day trip to Positano. Just as I did a few hours previous, she also fell in love with Positano, she related to me that the moment she laid her eyes upon the perfectly situated town, with its sparkling blue ocean and its cool sea breezes she felt at peace for the first time since her husband had passed.
After just one visit with Positano she went back home, sold her house, cashed in her saving and moved to Positano. She has been living in Positano for the last two years illegally as a expatriates where she pay a 1000 euro a month for small apartment and without the safety net of health insurance. "They said I was crazy" she told me. I vehemently disagreed and told her so, she followed her heart and chose to live her life the it was meant to be lived; peacefully. "I wake up every morning and walk through these streets and still have to pinch myself to make sure it's not a dream" she said as we parted ways. Such is life when you're in love and living in Positano. Her dream has come true and her painful void filled. With the old ladies courage and sense of adventure on my mind I went back to my Positano and I vowed to make the most of every moment I had left with her. We made our way back down to the beach where I found a large piece of driftwood that seemed to perfectly placed to be random.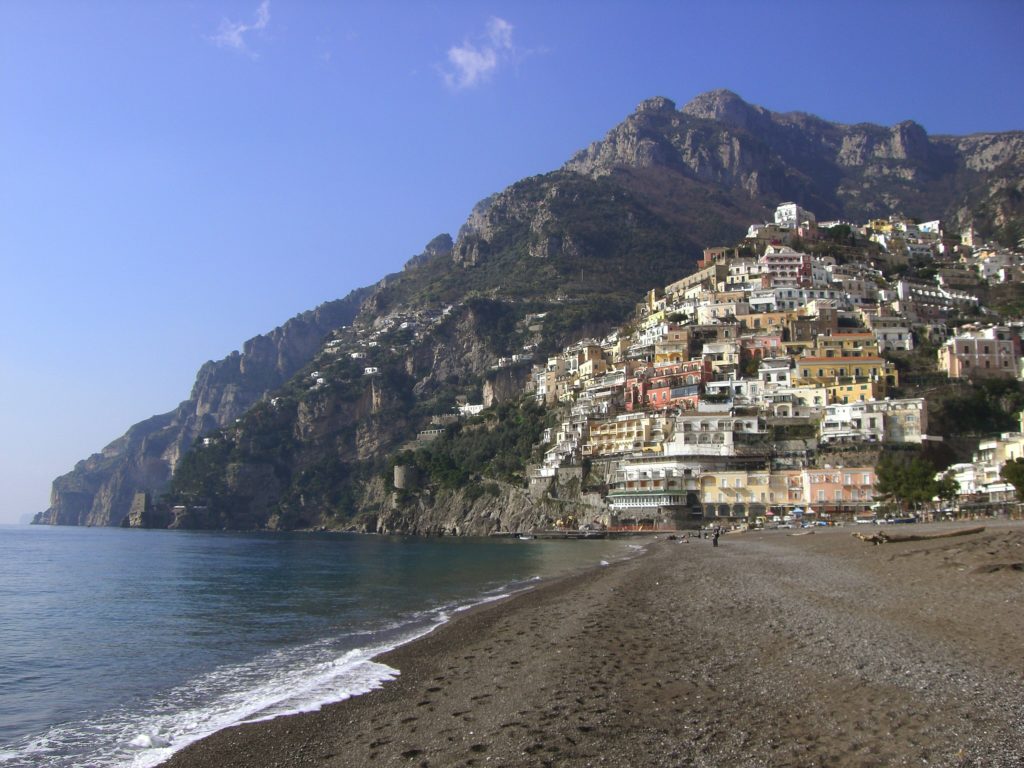 I sat down with my Valentine's date and I greedily drunk in her beauty as though I was parched but I could not get enough. I stayed with my newfound love until the sun began to set signaling the end of my time with her. She stays with me all the way back to the top of the town where we share a sunset together as I wait for my bus. I watch as the fading sun highlights the dangerous curves of my lady showering her with a brilliant light that immediately begins to fade as the shadows silently creep up to steal her from me. When my bus arrives to take me away from Positano, the reality of the fact I'm leaving her behind hits me like a giant wave, knocking the breath out of me. I understand that while she can't come with me, I can always come back to her if I choose.
I vow to do just that, but I do so knowing that my clock is already ticking, but for my new found love Positano, the clock has no power over her, she is timeless. A few hours later I get back to my hostel in Naples with a heavy heart, on one hand I'm elated at the day I had with Positano, she was the perfect Valentine's date, all she required was my attention, on the other hand though, I already missed her presence. As I entered the hostel and started towards my room I caught the eye of a gorgeous blond girl in a revealing tank top proudly showing off her ample bosom as she leaned over from the computer she was at and motioned for me to come over. Despite the heaviness of my heart I went over to her obediently trying in vain to keep my eyes of the chest she seemed so earnest in showing off. She wanted to know if I knew how to book train tickets through the internet.
I didn't bother questioning her as to why she asked me when the receptionist was closer to her than I was and probably knew more than I did. I helped her book a ticket for Venice and then before I knew what was happening we were both in engaged in a lengthy conversation that lasted late into the night. We ended up moving from the computer to a vacant couch at the other end of the room and away from prying eyes. She was more than able to hold up an intelligent conversation and she engaged my interest by telling me of her travels and bending over at specific moments to show off just how loose her tank top was. It turned out that my new buxom blonde friend was a Hooter's waitress from Chicago, traveling Europe on all the tips she made from having to deal with inebreiated boy's trying to woo her with money and drunk talk.
As the evening wore on the conversation took a turn for the serious as she tells me that I'm her Valentine's date for the evening. I jokingly tell her I'm not going to be much of a date, I didn't even have flowers. She doesn't care, I sense that she feels as lonely as I did this morning when I woke up both happy that I didn't have a date and sad at the same time. In me perhaps she saw another lonely traveler like herself and felt the innate need to connect on a day as romantic as this one is supposed to be. As much as I'm tempted by her obvious overtures I decide to keep what little morals I have intact and don't take the bait. I leave her with a hug and whisper into her ear that she is too good for the likes of me. I didn't have the heart to tell her I had already been taken by a timeless beauty, a Hooter's waitress was simply no match for my Positano.
2/15/2008
San Francisico has always been one of my favorite cities, not just because I'm an Bay Area sports fan, but because the city has such a European flavor to it. From the Italian district to the way the city is built so closely together on the rolling hills of the bay. In fact San Francisco reminds me a lot of Naples, there are many similiarities, from the architecture of the city to the fact both cities sit on a bay. But today the biggest similiarity for me is the fact they both have a landmark that sits in the bay just outside the city, both have islands that share the same rocky personality. San Fransisco has "The Rock". The aptly named prison of Alcatraz lies on an island of sheer rock and as impressive as it may be it is no match for the Bay of Naples version of the Rock, Capri. Rising majestically above the water, with its sharp, steep cliffs that replace the beaches of most normal islands, Capri impresses with its rocky beauty.
While Alcatraz once entertained the world most famous criminals, Capri has long been playing host to people so wildly rich that it's a crime. While I'm not wildly rich I still decide to sail over to Capri and see for myself why they say "See Capri and you can die". I took the slow ferry from Naples and paid 7 euro for the 75 minute ride to Marina Grande. Located in the middle of the island at its lowest point Marina Grande is the first to welcome visitors to the island. The town of Capri sits high above the marina clinging to the cliffs. Normally one can take a funicular up to the town but it was closed for the season and I had to take the bus instead, a short fifteen minute ride later I'm in Capri.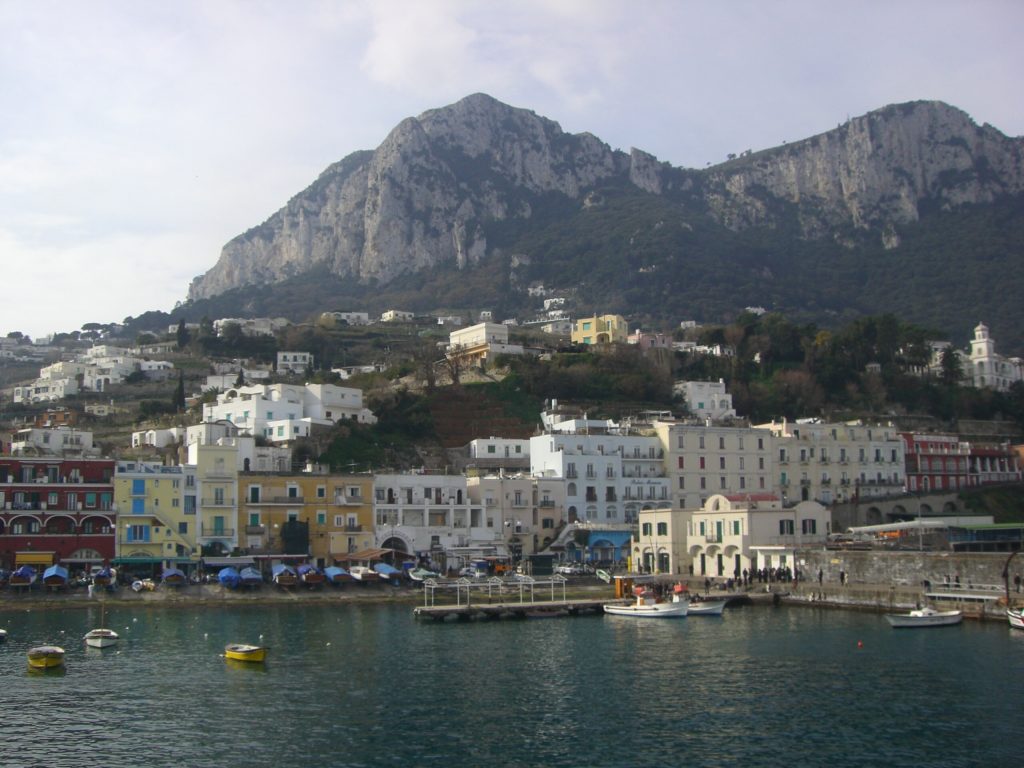 The town itself is not as steeply built as Positano as it sits on top the middle portion of the rocky island with two large peaks on either side. Initially I'm not too impressed with the town. It's quaint and built closely together but I'm left wondering where is the part of the island that says it's okay to die now, you've seen it all? As I get off the bus and walk up a narrow street that opens up into a plaza with a clock tower overlooking the ocean, I begin to get a hint of what that saying means. From the plaza I'm treated to a panoramic view of the sea nestled between the two peaks of the island. Below I can see Marina Grande and the ferry I arrived on. It's a sunny day but much like most of the days on this trip so far it's precariously warm. With the sun shining on my face it's a warm enough but if a cloud passes over the sun or the winds blows it immediately turns chilly. I decide to start walking down random streets to get a feel of the place.
Though the view of the Marina Grande had been nice it wasn't to die for, I wonder once again if I had been misled about Capri. The corridor I was walking down led me to a view from the other side of the island, just below I could see a very Romanesque courtyard with arches surrounding it. I made my way towards it and for a while sat in the courtyard staring up at one of the peaks highlighted by a blue sky with a few puffs of clouds thrown in for good measure and still wondered what was so amazing about this island. It was picturesque no doubt, but again not to die for. I decided to continue my exploration of the island, as I walked from the courtyard I noticed an entrance to a park but it didn't seem to appealing and so I hurried past it. However something in me told me to slow down and take a look, after all it wasn't like I had any place to go in particular, I just wanted to find the reason Capri was to die for.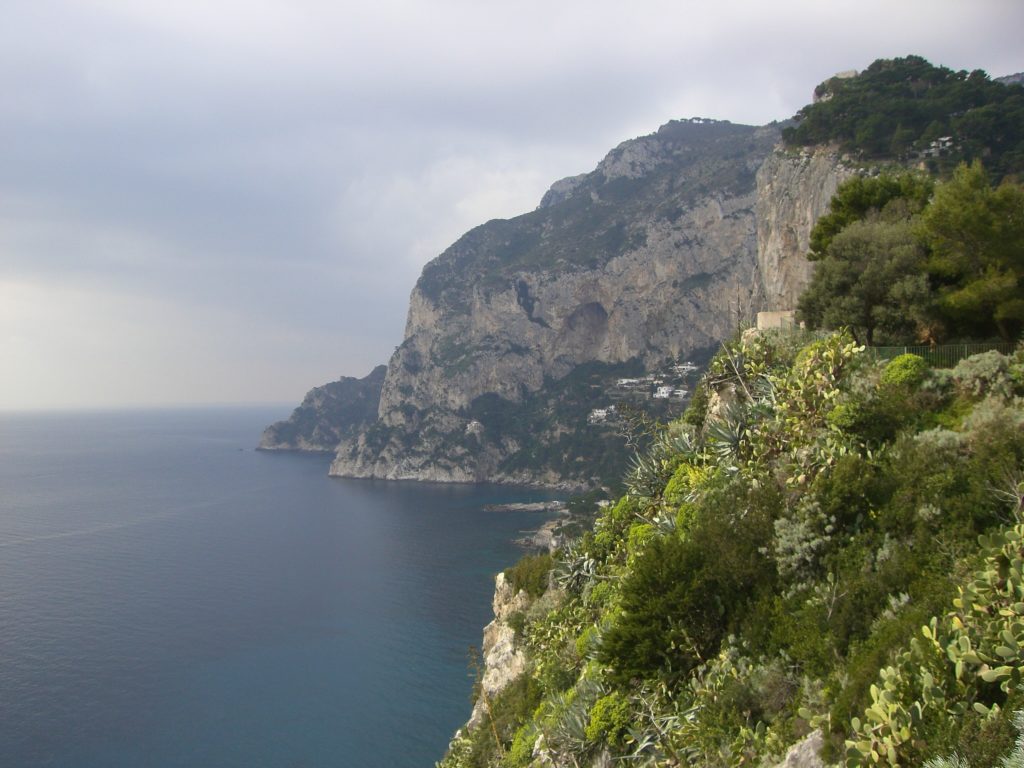 I went back and took the tree lined path into a very small park that didn't have anything outstanding except for another small path the led to an overlook. As always in life it seems it's the path that seems less appealing that leads to the glory we seek. This path was no exception. As I rounded a corner immersed in trees it opened up into a stunning view. I came across an almost unbelievable sweeping view of what people come to Capri for. On my left there was one of Capri's peaks, just to the right of that peak were two towering rocks jutting straight up out of the ocean as though they had been placed there on purpose. As my eyes continued to sweep to the right the sea opened up unopposed by rocks and with the sun shining directly down, the water was lit up and the ripples from the waves exploded like golden fireworks against the dark blue water.
Though my eyes were already overwhelmed by the beauty I had seen I knew there was more and as my eyes shifted farther right I was overwhelmed once again by the sight of the highest peak in Capri rising straight out of the water, the rest of the island was visible in a U shape from that peak back to where I was standing. There looked to be the remnants of a fortress overlook on the very top of the peak and closer to where I was standing was a hotel built right on the cliff. The hotel itself was to die for, literally hanging to the side of the cliff, the windows facing the ocean had a view that was straight out to the horizon and straight down to the ocean as well. I felt a swell of jealousy rise up in me as I thought of all the rich and famous that had stayed at this dreamy hotel built right into a rocky Cliffside and instead of enjoying the view they probably were too busy looking at themselves in the mirror to appreciate.
Not that I really believe that is the case with the rich and famous, the way I figure since I'm not it's my right to assume they don't appreciate what they have. I decided I couldn't stand being jealous and so I averted my eyes from the hotel and gazed at the rest of the cliffs that were densely covered with a variety of trees, bushes and cactus plants. I breathed in the fresh ocean breeze of the Meditranean and took in these views with the warm sun on my face. Finally I understood why the island of Capri was to die for.
I stayed rooted in that spot trying in vain to appreciate its beauty, but like so many of the breathtaking views I have seen on this trip, it can't really be appreciated in a few hours much less a lifetime, I simply would have to come back. I sat on the top deck of the ferry and watched as the magical island of Capri grew smaller and smaller as the ferry pulled away toward Naples, I could feel myself die a little inside as I watched Capri disappear from my view. I finally understood the entirety of the saying "see Capri and die", the views may be to die for, but its having to leave those views that actually cause one to die a little inside.
2/16/2008
The nice thing I'm finding out about staying in hostels is some of the people you meet. Since most young bold travels are cut out of the same mold it really doesn't come as a surprise that I have made so many instant friends. The best part about instant friends is that they are easily disposable. So when the need to chat is done so is the friendship. The night I went to Pompeii I met up with a nice Australian couple and another girl traveling solo from Canada. We were all staying in the same room and we ended up talking for hours about religion, politics and other personal stuff that normally people wouldn't talk about but it's different when you know you're never going to see your new friends again.
It turns out the Australian couple and the Canadian girl were all planning to go to Pompeii the next day and was unsure how to get there. Since I had been there before they asked if they could tag along. I gulped and said yes. Its one thing to open up about personal things with these people but quite another when it comes to exploring ancient ruins with a bunch of strangers. Again their only friends when it's convenient. I told them I was leaving by eight and the next morning the Australian couple was up but the Canadian girl was still asleep. Easy call. She got left behind. I escorted the Australian couple to the entrance of Pompeii and then without wasting any breathe I told them to have a great time and it was good meeting them. I didn't travel 3000 plus miles to share Pompeii with anyone. Pompeii is best explored alone. Visiting Pompeii is an all day event the city is quite large and it's easy to get lost.
The entire town is intact from the bottom half down so as long as one doesn't look up you can get a good idea of what it must of been like to walk the streets of a ancient roman city. My first order of business was to take pictures of the forum with Mt Vesuvius in the background. Today was unique in that the sky was clear and blue and there where no clouds near Mt Vesuvius. So I went crazy trying to get every shot from every angle under every column and arch I could. It was like all summer in a day in terms of perfect picture taking weather. Once that was taken care of it was time to visit the brothel. One of the funniest and naughtiest places to visit in Pompeii is the perfectly preserved brothel. How ironic that while the rest of the town lost its roofs and many walls the brothel was left completely intact. It's surprisingly easy to find.
The streets of Pompeii are generally straight and narrow, the one street the winds and curves into a narrow alley is the place where you find the brothel. Even in broad daylight thousands of years after it was buried it still looks seedy. Entering the brothel will elicit giggles from people of ay age. Above each door is a pornographic fresco of a specific sexual act. The rooms still have concrete beds in them. Why with some sheets and some naked woman this place could be hopping again in no time. But there is more to Pompeii than just its brothel….much more….like…for example…hold on while I pull out my map and Pompeii guide…ahh…like visiting the amphitheatres. The amphitheatres are my favorite places to visit, the larger one is in wonderful conditions and they could still have plays there today. The smaller one that was used for readings and music is also in pristine condition and its easy to imagine sitting there back in the day listening t a poetry reading that like most poetry probably sucked.
I wandered around Pompeii for hours and visited some of the houses like the house of faun. It's easy to reconstruct hoe their homes looked with the center of many homes having atriums and baths built right into the floor. Frescoes on the walls…these people lived better than I do. Pompeii never fails to fascinate and most importantly educate about the origins of early roman life. What was a tragedy for the people of Pompeii in 79 AD is a gain for the people of today to have a glimpse into the ancient roman world.
2/17/2008
If there is one thing I'm good its meticulous planning ahead with no thought of actually having to follow through with the said planning once the day arrives. This morning was a great example of that. I had to catch a 5:30 train to Florence which meant I had to be up by 4:00 as I had a 20 min walk through Naples to the train station. I went to bed early but was kept up by my five roommates all of which knew each other and for some reason had the lights on and were rattling around at different times between midnight and 3:00. I was more than just a little irritated but I got my revenge at 4:15 when I made it a point to make as much noise as possible. I'm sure I woke all of them up. All that nonsense aside I was truly looking forward to Florence.
The year before when I had visited it had been cold and overcast but today it was supposed to lukewarm and sunny. What a difference the sun makes. I was able to find my hotel without much trouble and was pleased to find out I had my own room. I then made a ten minute walk over to the academy for my 12:00 close-up with David. Turns out I didn't need an appt. There were no lines at all. I spent a good hour admiring David and trying not to look at his penis…I hate to say it but he does have a larger penis than I do. I also laughed the other men who were making a point not to look at his penis while on the other hand I noticed that woman made it a point to look. I was well informed to the fact that there is no picture taking allowed but I wanted a close-up of David out of spite for their stupid rule. So I sat near a group of tourist waiting for a chance. My chance came when the group asked one of the attendants for directions.
As she bent over their map I stepped in front of her so my back was facing her and took my time taking an unabashed perfect shot of David. Take that Florence! After my malfeasance at the academy I strolled on over to the Duomo and took in the Baptistry and then climbed the bell tower, the views on a sunny day ere tremendous. The only down side was the fact I couldn't climb the dome because it was Sunday so I would have to wait for tomorrow. I walked over the Uffizi and looked around. I had no interest in going in but I enjoyed the people watching and specifically the street performer that was made up to look like a statue that would come alive if you dropped coins in his bucket. Woman would come up and do that and than draw away in fear when he would come alive and try to take their hand. From there I took in Ponte Vecchio and then made my way up to the fortress that overlooks the city and was treated to an amazing view of Florence, a perfect end to a semi perfect day. Semi-perfect being later that night I did laundry and it took forever. I mean who goes on vacation to do laundry….me I guess!
2/18/2008
I woke up today with a nasty cough. Not a good sign considering I had body aches to go with it but like any impending illness all one can do is suck it up and try to brave the storm. I however had no time to be sick today was a busy day. First thing first I went to the Duomo and got in line to climb the dome. I had to wait all of five minutes. Climbing the dome is an even unique experience than that of climbing St Peters dome. The stairs are far more steeper and the twists and turns more intense. The view at the top is still as wonderful. Sweeping views of the city and in the case of Florence it was clear enough a day that I could see into the foothills of Tuscany and was able to get a glimpse of why Tuscany is as wonderful as they say.
After I climbed down the dome I wandered around the cathedral for awhile and then headed back to the train station to catch a train to Pisa. I ended up sitting next to a very cute brunette Italian girl who spoke no English. I found this out when she accidently tipped over the garbage by the window and I of course as a gentleman helped her out. She thanked me in Italian and then asked me something I couldn't understand. I told her in my own halting Italian that I didn't speak much Italian and did she speak English. No such luck. So we spent the next twenty minutes until her stop stealing looks at one another and when she left I was rewarded with a big smile and a "Ciao". I really need to learn Italian. Coming into Pisa presented a couple of issues I had been told by everyone and their mom there was no need for more than a couple hours in Pisa.
I had scheduled in six. So I swallowed my cheapness and bought an earlier ticket to La Spezia. The walk to the leaning tower was a quick 15 min walk and as I get nearer I can see the cathedral and then out of nowhere there it is and it is indeed leaning. When you're looking at it the lean is quite obvious but some of the pictures I took didn't quite show off the lean. It's most noticeable at the base and then it seems to try to right itself a little towards the top. It's interesting to be in Pisa because there is only one reason to be in Pisa and that is to marvel at an old world error. Were the tower not leaning Pisa wouldn't even be on the map. It's that unremarkable of a city.
After getting over the initial awe at staring at one of the worlds great mistakes in engineering it becomes rather humorous at how badly it really seems out of place with the cathedral being right next to it and …well…being straight. You really get a feeling of appreciation for how important it is for these builders/architects' to get things right, one mistake and your masterpiece is a tourist attraction for all the wrong reasons. The most enjoyable part of Pisa turned out to be the picture taking. Because I was solo I couldn't take the kind of pictures I saw the hordes of Japanese tourists taking with the view of one holding the tower up or pushing it down or even kicking it. So I used my fingers and was able to take some fairly clever pictures of my finger pushing it down and holding it up and my personal favorite of my fist bashing down on the top of it. Pisa turned out to be a perfect way to kill two hours. I then caught my train to La Spezia and got there much earlier than I would have. I was worried about trying to find my hotel.
The only map I had was one I printed off Google and it wasn't very helpful. Fortunately I was quite close I literally just had to follow a Long Street down that actually was a shopping district and was for pedestrians only. La Spezia turned out to be quite a lively town. I could see the dark green hills towering over the city and I could smell the ocean. As I came upon my hotel I caught myself thinking that if I ever were to want to live in an Italian town that wasn't a tourist hotspot than La Spezia could be it. I arrived at my hotel Albergo Sole and the proprietor of the place greeted me with a big smile. He was a perfect image of what you would expect an Italian grandfather to look like. With a tight wrinkled face, enough silver hair to slick back and he wore glasses and even sounded the part. He spoke very passable broken English and he was even able to recommend a nice family run restaurant, Trattoria el Luciano for me to eat at which turned out to be a great recommendation. The hotel was a combination of guestrooms on one side and his personal rooms and the other so it had a very comfy feel to it. I liked him and the hotel immediately.
2/19/2008
It was my second to worst travel nightmare, the first being missing a flight or train, I woke up this morning with a violent cough and deep body aches. I looked out the window and the weather matched my mood, dark and overcast. I always worry about getting sick on a trip; it's like being sick on Christmas when you would rather be sick on a school day. This was not the portion of my trip that I wanted to be sick. I was in Cinque Terre and the entire three days were to be spent hiking the trails between the five villages. But I came prepared with extra strength Tylenol. I was determined to stick to my schedule and hike all four trails today; all I needed was something to mask the pain. Good ol' Tylenol.
So I swallowed two and put four more in my pocket and I was off. I headed over to the train station, a quick 15 min walk and caught the 10:00 to Riomaggiore. The train went through some dark tunnels and then all of a sudden came out and we were right by the ocean. Riomaggiore is the southern most town of Cinque Terre and a good place to start my hike. I walked through the small, tightly built village and found the start of lover lane, the first and easiest part of the trail. The trail is completely paved and ran right on the coastline, almost level with it. It's called lovers lane due to one section having lover's graffiti all over it. While there is little chance so and so are still together the graffiti surely still is, ironic I suppose. Lovers lane takes me to Maranola, a town built clinging to a protruding cliff. A rather similar setup and look to Riomaggiore I didn't spend much time there and instead went right for the next phase of the trail between Maranola and Corniglia.
This portion of the trail is about ten minutes longer and is not paved or as flat as lover's lane. Still it clung to the coastline and didn't have much of an elevation change until the very end when you have to climb 320 steps to get to corniligia which sits on the top of a cliff. Corniglia proudly announces that you are now in the center of Cinque Terre. I decide to take a quick break and have a snack. I'm huffing and puffing quite a bit and have the two hardest trails ahead of me. The next trail is an hour and a half and has significant elevation changes. While the trail is much more difficult it also offers some spectacular views of the ocean and also takes me deeper into the trees and bushes of Cinque Terre as the trails winds along the coastline. The smells of the Mediterranean are quite prevalent on the trial as I can smell the scent if lemons, oranges, and olives. It's this trail that is what I have been dreaming about. As I come upon Vernazza I find that I'm actually above the village and have an eagle's view of the rock that juts out into the ocean with a village built around it. A watch tower still stands at the edge of the cliff. It is a spectacular view and the best view of all the five villages. As
I prepare myself for the final trail I can feel my strength about gone. Which is too bad as this trail is the hardest and the longest. It's a two hour jaunt straight up seemingly endless stairs and rocky paths that wind between along u shaped bend in the mountain between Vernazza and Monteresso. I'm barely able to finish the trail but fortunately my legs are not sick, just my upper respitory system so it kind of balances out and as I finally descend down upon the beach village of Monteresso I'm completely spent but am feeling victorious at my accomplishment. Monteresso is the least visually stunning of the five villages but it has the best beaches. From there I catch the train back to La Spezia and have a late dinner at my new favorite Trattoria, Luchiano's followed by an internet session at the Map Caffe which is a local hangout for the younger crowd and has two very attractive girls working the counter who make me wish I spoke Italian. But on this day I'm too tired and sick to flirt so it's a moot point.
2/20/2008
I decide that today is going to be an easy day; I have been diligently pushing myself and maximizing everyday. But my body is worn down almost to the nub from being sick. So I decide that I will explore Riomaggiore, which my favorite of all the villages. Part of it is the name and the fact it's the most picturesque of the five villages. I start by exploring the village itself and I'm led up a road that overlooks part of the town. I notice a set of stairs that head straight up the mountain and despite myself I decide to climb them. It's a good call. The stairs lead to the road that runs along the top of the mountain. It's a very narrow road and there really isn't anywhere to walk but in the road as one side is flush up against the mountain and the other side drops down into the ocean.
I find a place to sit and take it a breathtaking panoramic view of not only Riomaggiore but the entire coastline of Cinque Terre. I can even see all the way to Montresso which gives me a greater appreciation for the 9 kilometer hike I made the previous day. Even though it's overcast once again I'm still amazed by how clear the view is. I can fully see and appreciate all the terracing that has been done and the hardship and dedication that goes into working the land of Cinque Terre. I decide to walk a little further up the road where I find the entrance to a nature hike that leads down to the beach of Cinque Terre.
I decide to take the hike and it does not disappoint with an amazing array of foliage and different plants that cling to the cliff sides along the trail. I'm given more sweeping views of the ocean and the best part is I have the trail to myself. Back in town I stop at a deli and they make me two big proscuitto and salami sandwiches that I take back with me to La Spezia. There I feast on the sandwiches and read "It" and then fall asleep for the evening.
2/21/2008
Today I feel a bit better physically but mentally I feel as overcast as the last two days have been. I need the sun; I live for its warmth. I have a lot of time to kill as my train doesn't leave until 11 30. So I really have a long day ahead of my and no warm bed to look forward to. Again I'm a victim to my own meticulous planning. I take the train to Montresso and decide that I will attempt to walk the four trails in reverse if I have the energy. It's still overcast as I begin the trail to Vernazza; I walk slowly, taking my time. After all I have all the time in the world. As I'm headed up the trail I run into a guy asking if this is the coastal trail. I tell him it is and we both head off in the same direction. He is from Atlanta and since we are both traveling solo and feeling a bit lonely we strike up a conversation.
This is fine until one of two things happens, first I get tired of the conversation and its time to dispose of my new friend and secondly the sun is coming out! This is a day to spend soaking in those wonderful rejuvenating rays. So now comes the hard part, how to ditch him. He still is talking so I can't just speed up and leave him and I don't want slow down either. We come upon a beautiful overlook and we both decide to rest and the answer comes to me. I will out wait him. And so it begins a battle of wits to see who can hold out the longest. It takes almost 20 minutes and he finally gives in and says he will see me down the trail. I give him a wave and wait another 15 minutes for good measure. Not that it's hard, the view is stunning. I thought Cinque Terre was gorgeous when it was overcast but with a blue sky the water is a deep sparkling purple and the hills a majestic lush green. It's as though the sun brings out even more scents because it even smells better then before. The orange and olive scents mingle together and create a delicious perfume.
I head out again on the trail, feeling free, happy and on my own. It's warm enough that I have lost the jacket and sweatshirt and am wheeling around in my t-shirt like its spring. I come to another overlook that gives a sweeping view of the cliff sides and the upcoming town of Vernazza and find to my dismay the same guy I was talking to earlier. I'm tempted to just walk past him but he wants me to take his picture. I comply and have him take mine when more company arrives in the form of two girls from Minnesota, one who is exceptionally attractive with her brown curly hair that bounces on her shoulders and her penetrating hazel eyes. I'm intrigued. But also have another way out.
They of course stop and we all engage in a thrilling conversation. The cute girl is eying me and I'm eyeing her back. I'm a bit torn but also realistic. This is a once in a lifetime adventure. I'm not going to hook up with that girl. She is staying in a different town and I'm leaving tonight. So despite the vibes between us I let common sense take over for once and in doing so have my opportunity to escape. My friend is already in deep conversation with the less attractive girl and is trying to engage her cute friend the moment she responds to his question I'm off again with purpose. I don't see any of them again. The day is mine and I'm finally completely untethered. When I get to Corniglia I decide to pay a visit to it empty rocky beach. There I lay on the rocks like a lazy lizard and nap in the sun, lulled to sleep by the rhythmic sounds of the waves and the steady beat of the sun on my face
A day at the beach. I wake up refreshed at continue my journey to Maranola I have another hour to kill as the final trail, lovers lane is closed until five so I buy some chocolate biscotti and sit on a rock bench overlooking the water and the village of Maranola. I have old people all around me soaking in the sun as well. 3ts as though it's all summer in a day for all of us. As I walk down the lovers lane trail with the sun beginning to set and fatigue running like wildfire though me I again feel victorious. I have beaten feeling sick and have finished the trail going both ways. I decide to watch the sunset before heading back, but am torn as to where to watch it. I could watch it from the marina or climb up about 200 steep stairs and get a panoramic view from the top of Cinque Terre on the road where I was yesterday. That way I could have pictures with better lighting as I now had with the other four towns.
However my body aches terribly. However the addict in me that craves beauty that's only found in hard to reach places burns deep enough that my mind forces my legs to cling those stairs. I do to the point of collapse and my reward is a view of a sunset from what seems like the top of the world. The town of Riomaggiore is too my right and seems as though it's on fire from the stunning reflection of the fading sun. As my eyes sweep left they follow the now golden coastline all the way to Montresso and just a bit beyond. From there the ocean is an intense purple hue until my eyes move closer to the sun that sends a bolt of yellow sparkling light through the ocean in a perfect line. I watch as the light fades little by little and the town and coastline loses its golden glow little by little.
I'm taken away by the view. I feel as though I'm dreaming a beautiful dream and I'm scared of waking up. I feel a need to soak in every moment I can because this is a moment I know will haunt me with its surreal beauty for the rest of my life. I feel like I'm watching a life dream slowly flicker out in front my eyes. I'm wide awake but my mind is in a deep slumber. They light drains away into the west and suddenly I'm aware that my world has been thrown into darkness. The best part of my day is over, but I don't have the luxury of sleeping my way into the next day, rather I find I'm thrown into it kicking and screaming.
2/22/2008
My day starts at midnight as I catch the commuter train from La Spezia to Genoa. I spent the previous two hours sitting in the hotel lobby feeling sick and wanting a warm bed for the night. The non stop going has caught up with me; I'm tired and just want to rest. I try to catch some sleep on the two hour train ride to Genoa but I'm awakened twenty minutes before my stop by an insane Italian lady who unfortunately also speaks English. She runs down the aisle of the coach saying in a loud voice "Genoa, Genoa". Though I set my alarm to wake me before we got to Genoa I react as though I'm about to miss my stop and I start talking to the crazy lady as though she isn't crazy, which turns out to be a mistake.
Treat them normal and they latch right on to you. Crazy people need normal attention. I'm able to ascertain on my own that it's not even close to Genoa and I'm suddenly very crabby and carry my luggage back to my seat. The crazy lady follows me and sits across the aisle from me and starts to talk to me. Incoherent babbling, half in English and half in Italian. At first I politely nod my head but then I remember she is the one that woke me up and had me running around in a panic and I decide to simply flat out ignore by turning my head and body away from her. Rude I know. She carried on for another five minutes and then got up and left singing in English "We are the champions". Where do these crazies get so much energy so late at night?
Sadly for me my night is far from over. I arrive in Genoa at 1:45 and have three hours before the train for Nice leaves at 4:45. I cannot believe I thought this would work out. I start out my wait by sitting in the main waiting area of the train station. I have company. All the bums of Genoa are wrapped up in blankets on the chairs snoozing away. A gentle reminder to myself that things could get far worse…and then they do. Another crazy old lady comes shuffling into the train station. She has scraggly gray hair and a badly misshapen body like a half deflated beach ball. She has a dog on a leash that stops for a moment breaking the old ladies momentum and for that the poor dog gets kicked and cursed at in Italian. At least she doesn't speak English. This lady really annoys me as she keeps shuffling around the station in no particular pattern and for no reason. Then again she is crazy, she doesn't need a reason.
I try to concentrate on the book I'm reading, sleeping is impossible, I can't go to sleep with all the derelicts sleeping nearby and a crazy lady shuffling around with her dog. I put up with this for about an hour and I have had enough either I'm going to up and kick this lady the way she kicked her dog or I have escape. I choose escape. I head to the platform where the train will eventually arrive. To my delight I notice they have an enclosed waiting area and it's deserted! I settle on in and decide to get a little sleep. Thirty minute lady I hear shuffling…I open my eyes and to my horror I see the crazy lady on the platform heading my way. Over 20 platforms to choose from and she chooses platform 11. Sure enough she comes in, muttering to herself and shuffling slowly with her dog in tow. I want to scream in disgust. The night just keeps on getting worse. I sit there gritting my teeth, another hour to go. But then my luck turns my train pulls up! I'm saved! I have an assigned seat, it will be warm and I know crazy lady and her dog don't have a ticket!
So begins the third stage of my living nightmare. I can't find my car. Usually the cars are numbered and then from there you find your seat. No number matches mine. On top of that I notice the train has come from Rome and the cars are mostly sleeper cars and they are all dark. I wander around for twenty min in confusion. Finally I see some train guys and I ask them. None of them really know and finally one of them points out the conductor, He turns out to be fat and bearded and pissed off at something. He doesn't seem to speak English and just points me in the direction of the last car which is empty. The numbers don't match up but I don't care. My bag is heavy and I'm tired. I pick a seat and sit down and try to relax. I get exactly five minutes when I see the conductor and his assistant on the platform giving me a dirty look and waving at me to get out of that coach. Now I'm getting pissed.
I get off and the conductor angrily speaks to his assistant and then I think to me and they have me get on a different coach that is darkened and full of sleeping people. I raise my voice and angrily shove my ticket in their face from the coach I have just boarded and ask them where I'm supposed to sit. The assistant just mumbles in Italian and points within the coach as if to indicate anywhere is fine. Of course it's not fine. All the compartments are dark and full of sleeping people. I can feel my self losing it and I cane feel the anger rushing through as I raise my voice again and with attitude and determination I again tell him that's not possible and where is my assigned seat. Although he doesn't speak English or is pretending not to he knows what I'm saying and see my anger and realizes I'm not a pushover and he responds by closing the door of the train in my face.
I stand there debating on whether to open that door up and grab the guy by his jacket and shake him around till he personally shows me where to sit when the train starts moving. I now have two choices. I can sit in the corridor for the next four hours or bully my way into one of the compartments. My insane anger gives me courage to bully. I look in the compartments until I see one that has an empty seat and I pull open that door switch on the lights and start putting my bag up. I get sleepy confused stares and I simply tell them the conductor told me to sit here, take it up with them. I'm not even sure if they speak English but the combination of fatigue and my abrupt entrance and insistence that I'm sitting down whether they liked it or not, has them shrugging and trying to go back to sleep.
This has been the longest and most uncomfortable night of my life. I close my eyes determined not to open them until I'm in Nice. The Gods have mercy on me and the next time my eyes open I'm looking out into the blue ocean and the beaches of Cote Azure. The nightmare is over and I have arrived in paradise, my anger slips away as I'm filled with excitement and anticipation of exploring a new town. One I visited briefly eight years ago and a town my Dad spent a year and half as a missionary. Luck is with me once again as I find that my hostel is just a couple blocks away from the train station. At first I was thinking I wanted to sleep for a few hours but I'm back from the dead. The long uncomfortable night of hell is over and I'm in the French Rivera and the sun is shining. My old adventurous self is back.
I drop my bags off at the Hotel Pastoral with the friendly French man who runs the place and head off to find the church my dad attended while in Nice. I have a map but it's hard to read however I know that the church is by the roman ruins and that's clearly marked on the map and so I head there. I find the ruins without any trouble and think of how my dad would often have his lunch while sitting amongst the ruins. I'm able to find the right street and within minutes I'm at the church. It's a small compact building with a white spire. It seems to sparkle in the morning light. I collect some rocks for my mom who wants to have them buried with my dad when he dies. A morbid thought but I understand as my mom does how much my dad loved living in Nice.
I find one of the doors is unlocked and so I roam around the church and take pictures for my dad. I head back to the city area and towards the beach. I want to see if I can find the section of beach where I laid out and swam and watched as two gorgeous French woman took their tops off in front of me. Something's you just don't ever forget. I find the place rather easily as I remember there was a pier by where I swam and it was the only one on the beach. This time around the beach is empty and those two beautiful topless chicks are nowhere to be found. Damn. From there I head over to explore old nice and to find the square with the chapel that I remember seeing and then later again in the movie Ronin. I find rather easily and then have dinner at a café right in the square. It's my first French meal. Fish soup and beef stew with spaghetti with chocolate cake for dessert. I slowly walk back to my hotel, full, happy and finally relaxed. The longest day of my life ends on a good note. And why not, I'm finally living the Nice life.
2/23/2008
I wake up refreshed. The room I'm staying at in the Hotel Pastoral has six bunk beds but it's very roomy and clean and last night I only had three other roommates. Today though is a day I have been looking forward to, granted I have been looking forward to everyday on this trip so far, but today has special meaning. I'm planning on visiting ancient village of Eze which is high up in the mountainside overlooking the ocean. I have been there before and had fallen in love with its miniature corridors and shops all tightly wrapped each other and then of course the towering views of the beach and ocean from the top.
What excited me the most in preparing for this trip was finding out that there is a trail that goes from Eze all the way down to the modern town of Eze that runs along the beach. Being that I'm a hiking freak the thought of being able to climb a mountain that steep with the ocean as a back drop and the village of Eze as my destination sounded very appealing. Then later when I found out that the great Nieztche used to hike that exact trail it immediately became the one thing on this trip I was looking forward to the most. Eze su Mer, where the trail begins is located right on the train line that runs between Nice and Monaco so getting there was a breeze. I eagerly hopped off the train and based on my prior researched turned right and went up the road and there was the entrance to the trail. I looked up at the mountainside hoping to catch a glimpse of Eze, but the mountainside was too steep to be able to see the village, I took that as a challenge and I was on my way.
About five minutes into it I turned around to take in the backdrop of the ocean and the beach. From my vantage point I could see the beach house of Bono, the lead singer for U2. I had already seen many pictures of the beach house and knew that it was right by the train station in Eze. Though I'm a huge U2 fan I'm simply not the type to snoop around the private property of a celebrity, I have my pride. But I figure it didn't hurt to take a look from the trail, a good half mile away. I didn't see Bono, what a shock; though I'm sure by the time I get home I will have thought of a good lie about seeing Bono to impress all my friends who like U2. I return my focus to the trail; it is as steep as advertised. The trail winds around the mountain and rises very quickly.
When facing the trail I'm able to admire the mountain side and the beauty of the trail itself, but the real treat is turning around and looking at the ocean view. I can't wait for the return hike, which will have me facing the ocean the whole time. By the time I get to the top I'm huffing and puffing, while the Cinque Terre trails where much longer they also had many level points to the trail whereas the trail up to Eze is ..well…straight up. But much like everything point of this journey when I've gotten to the point of exhaustion where I think I'm done, I get to where I'm going and a bolt of energy surges through me and my urge to explore overcomes my fatigue. Eze is even more spectacular the second time around. I take my time walking the narrow corridors and wander into the many different quaint shops along the way.
While I'm not looking to buy anything I can't help but marvel at the unique wares the different shops have to offer. One particular shop specializes in dioramas that show very detailed scenes of cars in a garage, I'm fascinated by the miniature tools and even miniature girlie posters. There's some depicting a dentists office for some reason, though all that's missing from that scene is a miniature patient with all look of pure horror on their face. I'm willing to break my budget a little bit for the Ferrari diorama but at 250 euro it would be more then breaking my budget it would be imploding it. My next favorite shop is one that has wood carvings. They seem to specialize in carving faces of stern old men with long beards that seem to rise out of the wood. Unfortunately not anywhere close to being in my budget. I decide after that I should probably stop going into the shops. Besides my main purpose for being in Eze is to get to the top of the village which I remember offered dizzying views of Cote Azur.
I don't know exactly how to find it but I figure as long as I keep going up I will run into it. My logic proves to be true and I come to an entrance to a cactus garden with an admission fee of 5 euro. Since I'm five Euros to get in I try and force myself to linger around the cactus garden but my attention is drawn towards the ruins of the ancient castle at the top. I stop my moonlighting as a cacti lover and head for the top. The view is as stunning as I remember. The last time I was here there were blue skies and today is no exception. With the azure blue ocean beneath me and endless powder blue sky above me I feel as though I'm in the middle of a giant marble. The view is practically straight down to the ocean and I feel a bit breathless. This is truly a bird's eye view. There are blue skies all around me and the floor of the world directly below me.
I can make out the outline of the coast as it sweeps around forming an L shape with Nice somewhere on the other side. From far above I get a greater appreciation for how calm the water are. It doesn't even seem like there are any waves and it gives the ocean peaceful serene look. A few years back when I was in Honolulu on top of the Diamondhead crater looking out at the ocean I was surprised by how visible the waves were even from as high as I was. The Pacific Ocean looked like a working mans ocean, never at rest, but here in the cote azure the ocean seemed to be asleep in a blue haze. Intoxicating. I'm taken by the numerous statues that have been molded into a sleek female shape.
There are numerous statues around the top and one of them catches my attention. The sign below her states her name is Mesilinda. She is perched right by the edge of the overlook. She looks out into the endless blue like a goddess surveying her world. I'm taken by the poetry that follows her name. "Who dreamt me? Who created me? Whom shall I love?" This perfectly captures the thoughtful, breezy way of thinking that occurs when being in places like this. The mind feels free and at peace allowing deep, sometimes romantic thoughts to flow. As I look at Mesilinda, in a way I see myself, looking out into the deep blue dream that's laid out before me and thinking those same thoughts. I don't want to leave right away and so I stay awhile and allow the sun to warm my face as I slide away into a pleasant unconsciousness. I'm fortunate to have about a half hour or so of solitude before a group of tourists break up my peace. No hard feelings, it a major tourist area like this I will take any solitude I can get.
Before I head back down the trail I stop at the famous French perfume store that just outside the entrance of Eze. I remember my parents going nuts buying perfume there when I was with them on my first visit here. I decide to buy some perfume for Mom, in a poor attempt to try and pay back my parents for that wonderful 3 week tour of Europe they took me on in 2000. This is a new experience for me, to unless you know exactly the brand of cologne or perfume for the person your buying its kind of a stretch to think your going to be able to pick something they will like. Every bottle of cologne that has been given as a gift to me still sits on my shelf with several layers of dust. Scent is a very personal thing.
However this is a unique situation where my mom didn't remember what perfume she bought back in 2000 and so I figure she will be happy with the fact it's from France. I'm more than a little overwhelmed by all the choices and all the samples the sales lady throws my way. It quickly gets to the point where I lose my sense of smell. So just before I pass out I decide to get my mom an orange fragrance, which was the first once I sampled and so I actually remember what it smelled like. Plus when I think of the French Rivera I think of orange trees. I'm pleased as a peach to get out of there and anxiously begin my trek back down the Nieztche trail. It's just as I expected I have a continuous wide scale view of the ocean as I hike down the trail. I try to enjoy it but about a fourth of the way down the trail I realize I have made a critical mistake. I failed to use the facilities in Eze while I had a chance and now I really had to go.
I'm no stranger to urinating in beautiful scenic places, the Grand Canyon, Zion's National Park, and even Chic hen Itza just to name a few. Its not that I'm an animal, but when a guy has got to go and there is no restroom in site then nature becomes the restroom. Plus for a guy it's a simple two step process to urinate, zip and rip. I'm only a little hesitant this time around because I'm trying to pretend I'm Nietche taking one of my morning walks as part of my inspiration for writing another classic piece. I'm not a 100% sure that Neitzhe never took a leak on the trail, but then again I'm not 100% sure that he didn't, hey maybe he even came up with his best philosophies while he was relieving himself. I come upon a part of the trail where I can see about 30 yards ahead of me and with a sweeping view of the ocean I zip and rip.
I'm really not too worried about having another hiker spot me; after all I have never had that be an issue. I always pick a spot where I can see ahead of me and make sure there is no one coming. Today however proves to a first. Not 10 seconds into the relieving process I hear the sounds of boot on dirt and to my horror I see a hiker round the bend and head up toward me. Since I can't stop once Vie started I just have to hope I can finish up before he gets much closer. However he is moving fast and I don't show any signs of slowing down. As he moves closer I realize I'm just going to have to grin and bare it. But another thought crosses my mind, what do I care? He doesn't know me and I don't know him and I will never see him again anyway so it really doesn't matter.
As he passes by I causally nod to him and he nods back, no big deal. So with that out of the way I'm able to enjoy the rest of my hike to the bottom. I'm not sure Nietzsche would have approved, but I'm sure he would have understood. Once I get back to Nice I decide to head back to my room to drop off the perfume I purchased and decide what I want to do for the evening. I planned my stay in Nice to coincide with Carnival and tonight there is a parade in celebration. I decide that I will go down and take a look but I'm skeptical about really being able to enjoy myself in a situation like that when I'm by myself. A parade is a lot more fun when you're with someone else. When I enter my room I'm in for a surprise, laying on the bunk just below mine I encounter a beautiful girl reading a book. She looks up as I come in and gives me a radiant smile. She has sleek, shiny black hair that flows well past her shoulders that's complemented by a set of flashing green eyes.
We immediately strike up a conversation. I find out she is from Sweden, which surprises me, because I have picture in my mind of all Swedes having blonde hair and blue eyes. I of course am an idiot. I share this with her and she laughs. It turns out she is on her way to Monaco to start employment as an attendant on a yacht for the rich and spoiled. After getting a long look at her I find myself wishing I was exactly that. She tells me her name which of course I forget the second I hear it. On trips like these names are worthless, I'm simply not going to be around these people I meet long enough to make it worth my while to remember. I have found I can get away without having to use their names anyway. "Hey" works really well. She all of a sudden asks me what I'm doing tonight, my mind is elsewhere so I can't even remember what I had planned to do so I tell her I don't know.
She suggests we go to the parade together. I'm in. Life is a real roller coaster, one moment I'm feeling a little down because I'm going to a parade by myself, and the next moment I'm going with an incredibly attractive woman. I love hostels, not so much the sleeping part, but the social aspect. So far this trip there has been a sense of excitement of never knowing who you're going to meet in a hostel, specifically if it's an attractive woman. So far on this little adventure of mine I have meet several girls but it was at the end of the evening and so we ended up just chatting into the night. This was the first time I actually ended up spending the evening out with someone I met.
It worked out perfectly because normally it has been my preference to spend the day exploring on my own, but for something like celebrating Carnival it really is more fun with someone else, particularly a good looking girl. One of the aspects of Carnival that I found appealing when I was reading about Carnival was that it's bright, colorful, and clean. In other words it's not a carnival of flesh like in Rio and New Orleans. The parade turned out to be everything I had read about. All the action took place down on the main street that runs along the beach, by the time we got there the parade had just started and we were able to squeeze our way to the front. But we weren't able to make unscathed.
By the time we got to the front we were covered with silly string and confetti. It seemed like everyone had a bottle of silly string that they weren't shy about shooting at perfect strangers with, and those with confetti were making it snow with the brightly colored dots. At first we were both mildly annoyed but then we found out where they were getting it from and soon we able to join in the fun. Everybody went from being strangers to being a warm body to spray with silly string. Our street corner became one big happy, silly string shooting family. The parade itself was amazing, though it took a backseat to the silly string war for awhile. Once we got the initial fun of shooting silly string and throwing confetti, my Swedish friend slowed down the action a bit and took in some of the floats and the action on the street. The floats were highly detailed and simply amazing. There was not one float that was even remotely the same. They had a float with a huge purple dinosaur, another with a giant cat dressed in a velvet robe sitting on a throne.
The float that intrigued me the most was one that had cages with girls dancing inside the cages, seemed very American to me for some reason. In between the floats were people in elaborate costumes dancing and in some cases shooting silly string at the crowd. In a nutshell it was a party of epic proportions that everyone could enjoy and even more importantly participate in. By the time the Swede and I made it back to the hostel we were completely covered in silly string with layers of confetti, but we barely noticed as we were high on the excitement of the evening. As we cleaned the silly string and confetti off each other we laughed as we recounted the events of the evening. I went to sleep that night aglow with the type joy that only being with other people can bring, as much as I have enjoyed being on my own this trip I must admit tonight was exactly what I needed.
2/24/2008
I wake up to the sounds of my Swedish friend from the night before packing her things, she's on her way to Monaco to start her job on the yacht for the rich and famous. I'm not sure how jealous I'm, I like the idea of a yacht, but having to serve the rich and famous doesn't sound so appealing. Although I'm awake I keep my eyes closed as she packs, I don't feel like saying goodbye. Even though I had a great time with her the night before, she is still a single serving acquaintance, good for one use only and then tossed aside. I have no doubt she feels the same way about me, after all she is a seasoned single traveler and that the traveler code, use it then leave it. If only the real world was like that, but that's the wonderful thing about traveling, I get to see the real world but I don't have to live in it.
The ironic thing is that I'm going to Monaco today; I didn't tell the Swede that though, she had already mentioned the previous day that if I were to visit Monaco I was welcome to stop by the yacht. I told her I wasn't planning on it, an out and out lie, but as fun as last night was I'm ready to hit the road again solo. After she leaves I take my time getting ready, I want to make sure I catch the train after the one she takes. Getting to Monaco from Nice is easy, I just have to catch the commuter train and twenty minutes later I'm there. I can tell I'm no longer in Kansas when I step out of the train into the underground train station, if you want to call it that, in Monaco. Everything is clean as a whistle and looks as though it's been waxed to a shine. The walls and the floor looked to have made out of marble. I felt as though I had stepped out of a train and into the lobby of some Casino, minus the slot machines. I exited the station and walked towards the harbor, admiring the expensive yachts along the way.
I didn't admire too long though as I had two must see's on my list. The palace, which was boasted the best views of the harbor and the city, and of course the Monte Carlo. I walked along the seemingly never ending, spotless harbor and towards the stairs that went up to the palace. As I went up the steps I looked for garbage, graffiti, even a cigarette butt, but like the rest of the city it was spotless. I started to feel a little uncomfortable, out of place, not that I enjoyed seeing trash everywhere, but rather I felt like I couldn't afford to even breathe in the air around here. Once at the top I took in the palace, home of Prince Rainer, whom I only know as that guy who married that blond from Hollywood that wasn't Marilyn Monroe. Clearly the guy still loved his princess as there are markers everywhere signifying an important date in the lives of Prince Rainer and his Princess, Grace Kelly.
The palace is actually a bit of a disappointment, its not that big and certainly not garish like Versailles. However it had quite a view of Monaco and that made up for everything else. From the top the palace offers a sweeping panoramic view of the entire city, which really means the entire country, from the downtown area to the harbor and then out into the ocean. It's probably the most spectacular modern view I have had so far on my trip. On the other side of the palace offers a backend view of Monaco with a much smaller harbor. The only real interesting parts of this view are the cannons that are facing out towards the city. I'm not sure what the purpose of the cannons are, Monaco doesn't strike me as a great military power unless, of course, they are planning on hitting people on the head with their wallets.
From there I walk into the little shopping corridor that leads towards a rather magnificent cathedral. The size of the Cathedral is misleading as its nestled right in between a bunch of other buildings, in fact if one didn't know the Cathedral was there beforehand they wouldn't even see it. The Cathedral is famous for being the place where Prince Rainer married Grace Kelly, I know this because there is a marker outside of the Cathedral extolling this information to anyone who cares to read it. All this reading about the late Princess Grace has made me hungry so I head back down towards the harbor towards a place that's was advertising mussels and French fries for 10 Euro. Normally that doesn't sound like an appealing option, but at 10 Euro and being that I'm in one of the richest countries in the world, it's not a bad deal.
The long walk across the harbor seems even longer on an empty stomach, but the prospect of food motivates me. Naturally once I get there and walk into the restaurant I'm promptly told by the waitress that the kitchen is closed despite the fact that I notice four other people in the place eating away at those mussels and fries that I have been craving. It's as though she can smell the hovering just above the poverty line all over me. Strange, I had anticipated the poverty stench as a possible issue and had sprayed enough Calvin Klein Obsession on myself to just about soak every pore. But these Monacoans, or whatever their called are still able to sniff right through. I walk away ashamed and hungry. I head over to a vending machine and treat myself to a 3 Euro bag of peanut M&M's, it isn't exactly mussels and French fries, but it saves me seven Euros and the prospect of having to leave a tip. However the M&M's provide enough energy for me to walk up the hill towards the famous Monte Carlo. All my friends back home are well aware of the Monte Carlo, that is the one in Vegas, they were all surprised to learn that there is a sister casino in Monaco.
I tried to explain to them that it wasn't a sister casino, it's THE casino. The Monte Carlo in Vegas was named after the original, not the other way around. I'm not a gambler but I told all my friends that I was going to break the bank at the Monte Carlo…in Monaco. Of course by break the bank I mean I plan on putting a couple euros' in the slots and pocket in winnings that I might have. As I near the Monte Carlo I notice a crowd of people in front of the casino…poor folk, just like me. As I get closer I see what they are gawking at…lines of exotic cars parked, valet style, in front of the casino. My mouth quickly drops open as I see the Porches and Ferraris lined up next to each other. I only know what make of car they are by the logo; otherwise they are all models I have never seen before. Before long I'm like everyone else taking pictures of these wonderful cars, it's like I gained free admission to a car show.
However I have my pride; I don't go as far as to have my picture taken in front of the cars as though it were mine. Everyone else seems to do it, and by everyone else I mean the guys, the women don't seem to care about the cars, rather just who may be driving them. I have to admit the guys look stupid posing with the car's, you can tell they seem a bit nervous, they get no closer then maybe two feet from the car and fold their arms or put their hands in their pockets, none of them have the nerve to lean up against one of the cars, which is too bad, because that's just what I'm hoping for. I want to hear what a car alarm sounds like on a disgustingly expensive car or if its even a car alarm, I wouldn't be surprised if some midget pops out of the trunk with a knife and chases the potential car thief down the street.
I want to go into the casino but I notice that no one from the crowd in front of the casino is going in. I'm not sure if poor people are just not allowed to go in or what. But finally after about twenty minutes I notice some guy in a Yankee's cap walk in and so I figure if he made it in, then unless he actually owns the Yankee's, I can make it in, and he doesn't look like a Steinbrenner. I walk slowly up to the door and I can almost feel the doormen sneering at me. I'm losing my nerve with every step I take and by the time I walk through the door I'm fully expecting someone in a white, satin glove to tap my on the shoulder and say with a clipped British accent, "Excuse me sir," and while I wouldn't mind the "sir" part so much, it's the "I'm going to have to ask you to leave" part that I wouldn't like so much. However the tap never comes and I quickly find out why.
To get into the main gambling floor you have to pay a hefty admission. So that eliminates it for me immediately. However on my way out I notice a small room to my left that has slot machines! I immediately head over in that direction and pull out a one Euro coin from my pocket. I'm about to gamble in the Monte Carlo, that is until I get to one of the machines and see that it's 5 Euro a pull. So that's how they keep out us poor folk! I put my one Euro coin back into my pocket and walk out of the casino without spending a dime, well more specifically without spending 5 Euro, a dime won't get you anywhere in there and not just because its American. I decide I better head back to Nice before someone appears with a bill for the air I have been breathing, not that I would have been surprised, even the air seems better here in the land of the rich and richer. As I head back into the train station I sneak one last look at the yachts in the harbor and silently wish my Swedish friend luck, she's going to need it.
2/25/2008
I'm the man with the plan. I don't normally like winging things when I'm traveling; having a specific agenda is what makes me feel more comfortable when I'm in a different country. Plus when I have a set plan for the day I don't waste time, and when I'm on traveling I don't want to waste any time. For the most part I have followed my plans to the tee with few exceptions, however today I decide to do something a little different. One mark of a good hostel is how knowledgeable the staff is. The Hostel of the Sun in Naples was one of my favorites because not only was the staff friendly they also were able to offer idea's on things to do. The Pastoral Hostel has thus far proven to be on par with the hostel in Naples in terms of helpfulness. My plans for today had been to visit St. Paul Vence, an ancient village from way back in the day.
I had already been there once and when I mentioned that to the guy who ran the front desk he immediately offered some alternatives. Before I knew what was happening my schedule for today went for a major overhaul, Vence was out, Cannes and Antibes was in. Unbeknownst to me those two towns were stops along the commuter train line. So rather than spending the day seeing something I had already see I found myself on a train headed towards Cannes. It turned out to be a perfect schedule change as I had all day to kill as my night train for Venice didn't leave until nine and I had just checked out of the hostel. On the train to Cannes I felt a little unprepared, the other places I had visited so far I had a game plan for and knew what I was going to see. Today however, I was just going to have to, well, wing it. I knew a little about Cannes, in terms of the film festival that they hold every year. Being that I'm from Salt Lake City, I have an interest in film festivals as the Sundance Film Festival is held every year in Park City, which is practically my backyard. So I interested to see how the French version compared to the American version.
While Sundance is held in the snow, Cannes turns out to be right on one of the few sandy beaches I have seen while in Europe. The town itself is small and compact and clearly old like everything else in the Cote Azure. However once I get to the beach I'm quickly able to see where Cannes separates itself from the other town along the coast. High class hotels line the street across from the beach giving it a Miami type of look. As I already mentioned the beach is sandy, I' m not sure if its natural or if they shipped it in, I'm betting on they shipped it in, I can't imagine the movie stars would react to well to a beach full of rocks. With the sun shining brightly I felt an overwhelming urge to take of my shirt and roll up my jeans and run out into the sand and surf, but I knew that the sunny day was misleading; it couldn't be more than 50 degrees out. But when you've just come from a cold harsh winter, 50 degree's actually feels fairly tropical. I decide to make my way over to the Grand Theatre where it all happens.
Today however they are not showing films, not till May anyway, today they are having a convention of some sort which kind of takes away from the ambience of the place as they have huge posters draped all over the outside of the theatre advertising whatever it is that they are convening for. I can't tell what for, it's all in French. I'm not too disappointed though with the town, for me just being there is worthwhile. Its one of those things where my whole life I have heard of Cannes and now that I'm here its nice to be able to put, for a lack of better words, a face to the name. So this May when I read about the fact they will be premiering the new Indiana Jones movie here at the film festival, it will mean a little more to me.
Being that I'm a big Indiana Jones fan, I'm considering camping out for tickets and just not going home until May. Not a bad idea, but then again I'm a fan, not a fanatic. Next on my newly created things to do list is to visit the castle on the top of the hill with the clock tower that I saw when I arrived in town. I have no idea what it is or what the history is behind it but what I do know is that it's something to do and it will provide some good picture taking opportunities. Today is another one of those days on my adventure that since I don't have anything pressing to do I get to just take my time and see whatever it is that I see. So I take my time walking towards the castle on the hill and take in the different shops and café's along the way. It takes me awhile but eventually I find some stairs that look as though they lead up the hill and sure enough they do, that's what I love about these European towns, every path lead somewhere worth seeing.
The views from the top are not as fantastic as some of the other views I have taken in and at first I'm not too impressed, but after I remind myself that I'm in Cannes, France, where they hold the famous film festival, I take another look and get into a frame of mind where I can appreciate what I'm seeing. That's the one thing I have had to watch myself for during this trip, is to not allow myself to get jaded about the wonderful things I'm seeing, because everything I'm seeing is a far cry from anything I will see back home. My goal is to not waste a moment of appreciation on this journey of lifetime. The view is a standard Cote Azur view; old world building nestled close to each other and a beach that curves around towards the horizon, accentuated by a blue ocean. With my mind straight again I'm able to see its beauty. The sun feels warm on my face and I give in to its lulling rays and I take a nap on a bench. I don't know exactly how long I was out but I woke up when I could no longer feel the sun on my face, I figured a cloud had passed over the sun.
However I found myself looking into the face of some middle aged guy who for some reason was looking down on my and blocking the sun. I quickly sat up and gave him one of my "What do you want and it better be good" looks. We get into a bit of a staring contest and then the guy says, in English, "So do you live around here?" I let that compute for a moment. He asked me in English if I live in Cannes, a French speaking town, which I find very strange. One thing I have learned about dealing with the strange people I have run across in my travels is to treat them with kid gloves. Smile and nod and slowly back away. I tell the guy in English that I don't live here and then I slowly back away. Not that I'm afraid of the guy or that I really think he is crazy, but I'm on vacation and in a foreign country, its best to avoid anything that's out of the ordinary. On my way back to the train station I run into a flea market and decide to take a quick peek at the different types of flea's they are selling.
Within seconds of entering the flea market it quickly comes to my attention that they are not selling fleas. But my disappointment is quickly forgotten when I come across a vendor that is selling books in both Italian and English. This proves to be a tremendous find for me. Because of my limitations on space in my back pack I was only able to bring three books with me. I figured that it would probably be enough being that one of the books was Stephen King's IT which is about 800 pages. But during the half sick day I took when I was in Cinque Terre I finished the book up leaving me with nothing to read for the next two weeks of my trip. On my second day in Nice I became involved another aspect of the traveler's code which is book trading. Since television isn't an option for the average backpacker, books are really the only option for entertainment while relaxing. There were several hardcore backpackers in my room that were negotiating a trade for Michael Crichton's "State of Fear" and Paulo Cohen's "The Alchemist".
The book trading works on several levels, for one it allows the backpacker to get another book without adding space and without having to throw away the old book. Secondly, books that are in English in Europe come at a premium. For example a John Grisham's "An Innocent Man" that has already been out for awhile, was selling for 15 Euro at a newsstand in Nice, so to be able to trade books instead of having to buy one is extremely cost effective. The next night I donated my Stephen King novel to a guy that had been on the road for six months and had another six months to go. He insisted on giving me a book but all he had was books on philosophy and I get enough of that from the voices in my head so I passed. I figured I would just cough up 15 Euro and buy a book at a newsstand. But here in the flea market in Cannes I find a gem of a deal.
After tossing a few Robert Ludlum novels aside I run across a thick paperback offering a John Grisham double feature, both "The Partner" and "Runaway Jury", in one compact paperback. Best part for me though is its only 3 Euro! My budget has been saved yet again, in a most unlikely place, a flea market that doesn't even sell fleas! As I wait for the train to Antibes I resist the temptation to start reading my new book, I have to ration it out to last the next two weeks. So instead I start scheming. I bought a ticket to Antibes on the commuter train, which I find out is running twenty minutes late, however there is a Euro Star train about to come through that is also stopping at Antibes. If I hop on the Euro Star train I save about a half hour. The only problem is I don't have a ticket and I'm not a hundred percent sure it's stopping at Antibes, I'm just assuming it does because is the next big tourist stop before Nice. As I'm thinking this all through the Euro Star train arrives and without anymore thought I hop on.
I figure if I get asked for a ticket I will just play the dumb American tourist card, shouldn't' be much of a stretch for me. Its my first time on a Euro Star train and I'm impressed, so far I have been used to the commuter trains that could double as cattle trains if needed, so to be a on Euro Star train that has two levels to it, and as I find once I climb up the stairs to the second level, a refreshment bar! Since I don't want to feel like a total free loader I shell out 3 Euro for an Orangina and take a load off on a synthetic leather chair, swanky indeed. Sadly my time as a high rolling Euro Star passenger is short lived as Antibes is only ten minutes from Cannes, but it was ten minutes in style. I have no idea what to expect from Antibes, the only thing the front desk guy from the hostel said was that is was another quaint old town that used to be a fort.
He wasn't even sure how to get there, he just told me to walk in the general direction of the main downtown area and ask for directions. While that doesn't sound like much to work with, I took it as a challenge, after all I had all day to be lost anyway, might as well get lost in Antibes. I feel a jolt of excitement as I start walking into a town I have never heard of and have no idea of what I'm supposed to see or where I'm supposed to find exactly what I don't see, if that makes any sense. All I know is that the sun is still shining and I'm in a town I have never visited in the French Rivera and its Monday. If I were home I would be sitting at my desk in a bad mood with glazed over eyes and nothing to look forward to except a long work week. But not today, I'm walking down the streets of Antibes and exploring the unknown, at least the unknown to me.
I resist to ask for directions for two reasons, one I'm not sure exactly what I'm where I'm asking directions to, and secondly, and probably most important, I don't speak French. So I keep following what looks to be one of the bigger streets until I run into something. After about 15 minutes of walking through a fairly modern looking part of Antibes I come to a small plaza that has a cobble stone, pedestrian only path lined with shops. Based on the old school look of the path and the flow of people I figure there is something worth seeing down that way. This is what I love about Europe, all the towns are small and compact and it's almost impossible not to find whatever it is that I'm looking for, even when I don't know what that is. Sure enough the cobblestone path takes me closer to the ocean and rather than coming upon a beach I come across the remnants of an old fort.
There is an old cathedral, not much to look at, but definitely old, and a long street that runs across what looks to be the top of the walls of an ancient fort. The ocean runs up against the walls and I can see sailboats in the distance. Apparently Antibes was some sort of battle station back in the day. I wish I had been able to do a little research on the place so I would know more about what I'm looking at, but I kind of like being able to explore the fort and make up my own history for it. My version of Antibes history is that the city was founded by a bunch of prudes from Nice that were offended by all the topless chicks that hung out at the beach there and so they decided to move to a place that didn't have much of a beach and build a fort to protect the other prudes from the hardcore nudity of Nice.
I'm not sure how the timeline of the two cities line up but I get a chuckle out of myself, I'm my own best audience and when you're traveling alone you kind of have to be. I manage to spend almost four hours being lost in Antibes and I love every minute of it. I' able to easily retrace my steps back to the train station, it easy because I was eating a rather large baguette that I purchased at a bakery by the train station and I'm a messy eater, so I pulled a Hansel and Greta and just followed the crumbs back. As I headed back to Nice it was time to start thinking about the next part of my adventure, the night train to Venice. After my disastrous experience with the trains in Genoa I had given thought to just skipping out on Venice all together and spending a few extra days in Nice. But after four wonderful days in Cote Azure I'm fully recharged and my adventurous spirit is back and so I'm ready to take on another overnight train.
However I still am a little nervous about just being able to have an assigned seat much less the nine and half hours in travel time. I get the assigned train platform in plenty of train and find the train is already there. This is a good sign, it means the trip is generating from Nice rather than Nice just being one of the stops along the way. I'm pleased because it means I won't have to barge in to some random compartment and wake everyone up. I look around to see if that same conductor from Genoa is working this route because I owe him a punch in the face, but I don't see him and so I focus on the train instead. The first thing I notice is that the train carriages are numbered in order, that's a big difference from Genoa where the carriages seemed to be numbered in code. But the best part is that my ticket number matches the number on one of the carriages.
I hold my breathe as I board the train and slowly walk down the aisle to see if the compartment number on my ticket matches the compartment numbers on the train….it does! The pressure is off, I have my own assigned seat and that's all I was really concerned with. However I'm in for an even bigger surprise, the compartment is not just four seats; it's actually four bunk beds with blankets and sheets. They even have pillows that are wrapped I plastic to show that they haven't been recently used. This is better than I could have hoped for; I was anticipating sleeping sitting up for nine hours! Not only do I get a bunk to lie down on, there is even a bottle of water and a cup for each bunk as well.
Before my excitement can get out of control the negative side of me rides in to temper my enthusiasm. With my luck I'm going to get a bunch of bunk mates who are loud and obnoxious and smell like stale cigarette smoke, and even worse what if someone pulls a me and barges in, waking us all up? My fears are put to rest with the entrance of a nice looking, well to do french couple who turn out to be very well mannered and don't smell of cigarette smoke. The wife speaks a little English and tells me what to expect with a sleeper car, she tells me once the conductor checks our tickets and confirms everyone is in the compartment, we can lock the door. She also tells me that the they have it set up so everyone who is in a certain compartment are from the same stop so we don't have to worry about a surprise bunk mate three hours into the journey. This is a relief, not only do I have clean bunk mates, we can lock the door and I can sleep all the through to Venice and that's exactly what I do.
2/26/2008
What a difference four days can make, I went from a nightmare train ride to Nice to a dream of train ride to Venice in which I slept like a log. This is a perfect example of you get what you pay for. I paid only 34 euro for the train ride from La Spezia to Nice as compared to 74 euro for the Nice to Venice route. Next time around I won't be so cheap. As the train pulls into Venice I find that I'm for once, completely refreshed after my all night journey. I'm raring to go and explore Venice.
I had visited Venice back in the summer of 2000 and my memories of it were that it was hot, humid, and smelled funny. As I get off the train and exit the station I quickly realize that I'm not going to have to worry about it being hot. It's dark and overcast and there is fog drifting through the Grand Canal and around the buildings. I can feel a different kind of humidity, kind of wet and cool as opposed to just hot and heavy like it felt during that summer. However I'm not disappointed, I had anticipated Venice would be cold and overcast and so I was prepared with my heavy leather jacket and gloves. I paid 6 euro and hopped on a water taxi in the direction of San Marco Square. The water taxi ride turns out to be a grand picturesque experience, its early in the morning so the Grand Canal isn't too crowded with boats and the sidewalks are practically empty.
The real treat is seeing the mist snaking around the old Venetian buildings and the small bridges that connect the city. As the water taxi pulls up along side San Marco Square I find I can barely see it through the fog giving it a ghostly appearance. As I step off the water taxi my immediate desire is to go exploring, but unfortunately my first order of business is to try and find my hotel. This will not be an easy task, in fact it's the only hotel I have really been nervous about finding. When I was researching the Casa Linger Hotel I tried typing in the address in Google Maps and it didn't pull up. I bought a map of Venice and for the life of me I couldn't find the address on the map either. Then again I don't think anybody could find any address on a map of Venice.
The makeup of the city is such that it is a winding maze of small corridors and canals that don't come together in any logical fashion. Apparently the Venetians didn't have any concept of the grid system, of course when you're building a city on water perhaps it just wasn't an option. The only directions I have to the Casa Linger consist of taking a water taxi to San Marco Square, exit to the right, cross three small bridges, turn left at the first street after the third bridge that will bring me to a plaza, exit the plaza on the far right. So I was able to get to San Marco Square without to much trouble, it was the rest of the directions that concerned me. My problem is that I have to be able to place it on a map to feel comfortable about finding it, I'm not a big fan of blindly following directions but in this case I have no choice. I take a right from the water taxi stand and cross the first bridge, then the second and finally the third, so far no problem.
Then I start looking for the street I'm supposed to take a left on, problem is there is no street, there is a extremely narrow alley that winds around to somewhere, I suppose in Venice that must be what they call a street so I take it. Sure enough the alley leads to a rather large plaza that looks as though it has five different exits. As per the directions I take the exit on the far right and sure enough there is the Casa Linger. I'm quite pleased with myself; it only took me 15 minutes and two wrong turns to find it. The reception area is five floors up a very narrow staircase that barely is wide enough for myself and my massive backpack. Twice I almost lose my balance and fall over backwards, which would not have been so bad if I had, my backpack is so large that it would have cushioned my fall and I wouldn't have felt a thing anyway. Good fortune is with me as the Casa Linger is not very full and so rather than having to share a room they upgrade me to a room of my own.
I'm so pleased with that exception that I decide to ask them for another. During my initial planning I decided that I could handle spending one night in Venice and then taking the midnight train to Rome the next day, meaning I would have to roam the streets of Venice all night long. For some reason I thought I could handle that, however 2 and half weeks into my trip I realize that I can't. I decide it will be better to get a room for another night so I can get a nap in before I catch my train. I ask the receptionist how much it would cost to have a room for only half the night instead of the whole night. I feel a little embarrassed like I'm setting up a meeting with an escort. However I'm in luck, the receptionist allows me to have the room for the second night for 20 euro instead of 35 euro. She even offers to refer me over to a very reputable escort service which I decline, I simply can't afford it.
My room turns out to be two buildings over from the Casa Linger which I find odd, such is life when living in a city built on water; nothing is as it should be. Without the burden of my backpack I'm now free to roam Venice, I decide to start my visit in the only real tourist attraction I Venice besides the city itself, San Marco Square. I get there early enough that there are more pigeons than people in the square. I take advantage of that and slowly walk around taking in the view and trying to ignore the stench of pigeon droppings that permeates the entire area. Venice is full of museums, none of which interest me, the only actually place I want to visit is Doge's Palace. Not so much for the history of the place but more for the chance to walk across the famous Bridge of Sighs that connects the Palace with the former prison.
It combines my love of bridges with visiting old prisons. I'm a little disappointed by the prison however, I had stories about chains and all sorts of old world torture devices instead all I saw where cramped empty rooms. There wasn't even a skeleton hanging from the wall on chains. Apparently you have to pay for a special tour to see the good stuff, next time I suppose. The Palace was interesting enough, I was more intrigued by reading about how the Doge's couldn't even leave the city without permission, and that basically it was as though they were under house arrest. That said if you have to be under house arrest Doge's Palace isn't such a bad place to be. After visiting Doge's Palace I decide to visit the cathedral next door after I notice that it offers a view from above where the four horses of the millennium reside. The inside of the Cathedral is unremarkable as compared to what I have seen so far, but the views from the top make it worth the four euro admission.
Even though it's really not that high up it provides me with a chance to view the pigeons from a safe vantage point. It's almost midday and the pigeons have now completely taken over the square. There are vendor that are selling bird feed for a euro and tourists are getting the bright idea that it would be fun have hundreds of pigeons completely envelop them while the pigeon peck away. I watch with a mixture of horror and amusement, my favorite combination by the way, as the pigeons swirl around mad dervish to wherever the next feeding frenzy is. I can hear the screams of the tourist who completely have underestimated what they getting into as they disappear beneath a blanket of pigeons and after what I'm sure is a tense few moments they reappear minus the bird feed and their dignity and with a fresh coat of white pigeon droppings that stand out brightly against the dark coats that everyone is wearing.
This entertains me for almost an hour. My sides are hurting from all the laughing so I figure I should go find something to eat. I take my time wandering the endless winding corridors of Venice and without even realizing it run into famous Rialto Bridge. Lined with expensive shops Rialto Bridge reminds of a smaller version of Ponte Vecchio in Florence. Different version, same result, everything is too rich for my blood, and so I get the obligatory pictures and move along. A few blocks, or canals to be more accurate over, I find a shop that catches my fancy and fits my budget. It's a shop that sells drapes with elaborate Venice scenes sewn into them. I find it to be perfect souvenir to remember Venice by. One of the things that stuck out about Doge's Palace where all the heavily detailed drapes that took up entire walls, and while I can't afford one that will cover an entire wall, I'm able to purchase a couple of mini drapes about the size of place mats. Perhaps that's what there intended for, but in any case they are going on my wall. After my mini shopping spree I'm so hungry that I stop at the first place I see to eat.
Fortunately it's a budget restaurant that has set menu's which I love. The menu offers spaghetti, steak, and fruit all for less than 15 Euro. The place is practically empty as Venice simply isn't very crowded this time of year and so I take my time and watch the pedestrian traffic outside. By the time I finish dinner its dark and the streets are almost empty. I'm able to enjoy a silent, Venetian night on my own. The streets are dimly lit by lights the simulate gas lanterns, and the water in the canals are a midnight blue. I stand on a small bridge and watch as gondolas silently glide through the water like thieves in the night while love struck couples snuggle in the chilly night air. I walk into an almost completely deserted San Marco Square, there is not a pigeon in sight and the square is lit up in a dim, eerie, light green luminescence.
This is the Venice I have dreamed of, a far cry from the crowded, hot, humid days during my last visit. The entire top half of San Marco Square is completely shrouded in darkness with only the bottom half of the buildings visible. I walk through the square towards my hotel and stop for a moment on a bridge that looks toward the Bridge of Sighs. I pause for a moment to take in the bridge that is fully lit up and stands out like a candle in the dark. My ears perk up to the sounds of a Sting song that I can't quite place being played beautifully on an electric guitar. The sounds are so crisp and perfect that I assume its coming from a stereo somewhere. The peaceful music adds to the moment I'm having in an otherwise silent Venice. I listen a little bit longer then move towards the haunting music which is coming from the same direction in which I'm headed. As I get closer to my surprise, the music is being played live by a solitary man whose figure is lit up in the darkness by a small lantern he has lit. He is sitting on a stool and is playing his guitar as though there is nothing else going on in the world. A master completely immersed in his craft.
I'm drawn to the seamless line of music he plays, he goes from one song to the next without much pause and although I don't recognize the song he is playing now it still is soothing to my ears and adds to the romantic element of a serene evening in Venice. I find I'm not the only person drawn to his music; there is a crowd of maybe five or six other people, some in the shadows, others closer to the light, soaking in the music. I emerge from the shadows to join those in the light and I bend down on one knee and I simply listen. The music and the beauty of a dimly lit Venice take me an away as I fall into a dreamlike state. Song after song flows from his from his skilled fingers and from his guitar. He never looks up, even as people drop money into his guitar case. I finally notice that he has CD's for sale and I make my way over and see that his name is fill in the blank and that he has two albums out.
I don't hesitate to buy both albums, his music has become the music of the night, and forever after this night when I listen to his music I will think back upon this silent, magical, Venice night. As I walk back to my hotel my mind is full of wonder and romantic feeling that stem from such an inspiring setting. I clutch the CD's close to me and am glad that I don't have a CD player to listen to them because tonight I will still have his wonderful music running through my mind and lulling me to sleep. I cannot wait to close my eyes.
2/27/2008
I allowed myself to sleep in today until ten because today I had the luxury of taking my time, it was another free day, the first of two consecutive free days. Today I had Venice and then tomorrow I would have Rome again to do explore as I wished. For the next two days I wouldn't be on a strict schedule of specific places to visit and photograph. The only goal I had for today in Venice was to get lost; I wanted to aimlessly walk the numerous winding passage ways that followed the various canals. I wanted to explore the inner part of Venice, away from all the tourists. In this way I could make Venice my own, in other words while most tourists stay within the confines of the tourist areas, I had the time and freedom to break away from the tourist norm and see Venice the way the locals do. I left my map at the hotel and headed off in no particular direction to get completely lost and then somehow find my way back to my hotel.
Although it might seem like a boring thing to do its actually quite the opposite, the thought of getting lost in a exotic city like Venice is rather exhilarating, its something most people don't think about, much less do. It turned out getting lost wasn't much of a challenge, not 15 minutes into my walk I had no idea which way was which, I was quite pleased. At first I kept passing by the touristy sections that had all the expensive shops but before too long the shops were replaced by bland doorways without colorful signs and windows that had the shutters closed instead of showing off colorful wares. I passed by and over canals whose waters were untouched by gondolas but instead were filled with small motorboats carrying supplies and produce. I came upon various plaza's that instead of being filled with tourists were full of old men sitting on barrels engaging in quiet conversations with each other.
I saw woman hanging laundry, though with how wet the air felt I don't know how they expected the clothes to dry. I watched a shopkeeper through a store window as he carefully stacked food and other items on narrow shelves. He was a magician in how he could fit so many items in with such limited space to work with. I then watched with even more amazement as the local patrons were able to pull the items they wanted off the shelves without everything tumbling down. I noticed in the tourist areas that the shopkeepers didn't cram items in the shelves as tightly as the shopkeepers in this area of town did. I suppose they were concerned about tourists with clumsy hands destroying their handiwork. I walked slowly and without a sense of purpose and took in everything around me. Many of the corridors and plazas began looking the same but it wasn't boring because I was taking a stroll in Venice, I don't think that could ever get boring. As the hunger pains begin to hit I was fortunate to come across a small restaurant that was offering grilled mixed fish to go for 10 euro. This was too good of a deal to pass up, most grilled fish dishes I had seen ran upwards of 25 euro a plate, granted I was going to have to get it to go but the thought of having a fish dinner in Venice was appealing.
I was presented with my mixed fish grill in a cone shaped paper cup. I wasn't given a fork but rather a skewer to stab at the fish with, my kind of utensil. I headed back out to find a good place to eat my fish; I made a couple of turns and found that I was back in the area of the Grand Canal. So I pulled up by the water and watched the water traffic as I ate a mix of shrimp, calamari, and a few things I couldn't quite identify but tasted marvelous nonetheless. I quickly became fascinated by the intricate mix of gondola and motorboat traffic. Old versus new, fast versus slow. The Grand Canal doesn't have any stoplights so the traffic is continuous and nonstop and I was impressed by how skillfully the operators of the gondolas were able navigate around the swift motorboat traffic that didn't seem too worried about making room for the slow moving gondolas. There were a few brief moments when there were no motorboats in my view and all I could see were the gondolas, gliding eloquently through the water with barely a ripple in its wake.
For those brief moments with the ancient buildings and bridges as a backdrop it seemed that I had gone back to a time when the Venetians were at the top of their game, Lords of the waters. But those moments were brief and the motorboats again dominated my view of the Grand Canal. The light was starting to fade and so I decided to try and find my way back to my hotel so I could take a nap before I had to catch my train to Rome. To get back I decide to loosely follow the Grand Canal back in the direction of San Marco Square, I find that I can't follow right along the waterfront as there are waterways without bridges that force me to walk away from the Grand Canal until I can find a bridge to cross. After about 45 minutes of trip trapping across small bridges and winding my through narrow corridors I come within view of Rialto Bridge and from there my hotel is just a 15 minute walk. However I run into a Burger King and a whole new dilemma. I have a general rule when I'm traveling internationally and that is to sample as much of the local cuisines as possible.
During my first visit to Europe in 2000 with my family I can remember being in Venice and passing a McDonalds that my sister desperately wanted to eat at. I was completely against it, as I said to my parents, "We didn't travel all the way to Venice to clog our arteries at McDonalds" For once my parents listened to me and we didn't end up eating there. But I got a lot of mileage out of teasing my sister for wanting to eat at McDonalds like some ugly American tourist. While I was in Rome I noticed there were McDonalds' in almost every major tourist area and I would pass them and look disdainfully at all the suckers that were eating a lousy burger when they could be having a fold over pizza or pasta special from a local café. So with all that fast food hating background one would think I would have sped right past the Burger King. But instead I stood transfixed by the smell of French fries and the thought of a Whopper. Despite all the wonderful food I have had in both Italy and France, the ugly American in me is simply craving a greasy burger.
For all the cooking talent in this part of the world one they can produce is a proper greasy burger the way American corporation can. I swallow my pride and ignore the feelings of hypocrisy and walk into the Burger King with the rationalization that at least it wasn't McDonalds and I can still say I have never eaten at a McDonalds while in Europe. The Whopper hits the spot, it wasn't exactly a mixed fish grill but it was familiar and greasy and slid down my throat with disturbing ease. Hypocrisy never tasted so good. With a full stomach I return to my hotel and take a three hour nap. After I wake up its time to start packing and dealing with a problem I have been avoiding for most of my trip. When I booked the Venice train tickets online it said that the train arriving from Nice would stop at the St. Lucia train station and my train to Rome would leave from the St. Lucia station as well. However when I got to Rome and printed out all my tickets from a self serve kiosk I noticed that while the train from Nice arrived at St. Lucia, the train to Rome left from a different station called Mestre.
I had no idea that there were two train stations in Venice, when I tried asking one of the Trenitalia reps what the deal was, they just told me not to worry about because according to their website the train leaves from St. Lucia not Mestre which is a mainland Venice train station. When I showed them my ticket that said Mestre they kind of waved me off, the same kind of wave off I got from the train conductor in Genoa when I had my nightmare experience trying to get to Nice. However until my experience in Genoa I took the Trenitalia Reps advice and didn't worry about it, then of course after Genoa I started worrying about it and now as I headed to the St. Lucia train station it was time to settle up with my worries. As soon as I get to the train station I nervously look up at the departures list and to my horror I don't see a train to Rome or even a train that leaves a the time on my ticket.
I have thirty minutes before my train is supposed to leave and I'm in the wrong station. I would really like to blame the Trenitalia Reps for this but deep down I know that I should of asked more questions and done more research on the two different stations, I just figured things would work out. The big problem now is that it's almost midnight and there aren't any customer service reps in the station to tell me how to get to Mestre or at least how to change my ticket. My shoulders slump as I think about the irony of this situation, it's my last extended train ride of my trip and so far everything has worked out, except for this lack of judgment on my part. But instead of getting into a panic I calmly start going through my options, as a seasoned traveler I have discovered that there always are options as long as I'm willing to be flexible and adventurous.
There is a train leaving this station for Rome at 3:30 but that would mean I would have to wait another four hours and buy a whole new ticket because there wasn't anyone available to ask if I could exchange tickets. Then I notice that there is a train leaving the platform in 5 minutes to Treviso. I don't know where Treviso is and I don't care but I figure since Mestre is the mainland station in Venice that it is the next stop from this one. The Treviso train looks like it could be a commuter train and if it is most likely it would stop at Mestre, so I could roll the dice and hop on the Treviso train and hope its stops at Mestre, I'm not worried about being busted for not having a ticket, my stolen train ride in Cannes cured me of that fear. However if the Treviso train didn't stop at Mestre I was going to be in a world of hurt. I had to make a quick decision and so I did, without anymore thought I hop on the Treviso train and take a seat. Two minutes later the train starts moving and I start to get a little nervous, though at the same time I'm also enjoying an adrenalin rush that comes with making rapid fire decisions like this.
After five minutes I start thinking that I made a mistake and that maybe Treviso might be a nice place to visit. I find that I'm actually enjoying the tension, when else would I have the chance to be in a situation like this, hoping a train that I don't have a ticket for will stop at a station I'm not sure even exists at this point and if not I'm going to a city I have never heard of? It's actually all very exciting. As I think all this I notice the train slowing down and my heart leaps in anticipation, I look at my watch; if this is Mestre I have exactly five minutes to catch the train to Rome. I look out the window and watch for the now familiar blue signs that announce which station the train is pulling into. The train seems to take forever to slow down and then I see the blue sign….Mestre! I rolled the dice and it came up seven's!
I grab my back pack and with my adrenaline pumping I run into the station and look at the departure board, I find my train to Rome and the platform number and run towards. I arrive at the platform with a minute to spare, and then of course the train pulls up five minutes late, but I don't care, I made my train, I can finally relax. As I settle in for the six hour ride to Rome with my heart still pumping I fully realize that I'm on my way to becoming an adrenaline junkie, and I'm okay with that, I'm having too much fun to care. Excitement quickly gives way to fatigue and I fade into unconsciousness.
2/28/2008
I arrive in Rome with a stiff neck, compliments of sleeping sitting up with my head against the window for five hours, but being that I could be in Treviso right now I hardly notice. I'm back in Rome again. It feels weird to be back again, it's been exactly two weeks since I left Rome for Naples but it feels longer than that. As compared to going through the motions at home where time travels fast, on the road time seems to stand still. But at the same time it feels strange to be seeing Rome again so soon. Every other place I have visited on this trip I did so knowing that it will be a long time before I visit again, if ever, whereas Rome is beginning to feel like home. It's a strange feeling but a good feeling.
I have all day to spend in Rome and then tomorrow I have a flight to Paris where I will finish out my trip. I'm spending another night at the same hostel I started my trip in and this time around I feel like an old pro with the whole hostel thing. I say hello to the same desk clerk who seems surprised to see me again, and arrange to have my bags but into storage and I'm free to spend the day roaming around. It's overcast today so I decide I will take my time and walk around the entire city of Rome. I start off by walking from the Termini to the Coliseum and then from there over to the Circus Maximus, a similar route that I took on my third in Rome earlier in the month. This time however, my plan was to follow the Tiber River around the city past the Vatican and San Castel and then from there to the Pantheon where I will catch up with my normal route.
I find I enjoy walking along the banks of the Tiber River, it not as crowded as the other areas of the city as there aren't really any tourist attractions until I get to the Vatican. It takes me almost an hour to walk from the Circus Maximus to the Vatican and along the way I see another side of Rome that I hadn't previously taken the time to see. There wasn't anything in particular that stood out other than the fact it was Rome and that was enough for me. I felt like I was a cop walking my beat, and Rome was my beat. When I got to St. Peter's Square I sat down for awhile and watched the crowds for awhile, it was nice to be at the Vatican without worrying about seeing all the sites, today I was able to just soak it in. After a while I walked to San Castel and debated going in to take a tour, again I decided not to. I'm not sure why except perhaps I want to leave something for the next time I come to Rome, because at this point I have seen about everything.
From San Castel I 'm back on a familiar route that takes me to Piazza Navona and then to the Pantheon, I feel as though I'm seeing everything through different eyes. Rome has become familiar to me; it no longer has that mystical feeling to it that makes me feel as though I have to soak everything in completely as though I'm walking within a dream. Instead I feel comfortable with Rome, I know its not going to disappear from my mind, it will never become a faded picture in my mind like some of the places I have visited for the first time on this trip will eventually become. Rome is now mine forever, I no longer feel like a visitor, rather I feel like I'm an adopted local. As I walk to Trevi Fountain to buy some more of that wonderful fold over pizza I like so much, I do so with the confidence of someone who knows his way around. The guy at the pizza place actually nods to me when I come in and asks me if I want the anchovy and tomato pizza again.
This act completes the transition for me from tourist to adopted local. I take my food again to the Spanish Steps and slowly eat my pizza, savoring every bite, knowing that it will be my last taste of this for a little while, but I also know I will be back again. I can't say that of some of the other places I have visited but I know Rome will be in my heart forever and I won't be able not to come back. In fact the next time I come I won't bother throwing a coin into Trevi Fountain, that's for tourists. From the Spanish Steps I walk towards the Emmanuelle Vittori and through the Roman Forum for the last time on my trip. As I pass the Coliseum and walk up Cavour Street that will take me back to the Termini I don't look back like I did the last time I visited here, because this time I know I will be back and more importantly I'm armed with the knowledge that I can close my eyes at anytime and conjure up Rome in perfect clarity.
When I get to the Termini I decide to check what time the first train leaves in the morning for the airport. I have a 7:00 flight so I'm hoping for at least a 5:30 train. Instead I find that the earliest train leaves at 6:30, which presents a problem as the train takes 45 minutes to get to the airport. I can feel that panicky feeling start to rise in my chest, but I know at this point to simply stay calm and go over all my options. I go to the information desk, the very same one that gave me the bad information about the Venice trains, and inquire about buses. I'm told that there is a 5:00 bus that leaves from the Termini to the Airport. I breathe a sigh of relief and follow their directions over to where the ticket office is for the buses. My relief is short lived as I'm told the buses don't go the Fuminco Airport, they go to the smaller airport Campania.
They don't know of any buses that go to Fuminco Airport. Once again I have been filled with a false sense of security. I can feel the panic beginning to break down my defenses, but I'm able to stifle in one more time and ask about catching a taxi to the airport. I'm told that assuming I could arrange for a taxi to meet me that early it would at the minimum cost 50 euros. At this point I don't even care about the costs but become concerned when the lady at the ticket office tells me that the taxis are not very reliable when it comes to scheduling appointments. They prefer to work off whatever they get off the street. I leave the ticket office just shy of being in full panic mode, it simply never had crossed my mind that I would not be able to find transportation to the airport regardless of how early my flight time and yet here I was, out of options.
I'm not a very friendly person when I'm in panic mode, I get pushy and I'm quick to anger, whatever tact I may have is out the window. Worst of all I have no one to blame but myself for not checking to make sure my plan for an early flight was doable, there really is no excuse, I had almost four months to plan things. So I stand in the middle of the crowded Termini in a silent rage, a rage that I would love to take out on someone or something else but am just going to have to deal with internally. Its in this blind rage that I realize I have another problem, my flight from Paris back to Rome gets in at 11:30 at night, so there may not even be a train available to take me back into Rome, I will have to spend the night in the airport and wait for my flight home the next day. I check the train schedule and sure enough the last train from the airport to Rome is at 11:30, I also notice that that last train to the airport from the Termini is at 10:45.
The wheels in my head begin to turn, I'm going to have to spend one night in the airport already, why not make it two nights. It's the answer to my problem; I take the last train out tonight and spend the night in the airport! Although the thought of that an hour ago would have been repulsive, at this point it's about as appealing as it gets, such are things when you're down to hour final option of sink or swim. But before I get to excited I have to make sure I can even spend the night in the airport. I really don't want to have to go back and ask the Trenitalia people for anymore help, they have done enough already. So I decide to wander around the Termini and see if I can find a Tourist information office. It took me about 15 minutes but I was able to find one and luck was with me as I caught the girl at the desk just before she was about to close up. At first she tried to tell me she was already closed but I turned on the charm, the kind of charm that is born of desperation, the kind that only works on the opposite sex. She breaks into a smile and starts to type away at her computer. I wait nervously for her to tell me whether I can sleep in the airport; the last portion of my trip is dependent on her saying yes.
After a few long minutes she looks up at me and smiles again and tells me that indeed I can sleep at the airport. My problem is finally solved, and I profusely thank her with such sincerity that she smiles even wider and I notice how attractive she really is. She is a classic Italian beauty with long, soft, dark brown hair and hazel eyes that seem to flash at me, I take closer look and the body matches the face, perfect. It just goes to prove how agitated I become when I'm in panic mode, I was in the company of a beautiful woman and I didn't even notice until I was released from my panic mode. We end up chatting for awhile, apparently she wasn't in that big of a hurry after all, and then I realize I reluctantly have to leave. As I walk back to the hostel to catch about an hour and half of sleep before catching the train to the airport, I think about how funny life is, one minute I'm in the depths of despair and the next I'm flirting with a beautiful Italian woman that leaves me feeling like I'm floating on air.
I'm in such a good mood that when the desk clerk at the Hotel Montresella refuses to refund any of my money for the night I wouldn't be staying I found I didn't even care. I made it to the airport without any trouble and found a place to sit and tried to figure out how I was going to sleep in what was no more than a folding chair with arms for the next six hours. But much like every other adventure I have had so far on this trip it ends up that it all works out and I find that fatigue slowly encompasses me and I fall asleep. I wake up at about five in the morning and have to wait twenty more minutes before I'm able to check in for my seven o clock flight. This gives me plenty of time to stretch out all the obscene kinks I have from my unique sleeping position of being half folded in the chair with one leg up and the other leg on the floor keeping me from falling. By the time I get to my assigned seat on the plane I realize how truly exhausted I really am and immediately fall asleep even before the plane takes off. Once again everything finally works out.
2/29/2008
I wake up as my plane begins its descent into Paris, I feel like I have been up for two days, which is how I should feel since I pretty have been. I had a few hours sleep in Venice before I caught the midnight train to Rome. I had a fitful few hours of sleep on the train. Spending the night at the airport resulted in only about two hours of consecutive sleep and then I just woke from an hour and a half siesta. The weight of my fatigue is almost unbearable. Looking out the window I can see its overcast just as the forecast said it would be. Paris in early March isn't exactly the best time to work on your tan. Much like my exhausting travel between La Spezia and Nice I feel out of gas and ready to call it a short day and hit the sack, although I ended up overcoming that my first day in Nice I'm not so sure I can do it for a second time. On top of that, this time around, I have to navigate through a major airport.
Unlike Nice my hostel is not going to be a painless 5 minute walk from the train station. Ill say this for the French, they now how to build a sterile, modern looking airport. The ceilings are contoured and the walls white and the floors spotless. I make it down to baggage claim quickly only to find there is a 35 min wait for my luggage, which as I find out 35 min later doesn't show up on the numbered claim area that it's supposed to. I find this out as I notice people I recognized from the flight going into a different area and coming back with their bags. I'm confused but rather than question it I just go with the flow and find my bag three platforms over from where it should have been. I have other worries like where to catch the train into Paris, what stop to get off at and how to get to the metro station closest to my hostel. I find the train station in the airport easy enough only to be dismayed at the lines of people at the ticket window.
The line is almost ten people deep at each automated machine. I opt for the latter as the automated machine lines always go quicker. Instead I find myself in a thirty minute line. Each person seems to take about five minutes to figure things out. At this point fatigue has given way to pure frustration at whatever the mysterious hold up is. I strain to see ahead of me to determine whether all the people in front of me are simply stupid and can't figure it out or if it's the machines. I'm bet on stupidity as frustration has clouded my judgment. Both young and old are having troubles so I should have known it was the machine. As my turn comes I quickly am brought up-to-date with the issue. The machine is not set up to take paper money. It will accept coins or credit cards. The train ticket is 8 euro and I certainly don't have 8 euro in coins, so I try my credit card and it's denied, I start to sweat, I can feel the hard stares on my back from the other impatient people in line.
I can feel it because I was giving the same stare myself to the people in front of me and now I'm on the hot seat. I try my other credit card, no dice. I let the person in back of me try and his credit card is denied as well. I look over to the machine to my left and notice that the person using the machine is just finishing up a credit card purchase. I don't hesitant, I quickly ask him if he would mind if I try my card. He doesn't speak English but lets me try. I ignore the angry stares of the people in that line and quickly swipe my credit card. It works! Although in the whole scheme of things, having to wait 30 minutes to buy a train ticket isn't the end of the world, but when your at the airport and just so teasingly close to Paris anything that keeps me from moving closer to my destination is a huge inconvenience. After all I didn't travel thousands of miles to become familiar with Charles De Gaulle Airport. I came for Paris.
The train ride into Paris took about thirty minutes and I spent the entire thirty minutes trying to decipher which stop I was supposed to get off at to catch the metro to my hostel. The metro map I had was color coordinated and number. So really all I had to do was catch the orange line 5 to get to the Jaures stop which was right in front of my hostel. I of course was making it harder than it had to be. The map showed that the orange line connected with the Gare Nord stop which was a stop on the RER B train that I was coming in on. However just before that stop there was another one named Gare Est and I was convinced I was going to get off on the wrong stop. However all my anxiety was a result of the fallout from the stress of trying to buy the train ticket. Using the Paris Metro system turned out to be not only easy use but extremely fast and efficient. I was able to get to my hostel within 10 minutes from the Gare Nord stop.
The Peace and Love Hostel turned out to be the most the smallest hostel of them all. The entrance is a bar run by a couple of kids, probably barely in their twenties. I had to lug my luggage up a very narrow winding staircase to the fifth floor. When I opened the door to my room my jaw dropped. Throughout my trip I have stayed at some pretty cramped hostels, but this one took the cake. The room was literally no bigger than an average sized walk in closet. There were three bunk beds, with the top one only 3 feet from the ceiling. With the two lower bunks there was only about 2 feet of head room. The bunk beds took up 80% of the room with a small cupboard to put my luggage in. It only was enough room for my bag so everyone else after me was going to have to just leave it on the floor. The shower was probably the most appalling thing about the room. First the fact there was a shower in a room that small in the first place, and secondly the size of the shower. It was built into the wall the dimensions of the shower were about the size of an average refrigerator.
Just for fun I stepped into the shower and I barely fit. I'm not exactly a big man, at 5'10'' and 160 pounds I'm able to fit in most normal places. However I could barely lift my arms up in this so called shower. Clearly showering was going to be an adventure in itself. After I got over the horror of my room, a room that I was going to be sharing with two other people, I decided to get out and explore. First I had to check my email as I was planning to visit my old boss and childhood neighbor who had been living in Paris the fours years. He wanted to meet for dinner in the Latin Quarter at about six, so I had about five hours to kill. I headed for the Eiffel Tower, the symbol of Paris and a marvel of 20 century architecture. I had a four day Paris Pass which included admission to most of the sites in Paris and unlimited metro use. Since I was in Paris for five days I decided not to activate the Pass until tomorrow and being that the Eiffel Tower wasn't covered in the Pass it seemed like a good place to start. The kid at the desk helped to figure out how to get there with the Metro. It was as easy as taking the number 2 line to the Charles Etoile stop and then taking the 6 line to, at his recommendation the Troparcdero stop.
He mentioned there was a stop right at the Eiffel Tower but that I would like this stop better as it offered some great views. The metro system worked beautifully, I got the Tropacdero stop in 15 minutes, which was quick considering it was on the other side of town. As I left the metro I immediately begin looking up in anticipation of seeing the Eiffel Tower peeking out from somewhere. I didn't see anything but a flow of people going around the corner of the building in front of me. So like a good trout would do, I went with the flow. As I rounded the corner of the building I walked onto a huge cement terrace and there it was, the Eiffel Tower in all its towering glory, absolutely dominating the city skyline. I was taken back; I wasn't expecting to get such a perfect view of the Eiffel Tower.
It was one of those moments where you feel like rubbing your eye and pinching yourself to make sure you are really seeing what you seeing. Seeing the Eiffel Tower in pictures or on television is one thing, but to see it in person makes it finally seem real. In other words anything that truly is beautiful needs to be seen and appreciated in the flesh in my opinion. Even on a brisk, overcast day, the Eiffel Tower stood out majestically and after admiring the view for a few minutes I found I was being drawn towards it like a magnet. I begin to pick up my pace the closer I got to the Eiffel Tower, it was as though I was in a race with the other people around me to get there before they did. Much like my earlier race to get to the Coliseum before everyone around me, I was determined to do the same with the Eiffel Tower. Once I arrived at the tower and walked underneath it I was again stunned by how big it was and how intricate the iron works that make up the tower and support really are.
When I finally stopped looking up and noticed all the lines around me I was pulled back into reality. However I was expecting the lines to be long. What I found though was that's the lines for the elevator up to the top were excessively long while the line to walk up the stairs to the second level ended up only being a 20 min wait. Why anyone, short of a physical ailment, would want to take an elevator to the second level when they could walk up the stairs and really experience the Eiffel Tower is beyond me. But apparently a lot of people didn't feel the same way I did and for that I was glad, less of line. It cost four euro to climb the stairs and the climb itself was actually not to strenuous. I kept stopping on the stairs, not to rest, but to take in the fact I was actually climbing the Eiffel tower, an event that needed to be soaked in.
Once I got to the second level, as spectacular as the view was, I knew there was a better one at the top so I went right for the line for the elevator to the third level. That line was about 15 minutes and cost an additional 3 euros. The elevator was all glass and provided a panoramic view as it rose to the top. Seeing the backdrop of Paris through the iron web of the interior of the Eiffel Tower was mesmerizing. At the top it was windy and crowded, however I didn't even notice. I was to busy reveling in the fact I was at the top of one of the worlds most famous landmarks and all around me was the city of Paris. Although it was a gray, overcast day, I could still make out a few of the more famous landmarks like the Arc of Triumph and the Louvre. However it was the soccer field far below me that really caught my interest. I could barely make out that they were having a pickup game. They looked like a bunch of ants scrambling after a little white ball. I couldn't help but think how neat it would be to play soccer in the shadows of the Eiffel Tower.
By the time I got down from the tower I only had 40 minutes to get back across town to the Latin Quarter to meet my friend. However I now had faith and finally an understanding of how the Metro system works and I arrived at Notre Dame to meet my friend with 15 minutes to spare. Even though I had to make two train changes it seems like you never have to wait longer then 3 to 4 minutes before the next train comes. So that means you're either catching the train immediately as you arrive or you're waiting just few minutes. It's an exceptionally swift and efficient transportation system. After a long dinner and catching up with my friend I headed back to the hostel and was pleased to find there was no one in my room yet. With a bit of luck I might have it to myself, but I'm not one to put much faith in luck so I quickly take a shower to get that out of the way. I can't imagine what it would be like to take a shower with people in the room.
There is simply no privacy. The water pressure is good and the water hot, the only problem is that I can barely move my arms, which makes it difficult to soap myself and apply shampoo without it immediately being rinsed off by the water; however it's better than nothing. Barely. With the shower out of the way I hop into the middle bunk as the lower bunk is literally on the floor and the top bunk to close to the ceiling. So the middle bunk was a decent compromise. I'm completely exhausted but it's hard to fall asleep when every footstep I hear in the hallway could be a new roommate. It's a bit maddening at first hearing the footsteps and just waiting to hear the door open up and ruining my solitude, but after a couple of hours and three close calls I begin to relax and then slip into sleep. And then of course as Murphy would have it, after I had fallen into a deep sleep, I'm blessed with the presence of two loud new roommates at 2:00 in the morning. I have to listen to them rumble around the 20% of the room that not the bunk beds and try to get settled.
They are not being loud on purpose, its just when your packed in like sardines in a tin can, every little noise is magnified. At least they didn't take a shower. These are the things that hostels don't advertise it's just something you have to experience and remind yourself that you're saving a ton of money so it's worth it. I fall asleep counting the Euro's saved in my head.
3/1/2008
Despite the previous night's mishaps I woke up, I was in Paris and today was the day I was going to start using my Paris Pass. I had purchased the Paris Pass a month before my trip and it gave access to all the museums and most major monuments. Since it was already paid for it meant I was going to be able to skip the long lines. The Paris Pass also included unlimited metro use which was nice because it meant I could go crazy using it to go all over the place and increase my sightseeing productivity. In that regard my visit to Paris was going to be different from Rome, where I would walk everywhere. Paris, however, is a much larger city with much more to see and do.
I decided to start of my day by visiting the Opera Garnier, the world famous opera house that apparently the Phantom of the Opera was loosely based on. The Paris Pass offered not only entrance but a guided tour as well. While I'm not normally a big fan of guided tours, I feel like it takes away from my independent nature, that and I can't focus worth a darn, I decide why not, its free. The tour starts off interesting enough with a visit to the theatre. It is a sight to behold, with its red and gold colors and its unique U-shaped design and high narrow seat placement. I'm glad for the tour guide as she explains the reason behind the design. The balcony seats face the floor seats and not so much the stage, being that the point of having those seats in those days was to be seen by others, with the actually opera being secondary.
She also pointed out the seat that supposedly the Phantom of the Opera would sit in. Funny that he would sit there considering he didn't want to be seen and yet that was the purpose of the seats, I thought about bringing that up but decided not to open a can of worms, too many Phantom fans in the tour group. From the theatre we went into the main staircase which is a pure grandiose design. I felt out of place in my jeans and leather jacket. The marble stairs and elaborate decorations screamed good taste and dress. The tour guide began to drone on the details of the construction of the opera house and this is where she completely loses me and I decide I've had enough. I'm proud of myself though, I made in through a half hour of the hour and a half tour. Just for kicks and giggles I head over to the box office to see if there are going to be any shows during my stay and maybe if the price is right buy a ticket.
Though I don't really have an interest in Opera, I have an interest in cultural things and attending an opera at the Opera Garnier would be quite the cultural experience. I'm surprised to learn that there are no performances until March 3rd. At first I'm disappointed and then I remember that I will still be in Paris March 3rd, I love long trips! More good fortune befalls me as of course I ask for the cheapest ticket and they happen to have one with a limited view of the stage for 10 euro. Sold! I leave the theatre with a spring in my step, I'm going to attend a performance at the world famous Opera Garnier, for at least one evening I can pretend I'm part of the cultured elite. I'm going to see a performance called "The Rakes Progress", while the name doesn't sound too appealing, but I don't care, again, cultural experience.
When I got back outside the opera house I was pleasantly surprised that the clouds had disappeared and the sun was shining brightly. I had planned to visit some museums but a sunny day meant a change of plans. It meant I had a chance to take pictures of the Eiffel Tower and Notre Dame with blue skies as the backdrop. Although it sounds stupid I can't stand my pictures looking cloudy and gloomy. They look so much better with blue skies adding sharp contrast to whatever I'm photographing. Plus nothing beats sitting and looking at something as amazing as the Eiffel Tower with the sun beating down your face and warming every part of you. Using that wonderful Metro system I get the Eiffel Tower in record time, though this time I decide to take the Metro to the east side of the Eiffel Tower which allows me to take a walk in the park in front of the monument.
I rush outside and am pleased to see the skies are still blue, so I begin snapping away taking shots of the Eiffel Tower from every angle possible, as though this could be my last chance to photograph it on a nice day. Once I get that out of the way I sit on a bench and take it all in. The bright green grass, some kids throwing a Frisbee that I try to follow but it gets lost in the backdrop of the Eiffel Tower. The sun beats down on my face and while it can't be more than 50 degrees or so out it still feels wonderful. I drift into a peaceful zone of half concinousness. I ride the wave until my ADD kicks back in and tell me its time to go. Since it's a nice day I decide to take advantage of the hour long boat ride down the Seine River that included in my Paris Pass. Of course part of my decision was the fact that the boat tour departs right in front of the Eiffel Tower by the bridge. The boat ride provided some excellent views of the city from the vantage point of the river.
The highlight for me was seeing Notre Dame from different perspectives as the boat went right by it. I was able to gain a much greater appreciation for it unique gothic design. I'm sure I annoyed my fair share of people as I kept running to different sides of the boat to get pictures. As the boat turned around and headed back in the direction it came I was able to convince myself I had plenty of pictures and that I need to just sit down and enjoy the ride. Like many tourists sometimes I get so caught up in taking pictures I forget to actually sit down and enjoy what I'm seeing. And so I sit and drift along with the boat and think of how fortunate I'm to be where I'm at this exact moment, sailing down the Seine River with the city of Paris on both sides of me and the prospect of three more days of being able to explore this jewel of a city. After I get off the boat, I'm tempted to look for a place to eat, but I'm determined to not waste a precious minute of this beautiful day as the forecast for all five days I'm to be in Paris called for cloudy days and rain, so I consider this day to be a gift.
I go directly to Notre Dame and decide to bypass the chapel for the time being and get in line to climb the bell tower, the motivation being the view from the top on a perfectly clear day. The line isn't too bad and within twenty minutes I'm climbing the stairs to the top. The views are even better than I imagined. The city is laid out before me and I can see clearly in front of me the quaint layout of the city. All of which is measured out and metered from Notre Dame, which is in effect the center of the city. The best part from a picture taking perspective is that I'm able to include the gargoyles in the pictures with the city as the background making for a grand picture. I took a gander at the bell within the tower and wasn't too impressed, just a big damn bell in my opinion. What it needed, I decided, was a big crack down the side of it, kind of like that one bell in Philly.
By the time I got down from the bell tower I was literally starving, it was time to go back to the Latin Quarter for a feast. The previous night when I had dinner with my friend we passed a street that was jam packed with little restaraunts offering set menus at reasonable prices. As I walked down looking at all the restaraunts I was amazed at all the options of different menus there were. There were Greek menus, Italian menus and of course French menus. I decided on a restaurant called Provencale that offered a set menu for 15 Euro. The main reason I chose it was because they offered the choice of escargo as an entrée, or as us Americans would say an appetizer. I knew quite well want Escargo was, snails, but I still wanted to try it, after it was a cultural thing. So I ordered the menu with Escargo, beef stew, and fruit for dessert. I was more than just a little confused when the waitress brought me a plate with six snails and what looked like a clamp and a very narrow thin knife. Rather then use my imagination I just asked her to show me how to eat the snails.
The waitress laughed and picked up the clamps, which were to hold the shell in place and the narrow knife was used to dig into the shell and pull out the boiled over snail, which fully cooked looked like mucus. I decided I was going to need a lot of salt to choke it down. The taste was something I can't really describe, its possible it tasted just like chicken but all I could think of was I was eating a damn snail….I kept thinking of that giant snail from the Never-ending Story for some reason as I ate. Fortunately the beef stew was wonderful and so the meal was salvaged. After dinner I walked along the river until I got back to Notre Dame which was lit up in the evening and looked almost white. For whatever the reason I can't keep my eyes of Notre Dame, its design simply catches my imagination and I have a feeling I will be making the Latin Quarter and Notre Dame a staple of my visit.
My last stop for the evening was the ultimate Paris night spot, Sacred Couer. Built on one of the few rolling hills in Paris, Sacred Couer overlooks the city of Paris and at night it gleams like an angel. I had read in the travel guides that Sacred Couer was a hangout for French locals and since it was Saturday night and I felt like partying I though I would check it out. I didn't know exactly where it was from the metro stop so once again I just followed the flow of people. When Sacred Couer came into view I almost had to cover my eyes it was so bright. Keeping with the Never-ending Story it stood out the way the Crystal Tower does in the movie and it was just at bright. It sits up on a hill and there is a funicular that will take you up, but as usual I preferred the stairs. I could hear live music and the chatter of happy people. In front of Sacred Couer there are four large sets of stairs and at the bottom a terrace from which I had a panoramic view of the city.
The crowd was definitely young and they were all sitting on the steps, drinking and listening to a live band that was playing covers from U2, Pearl Jam, and other popular bands. The atmosphere was electric as it was laidback. I sat on the steps with the rest of the crowd and took in the bright lights of the city and even sang along with everyone else on the more popular songs the band played. Although I'm not a drinker I was drunk on the cool vibe that was sweeping through the crowd of people, just another night in the city of lights. By the time I got back to my hostel it a little past nine. I was hoping to get back earlier so I could shower before whatever new roommates I had showed up. Unfortunately when I got to the room I found I had two brand new roommates who by the looks of things had been there quite awhile already.
They were both under the cover reading books. One on the top bunk and the other on the lower bunk, so the good news was I had the middle bunk but the bad news was I wasn't sure how the shower situation was going to work. I didn't want to shower in the morning after they left because chances were I was going to leave before they did. So I could skip a shower but I was rather sweaty from a day of running around and contrary to a popular believe that most hardcore travelers stink because they don't shower much I happened to prefer not to stink so the shower was important to me. By the way I found that it's true a lot of people staying at hostels don't shower and a lot them really do stink. Despite staying in full hostels most of my trip I never once had to wait to take a shower it was always free.
So the clean freak in me decided that I was going to just gut it out and take a shower which meant stripping naked in front of my roommates, one of which is male and the other female, showering and then having to get out naked and dress in front of them as well. I decide to give them a heads up and tell them I'm going to take a shower. They both nod but they don't turn towards the wall like I expect them to, which I find strange. I'm not sure that they understand I mean now and so I take off my shirt and unbuckle my belt thinking that should let them know that I'm planning on showering at that very moment but the girl on the lower bunk keeps her face towards be though looking at her book and the guy in the top bunk still has his head pointed in my general direction. Even though they are both reading books a simple flicker of their eyes and they could be watching me which makes me feel uncomfortable.
But then another thought comes to me and, why do I even care if they look or not? As long as I don't look at them I won't know one way or the other and I will never see them again anyway so what do I really care? I don't and so with that thought I strip down naked and take a shower. Since I never look their way I don't know if they were looking and I found I really wasn't uncomfortable or embarrassed. Funny how living in close quarters with perfect strangers for almost a month can cure one of being bashful. I slip into bed and fall asleep quickly as this night I don't have to worry about anymore roommates barging in. The last thought I have before I drift off is that neither of them have even verbally acknowledged me. Talk about seasoned travelers, not only are they able to ignore my presence in a room made for Smurfs, they were even able to block out some stranger stripping down in front of them while they read. Now that's a hardcore traveler, their body odor confirms it.
3/2/2008
I sleep well considering I sleeping in a sardine can for a room. But it's my second night so the shock has worn off and fatigue takes over. After if I can sleep in a hard airport chair for five hours then a sardine can with blankets is a peace of cake. I have plenty of motivation today. Today I get to pretend I'm going house shopping and the biggest damn home of all is having an open house and everyone invited. I'm going to see the Chateau Versailles, formally owned and operated by the French monarchy under Louis the 14 and his offspring the 15th. With sprawling hallways and seemingly infinite rooms with wall to wall paintings with gold frames and a yard that goes for acres on end. Walking up to the entrance I'm a bit put off by how big the place really is, I wanted space to put my stuff but this place is so big I'm going to need a golf cart to navigate the halls.
They are way ahead of me with the golf carts but they are for outdoor use only. Apparently a lot of people are interested in this chateau as well and I'm forced to view the different rooms shoulder to shoulder with other prospective buyers. I see groups of Japanese people snapping photos; this strikes fear into my heart as there is no way I can compete with the Japanese. But I figure since I'm here I look around. I'm personally impressed with the throne room which is a long hallway with mirrors and about two dozen chandeliers with a giant golden thrown at the very end being serenaded by sculptures of topless woman. Definitely a plus, having a throne room and all. None of the homes I've looked at back home have a throne room. One of the rooms has several original paintings of Marie Antoinette. I'm a little disappointed I was expecting more of the Kristen Dunst look from the recent movie instead I'm treated to an old hag with a wig. If I get this place those paintings will be the first to go.
I decide to go take a look at the yard…what a yard! It stretches as far as I can see and has its own lake, which again is a plus; I've always wanted my own lake. But after taking in all the gardens and the endless green lawn I realize that paying the neighborhood kid 20 bucks to mow my lawn isn't going cut it. So after calculating everything in my head it's the additional expense of having to hire a fulltime guy just to mow my lawn that proves to be the determining factor in my decision not to buy the place. Too bad…I could have my own lake and a throne room in which to entertain my guests. Oh well looks like the japan.ese will probably get it…why not, they own just about everything else. I decide to visit the one place the Japanese will never own, the Pantheon. This architectural marvel looms majestically over the neighborhood and also is home to the graves of the some of the French greatest and brightest.
The façade of the French pantheon is much like Rome's Pantheon but the comparisons end there as the inside of the French pantheon is so large it seems to have its own atmosphere. The most impressive aspect of the place is the pendulum that hangs from the top of the dome all the way down to within a few feet of the floor. This was part of an experiment that proved that the earth rotated on its axis. The pendulum is surrounded by a circle that has the hours of the day from 0 to 24 with quarter hash marks between each numbers. The pendulum actually keeps time as the pantheon is actually moving around the pendulum. I could watch it for hours, no pun intended but I really want to see the crypt. While there are many French dignitaries buried there it's the graves of Victor Hugo and Alexander Dumas that interest me the most. They are buried together, two of the greatest writers of their time. I'm in awe. Last on my list is the final resting place of the Curies, their graves radiate…yes the pun was intended this time.
After I reluctantly leave the Pantheon I head down the street directly in front of it toward the Chateau Luxemburg and its wonderful park. It looks a lot like Versailles on a much smaller scale, similar build and layout and the backyard is huge though not gigantic like Versailles. The Luxemburg also has a mini lake and for a couple of euros children are able to rent mini sailboats. On a windy day like today they whiz around the like they had motors. It's a beautiful park right smack dab in the middle of the city and I wish I were seeing on a warm spring day. Instead it's overcast and lightly raining, but that's what I get for paying less to travel in the off season. 3 head over towards Notre Dame into the Latin Quarter where I go searching for another magnificent meal down my favorite pedestrian corridor. This time I hit the jackpot. I find a ten euro menu that gets my mussels in white wine, pepper steak and fries and for dessert a chocolate crepe. The mussels are the real treat as they come in a fairly big bowl with a slice of lemon.
They are much easier to eat then the escargot and much tastier. The crepe is a perfect end to the meal, finally a dessert that isn't cream based! On a full stomach I head over to the Arc of Triumph. I've timed it well getting there just at dusk so I can get pictures in the daylight and then later at night as well. I'm pleased to find out there is a coin machine at this monument, so my collection continues to grow. Viva la cheapo souvenirs! As compared to all the stairs I've climbed during my Europe trek the arc of triumph is a breeze. I get to the top and stake out a place looking right at the Eiffel tower. The sun is just about ready to set and I'm dug in for the long haul. Dusk is the best time because I'm able the Eiffel tower in three different phases. Sunset, nightfall, and then starting at seven the tower sparkles for ten minutes.
It's captivating watching the colors of the day swirl around as a backdrop for the Eiffel tower. Natures beauty intermingling with manmade beauty, it is indeed art in motion. All around me the lights of the city begin to flicker on and then just as the light is sucked away into the west the Eiffel tower begins to slowly light up to a collective awe from the audience on the arc of triumph. By the time nightfall hits the Eiffel tower is fully aglow and now the wait for the sparkling effects begins. In the mean time my eyes are busy taking in the city below me. The streets leading to the arc are wide and busy and they all flow into a circular pattern around the arc. There are no stoplights and I watch from above in wonder as the drivers daringly swoop into the turnabout without fear and without any accidents. The NASCAR fan in me wanted to see a nasty ol' wreck but these Parisians know how to drive.
I'm so entranced by the activity below me that when seven hits and the tower begins to sparkle it takes me by surprise and I'm immediately entranced. It's one thing to view from Sacred Couer through some trees far off in the distance, but as close as I am now is even more spectacular. It's as though thousands upon thousands of fireflies have descended onto the tower and are buzzing around it at an intense speed. Its goes from looking like a huge candle towering over the city to a huge roman candle towering over the city. For ten min the show goes on and then abruptly it stops as quickly as it started. The clock is ticking again. I'm racing against time to race across the city to the Eiffel tower so I can view up close and personal as it sparkles. I race down the arc and then invest about 15 min taking pictures of the arc at night and then I'm off into the underground to catch the metro. I get off at the Tropecdero stop which spills me out to the same place I first saw the Eiffel tower a few days ago.
Again the oversized terrace is perfect for viewing and taking pictures. I want the perfect picture with me and the Eiffel Tower at night. It's the romantic in me that believes everything is more beautiful at night. During the day beauty is dependent on the weather. But at night everything always looks the same you can count on that beauty every night. The terrace is crowded of course but I manage to procure a spot in the front. I enjoy the view and then its show time again. Same sparkles, just a lot closer and even more seductive to the eye. A man standing next to me who speaks with a heavy Indian accent asks me to take a picture of him. I quickly agree as I will have him return the favor. I get a great shot of him with the tower in the center and him just to the left. He is pleased and comments on how happy he is that the tower is perfectly in the middle. I ask him to take the same picture for me.
Time is of the essence so I hurry into place. I start to worry a bit when the guy doesn't stay in the same place where I was when I took his picture. He starts to back up and then move a little to the right; I notice the lense of the camera starting to point up instead of at me. A long minute goes by and he still hasn't taken the picture. People are starting to crowd around me and I'm about to lose the perfect picture. Finally the flash goes off and he brings the camera over to me. "I think I got it good" he says proudly. I look at the picture and I start to wonder if he was seeing the same thing I was when I took his picture. I'm in the center of the picture and the Eiffel tower looks like its coming out of the top of my head. I explain to the guy the best I can that I want the same picture I took of him with the tower in the center and me just to the side. He nods as if he understands and we try again.
Again my confidence wavers as I see him do the same little shuffle back and to the side. He takes the picture and again the result is far from what I wanted. This time the tower is more to the center but the top half is cut off and I'm only partially to the side. I'm getting frustrated. I realize that he is doing me a favor and you don't look a gift horse in the mouth, but then again he is actually returning the favor as I took his picture first so I'm not thinking it's asking too much to have him take the same shot that I took of him. I'm failing to understand how is failing to grasp the concept of having the Eiffel Tower in the center and me to the side. He looks at the picture and smiles and says "Just like mine" He honestly thinks he has taken the same picture of me that I took of him.
Time is running extremely short and so I tell him to stand in place and point the camera like so. I help him to frame it so I can tell where I need to sit and then I tell him all he has to do is take the picture exactly as it is now when I sit down on the ledge. Again he nods and says in slightly broken English, "No Problem" I quickly run to the ledge and sit down and smile. I'm expecting to see the flash go off but for some reason he is still just standing there, as though confused about the instructions of simply pushing a button when I sit down. A group of tourist start moving my way, I start to get agitated as they get closer and Mr. Numb fingers is still trying to figure out how to press down on the button his finger is already on. The group is upon me and the flash goes off, literally a second later the Eiffel Tower stops sparkling.
With a heavy heart I accept my camera back from the worst photographer of this generation and the next two to follow and take a look. The Eiffel tower is fully in the center and my tightly smiling face is to the left! Only one problem, on the right is the arms and legs of some dude from that group that is now fully around me chattering away excitedly in French. I grit my teeth and thank the man I feel like punching in the face, so much for the perfect picture. I guess I will just have to be satisfied with knowing that while I may not have the perfect picture of me with the tower I can at least go to my grave knowing that the world worst photographer has a perfect shot of himself with the lady Eiffel and it was I that took it.
I wait for a few minutes and then ask a guy who I can tell is from the US to take my picture and in five quick seconds he snaps a picture of me alone with the Eiffel tower. Its not sparkling but it will have to do. As I leave the terrace and walk down towards the tower I'm still pretty frustrated but the closer I get to the candle scent Eiffel tower the more my frustration is swept away and replaced with feelings of wonder at the iron masterpiece in front of me. I go directly under it and stare up into the middle of it. I feel like I'm the fighter pilot from the movie Independence Day who fires the missile into the massive alien spaceship. It's really that large and overwhelming. My entire field of vision is the glowing ironworks of the first level of the Eiffel tower. I walk way from the tower into park on the other side and walk until I'm able to view the tower from an angle that shows off its perfect contours.
It starts to rain very softly, the raindrops falling as a light mist, I lose track of time as there is no one around me and everything is silent. I'm just about to leave when all of a sudden the tower starts sparkling again. With the tower looming over me and the light cool mist falling around me I suddenly have a perfect understanding of why they say Paris is the most romantic city in the world. At a moment like this even a hardhearted blowhard like me is swept away in its afterglow. I may not have the perfect picture but I have perfect ending to my day instead.
3/3/2008
I wake up a full ten minutes before my alarm. I never do that, it's why I have an alarm in the first place; my body is inherently lazy and will sleep all day if given the opportunity. I felt like I was forgetting something. As I got ready to leave I did thorough inventory of my pockets. Camera, check. Ipod, check. Wallet, Paris Pass, check, check. Yet I couldn't shake the feeling I was still forgetting something, I did one last inventory check. Pants, check. Clearly I was good to go, so I shook off that strange feeling and out the door I went. I headed in the opposite direction towards a different metro station as today was a museum day and the Louvre and Orsay were on the 7 line.
On my way I stopped at a corner bakery, even though I was in a hurry the smell of chocolate and bread was just too much to pass up. I ordered a Pane au Chocolate, which is chocolate, baked with a croissant, pure heaven. My timing was perfect as the ones I purchased were fresh out of the oven and they literally melted in my mouth, heck they practically melted on my tongue it was so soft and fresh. There is nothing like the taste of chocolate to get your day off to a good start. However my mood completely changed the moment I put my metro pass into the machine and instead of being able to push through the gate I bumped my head against because the gate didn't open. I tried it several more times and it still didn't work. I had a four day metro pass and it was defective. I went to the ticket booth and got in line and wondered exactly how I was going to explain this to an attendant who probably didn't speak English and I begin to fume as I thought of all the time I was now wasting.
Normally I'm not that angry of a person but when I'm on vacation, time is not money, time is priceless. As I suspected the attendant did not speak English and so I did my best to pantomime the issue and the attendant issued me another metro pass. So after only a 15 minute delay I was back on my way, I calmed down quickly and my good mood resumed, I figured my feeling of forgetting something was actually a premonition that I was going to have trouble with my metro pass. So with that out of my way I was ready to simply enjoy me day.
Because I had a Paris Pass I was able to bypass the long line of people waiting to buy tickets to get into the Louvre, as I passed them I couldn't help but grin at them and think to myself, "Suckers", while they are spending 45 minutes in line I'm going to be making eyes with that good looking Mona Lisa chick. I'm not much of an art lover, in fact I actually was pretty satisfied at just seeing the famous glass pyramid, made famous to me anyway from the Da Vinci Code movie where the police chief calls the pyramid "a scar on Paris". After seeing it for myself I disagree. Since I have a free admittance to the museum I figure I should at least go in and pay homage to the famous Mona Lisa, after all I can't very well call all those people in line suckers and then not go into the most famous art museum in the world.
At the entrance I'm given a map of the museum that had people like me who don't appreciate art in mind. The map had the highlights of famous art pieces. I was pleased that I actually recognized some of the pieces besides Mona Lisa. I'm well aware of the famous Venus de Milo sculpture, not in terms of its history but that on a episode of the Simpson's, Homer picks a Venus de Milo gummy of the rear end of the baby sitter he's driving home and gets himself in trouble. I can't believe I'm actually going to see the sculpture version of the Venus de Milo! The other piece I recognize…well actually the other piece I recognize is the Mona Lisa, I feel like such a caveman. One thing I'm impressed with is simply the size of the Louvre, endless halls with every inch filled with interesting things to look at. And even though I don't understand what I'm looking at I find that I truly am enjoying my stroll through the museum and stopping every once in a while when a painting or sculpture catches my eye.
The Venus de Milo turns out to be a lot bigger then the gummy version I saw on the Simpsons. There is quite a crowd of people around the statue and when it finally clears I can begin to see why it's so famous. Even to my untrained eye I'm quite impressed with all the natural looking curves in the statue, plus I'm intrigued by how it was found with the missing arms and the fact there is no explanation for that. I though they got broken off during shipping, figured the US postal service had a hand in it. The big surprise for me is the Mona Lisa, I knew it was smaller than most people expect, the surprise for me simply was how plain it was.
Every picture I have seen of the Mona Lisa is a close-up. In the museum they have it hanging on the wall by itself and it's roped off so I was a good 15 feet away from it. Plus it was encased in glass so there were glares and flashes of light from all the pictures that were being taken. I was not impressed. But then again when it comes to art, I'm a complete hack. I decide that I might as well join in and take a picture of the Mona Lisa. I pull out my camera for the first time today and when I turn it on I'm greeted by the one thing I did want to see on my cameras viewfinder. A flashing battery indicating that it was about to die. So that's what I forgot, to change out the battery.
I remember the previous day I had noticed it was down to one bar and I made a mental reminder to change it out when I got back to my room. I made an unforgivable travel mistake, not making sure to have the camera fully charged. After all I only had today to take these pictures, after all I don't know for sure if I will ever come back. I figure I have enough battery for a few more shots and I think that maybe it will be enough, as I was planning on the going to the Orsay and the Concord after the Louvre and I didn't think I would take to many pictures. But I forget myself, I'm half-Asian, it's in my genetic makeup to take endless pictures. I'm completely ticked off at myself, it's the worst kind of feeling when you make a mistake and the only person you can blame is yourself.
I decide I have not choice but to go back to the hostel and get another battery; all in all it will cost me about 45 minutes, exactly how long the people in line outside the Louvre had to wait to get in. I guess the only real sucker is me. The one bright side of all this is that I pass by the bakery again and treat myself to more Pane au Chocolate. With a stomach full of chocolate I head towards the Orsay Museum and am pleased to find that there aren't any lines at all, and then I figure out why, it's closed on Tuesdays. So I'm forced to completely re-plan my day. This turns out to be a blessing in disguise as the sun has forced its way through the morning cloud cover and blue skies are visible, so it's actually a better day to spend outside than in a museum.
I decide to stick with my plan to visit the Concord which is just across the river from the Orsay and then visit the Madeleine which is just down the street from the Concord. The guide book on Paris doesn't have a lot to say about the Concord other than it's an obelisk that was a gift from the Egyptians and had a golden tip. What the guide doesn't say is how beautiful the location is. The Concord sits in a roundabout plaza just across the river and from the Concord the Eiffel Tower is within view. The Champs Ely see runs directly from the Concord down to the Arc de Triumph, which is also visible and the Madeleine with its massive Greek façade is within view as well. I have to go through three different cross walks to get around all the roads that circle the Concorde but it is well worth. I have a terrific time lining up pictures of the obelisk with the Eiffel Tower and Madliene in the background.
As I head down the street to the Madeleine I find I'm actually quite excited to see it, from what I read about it, the church is built much like the Greek Parntheon which has always fascinated me with the sheer size and number of columns. The Madeleine does not disappoint. The best part is when I go into the church it has one of those souvenir medallion coins. Sweet! That brings my total up to five coins! I really am a nerd. As with all the churches I have visited I sit down on one of the pews and just relax and take in the magnificent interior. All the churches I have visited feel the same, dimly lit with candles, very quiet, and generate a peaceful feeling. Whether you're the religious type or not these churches really do have a certain peaceful spirit to them.
Next on my list is the controversial Montparnasse building. Apparently it ruffled a lot of Parisian feathers who felt that the towering black skyscraper was another "scar on Paris". Up to this point of my visit to Paris I agreed with that assertion. When I'm taking in the skyline of Paris with views of Notre Dame, the Eiffel Tower, and then suddenly a big, black sky scraper, its kind of like Sesames Street's "One of these things is not like the other". But the Montaparrse does claim to have the best views of Paris and I elevator that will take you to the top in 28 seconds and being that it's now a clear day with blue skies it seems like a good place to visit. The viewing deck of the Montparnasse turns out to be a real gem.
It's completely flat on the roof and so I'm able to walk around in any direction to take in the views of Paris. I quickly find that the best part of all is that from the Montparnasse I'm able to see every famous landmark of Paris. Without the Montparnasse when you're viewing the skyline of Paris you're viewing it from one of the famous landmarks so you're missing out on viewing what you're standing on. The Montparnasse allows me to see everything I want in one sweeping view. I find it to be a great addition to Paris and apparently many people agree with me because even in the offseason the place is crowded. It about four in the afternoon when I leave the Montparnasse and head over to the Latin Quarter to have dinner before I have to be at the Opera Garnier for my first opera performance.
Dinner is at a different restaurant that offers a similar set menu and I go with the mussels again in white wine sauce, I think I'm becoming addicted to the white wine sauce, and have the pepper steak as the main course. Again the food is superb. On my way over to the opera house I feel a little bit worried about my dress as I didn't plan on attending a opera so I just have jeans and a fairly nice ¼ zip sweatshirt. In turns out I have every right to be worried. Everyone I see at the opera house is dressed to the nines. I decide to slip into the shadows and observe rather than mingle with the elite of Paris. I wander over to the refreshment stand and am shocked to find that they charge 5 euro for a can of Coke, which actually a bargain is considering a glass of wine starts at about 20 euro, up to 50 euro. I pass on the refreshments and go to my seat. It turns out that my limited view, 10 euro seat actually has a more than decent view of the stage, I'm able to see ¾'s of the stage and even though I'm in the nosebleed section, I'm still fairly close to the stage.
I'm happy however just to set down and think to myself that here I'm, some slob from Salt Lake City is attending a performance at the world famous Opera Garnier, no matter how bad the opera may end up being I'm just happy to have this experience. I'm in for several big surprises when the performance starts, the first is a minor shock, the second a huge shock. When the singing starts I notice that there is a screen above the stage that has French subtitles, so I figure the language I'm hearing is probably Italian, but as I listen more closely I find that its actually in English, what luck, though I can barely make out what they are saying and I catch myself looking at the French subtitles for translation, which doesn't make sense being that I don't speak or read French.
The second shock, the big one, comes about twenty minutes into the opera. I'm able to figure out that The Rake's Progress is about this guy Tom Rakewell who ends up selling his soul to Mr. Shadow and get dragged off into a sort of hell. What I was unprepared for was during the first hell sequence a swarm of woman in black lingerie and bare chested men come out on the stage and start grinding against each other. At first its not that intense but the action begins to speed up to the point where the grinding turns into simulated sex and the girls tops come off and I start seeing an actually onstage orgy of flesh. So this is modern opera! Had I known there was going to be hardcore nudity and simulated sex I would have gladly shelled out 160 euro for a front row seat. However even with the soft porn on stage I'm starting to get a little restless and begin to wonder when intermission is.
At one point they bring out some sort of circus freak who stands on his head and also juggles balls and Frisbee's. Its like a peep show and circus in one, if only there weren't that incessant singing it would be perfect. Roughly after an hour and a half they finally break for intermission. I decide I can't take another hour and a half and so I decide to leave. I realize I have learned an important truth about opera. Even with all the nudity, sex, and some circus freak, opera is still unbearable boring. But I will say this it was worth the 10 euros for the nudity alone…wink!
3/4/2008
I begin the morning with a heavy heart, today marks the last day in Paris, the last day of my trip of a lifetime. It also means that when I get on the plane tonight to start a long arduous journey home that will include three plane changes, a total of 16hrs of flight time and 15 hours of layovers. But I try not to think of that just yet, after I do have a full day of Paris in front of me. I spend about 20 minutes packing and by packing I mean I'm just shoving everything to the bottom of my backpack to make everything fit. Even though I tried not to buy too many souvenirs the draw of buying things I can't buy anywhere else in the world was just to hard to resist.
However I'm able to cram everything into my oversized backpack, though it's literally bursting at the seams and it's all I can do when I put it on my back to take it downstairs to the lobby, to not fall over backwards. The good souls who run the Peace and Love Hostel are kind enough to allow me to leave my luggage with them so I can roam Paris with my beast of a backpack. The first place on my list to visit is the Orsay Museum that was closed the previous day. The beauty of the Orsay museum is not so much the paintings and sculptures within but the building itself. A converted train station, the Orsay is a work of art in itself. With its high oval ceilings and the giant clock on one end of the museum, I actually am far more impressed with the layout of the Orsay than the Louvre.
As I look at the map of the museum that, much like the map of the Louvre offers up the highlights of the museum. I'm pleased to find that there is a Van Gogh and Monet exhibit, names that I recognize. On my way towards those exhibits I run into a painting that I know very well, Whistler's mother. This is a painting that I have seen in books and magazines and I have always appreciated the plainness off the painting, and of course I'm fascinated by how unattractive and strict Whistler's mother looks, makes me wonder what Whistler looked like. The painting is much bigger than I expected to it, quite a contrast to the Mona Lisa which was much smaller than I expected. However unlike the Mona Lisa, I'm able to walk right up to the painting and view without ropes and glass getting in the way. I'm even able to get someone to take my picture with the old hag.
The next room over houses the Monet paintings, all I really know about Monet is the phrase, "Well it's not exactly a Monet…", and after seeing some of his work up close I have a better understanding of what that phrase means. This is past due, considering I have been using the phrase for years as if I knew what I was talking about. I was most excited about Van Gogh, I knew that "Starry Night", my all time favorite painting, was on display in a museum in Chicago so I wouldn't be see it, but even so I was excited to see his other paintings. To be honest the real reason I like Van Gogh so much is because of the fact he wasn't appreciated in his own time and yet he kept on doing what he did best, that and he cut his own ear off, which gives the phrase "lend me your ear" a whole new meaning.
I'm in for a bit of surprise when I come upon the Van Gogh exhibit, the famous painting of him with the jagged turquoise blue background is on display. I can remember sitting my 10th grade art class and listening to my teacher talk about Van Gogh and explaining why she though he cut his ear off and staring at this exact painting in my art book. I was fascinated by the insane look in his eyes; I could fully believe that this man cut off his own ear based on his own self portrait. I decide to have my picture taken with this painting as well and I try to mimic his insane look, but I come across looking constipated rather than insane.
Blessing in disguise I suppose. Next on my list is to take the 1 metro to the end of its line, La Defense, home of the Grand Arch. My first view of the Grand Arch was from the top of the Arc of Triumph and it seemed to be in direct line with the Grand Arch. Its silver square modern build is quite a contrast to the intricate old school design of the Arc de Triumph. As I leave the metro station and climb the stairs to the plaza in front of the Grand Arch I feel like I have stepped into an entirely different city, and I have. There is Paris and then there is the modern Paris, and the modern Paris is a sight to behold. It has more of a sterile, functional look as compared to the romantic nature of Paris. But the contrast is perfect. The plaza is extremely large, at least the size of a football field with the Grand Arch front and center with skyscrapers rising out from both sides of the plaza.
I walk up the stairs and look out into the plaza at all the skyscrapers on the side and of course straight ahead of me in the distance is the Arc of Triumph, perfectly lined up. I'm looking forward to taking the elevator to the top of the Grand Arch and exploring but I'm informed rather rudely that they are closed. I want to object, my ticket from the Paris Pass indicates its open on weekdays, but decide not to, after all what are they going to do, make an exception for me. In any case it gives me something new to do when I come to visit Paris, which I will be doing, the city has taken me. I swallow my disappointment and jump back on the metro and 15 minutes later I'm back at the Arc of Triumph.
Although it's a cloudy day, there are some breaks I the clouds and I'm hoping to be able to get some pictures of the Arc of Triumph with blue skies in the background. I know it sounds crazy and anal retentive to want to have the perfect pictures, but in my opinion it gives me reasons to spend more time at these amazing places and appreciate its beauty as opposed to just seeing it , snapping a random pictures and then moving on down the list recommended my Frommer's. I have to wait patiently for about thirty minutes for some clear skies to appear over the Arc of Triumph and I get my pictures. After that I take a stroll down the Champs Elysees and enjoy window shopping at such places like Cartier and Mont Blanc. I say window shopping because I'm afraid to go in as though a siren well go off indicating that I can't afford anything in any of those stores.
Either that or I'm afraid I'll buy some stuff anyway. It's nearing four o clock and I desperately want to eat one more last time in the Latin Quarter before I leave. I get to the Latin Quarter with plenty of time to spare and enjoy one last tango…err…meal in Paris. Since I have 30 minutes before I have to catch the train back to the airport after I eat, I spend the last lingering minutes of my time in Paris sitting in the chapel of Notre Dame and taking in the timeless beauty of the world's most famous cathedral. I try not to think about the fact that my trip is about to end, rather I focus on where I'm at and how wonderful it to be able to sit take in such a wonderful place.
The stained glass seems brighter than usual and the vaulted ceiling seems higher. I try to soak in as much as I can as the clock ticks. When I hear the bell in the clock tower I know its time to go. This is the umpteenth time I have heard the bell of Notre Dame during my time in Paris, but this time the sound of the bell brings a mixed emotion of both sadness and joy. Sadness at having to leave, and joy at having been able to experience Notre Dame and Paris, joy at having spent enough time in the city to feel like it was a part of me, joy of knowing the beauty of the things I have seen in both Paris and the rest of the cities I have experienced will stay with me as long as I choose to remember them, and finally the joy of knowing that I will come back someday.
Paris is not a city to be seen once and then checked off the list; rather Paris is a city to experience over and over again. The bell stops ringing and I leave Notre Dame, unlike the other times I have walked away from Notre Dame during my visit I don't look back, my trip is over, no regrets. Now its time to start thinking about the 30 odd hours of traveling and layovers I have ahead of me. Travel can be a curse at times.
3/5/2008
As the my plane lifts off into the night sky from JFK after 30 minutes on the runway I can finally breathe a sigh of relief that has been building up for the last 24 days. My grand adventure is over, although everything didn't go as planned it all worked out. I didn't miss any flights or trains, despite some close calls, I didn't get robbed or lose any money. I didn't realize how much tension I had until just now when I felt my entire body fully relax. Not that the tension I was bad, but it was simply part of taking an extended trip like this, there are lots of things that have to go right for everything to work out.
I'm not as tired as I thought considering the what I have gone through the last 24 hours which included the two hour flight from Paris back to Rome, and then a long 10 hour layover that I spent sleeping curled up in a stiff, unforgiving chair. I actually was okay with spending another night in the airport as it saved me a night's stay at the hostel and 20 Euros it would cost me roundtrip on the train from the airport to Rome and back. The 9 hour flight from Rome to New York went by quickly in part due to the four does of Tylenol PM I took which combined with my fatigue completely knocked me out for the entire flight.
But now on the final leg of my journey home I'm wide awake and in a peaceful, reflective mood. I find that I'm actually eager to come home. I had a wonderful time in Europe but I'm exhausted and I'm looking forward to going home and getting back into my comfort zone. For the last 24 days I have been completely removed from my normal routine and been forced to adapt and try new things. I slept in rooms full of strangers and even got to the point where I didn't even care if I had to strip down I front people I didn't know. In other words my inhibitions have completely been thrown to the wind during this adventure.
The restless, adventurous side of me has finally eaten it's fill over the course of this trip, I have seen and done so much that my mind is completely overloaded with images and experiences. It will be months before I can sort out everything in my mind. In other words while my trip has physically ended, I will be reliving it over and over in my mind for years to come. It's the sign of a good trip that I'm looking forward to being home again, it means that I did everything that I set out to do and I don't feel like I'm leaving anything behind. For 24 days I lived, breathed and ate every city I was in, I allowed myself to become completely immersed in the different cultures. Only once or twice did I even think about anything related to home, which is part of the reason I feel like I have been on the road for far longer than I have. But now I'm ready to return to my normal life and in a few weeks after I have aclimated myself back into life I'm sure I will find myself longing for the wonderful places I have seen and I will be raring to go exploring again. I'm about to enter the third and final phase of my trip.
The first phase was the months of planning and all the anticipation that came with it. The second phase was actually going on the trip and all the experiences that came with it. The final phase of my trip is actually what I look forward to the most. It's the phase I which I get to relive my adventures over and over in my mind for the rest of my life. The next time I'm sitting at work on a rainy day, I can escape in my mind back to that wonderful beach in Positano where I sat on a piece of driftwood, infatuated by her beauty. Or perhaps I will go back and relive hiking along the footpaths in Cinque Terre, with the smell of oranges and olives and the cool oceans breeze rustling through my hair. Or maybe the next time I'm on agonizing first date with another mindless Barbie doll type of girl I will escape to my night out in Nice with that beautiful Swedish girl I met. It's these sorts of memories that will last me a lifetime and will serve as daily reminders of why life is worth living. There is always something out there in the world that will amaze and inspire me.
But for now I don't have those thoughts in my head because they are still fresh, instead as I slowly begin to drift off into sleep I start to think about where I want to visit next. I feel a bit like my childhood hero Indiana Jones. For as long as I can remember I have always been a big Indiana Jones fan, I have long envied the fact he travels the world in search of ancient treasures and along the way has such great adventures. As a child watching those films I dreamed of becoming like Indiana Jones, and now as a adult, and fresh off an adventure of my own I feel more like Indiana Jones then ever before. Back at home I have the Indiana Jones fedora, the leather jacket, and even a replica whip, but those are not the reasons that I feel like Dr. Jones. Rather I have followed in his path of traveling the world to seek out its ancient treasures.
Although I haven't had to dodge bullets and witness satanic rituals like my hero, my adventures have all ended with the treasure I was seeking. My treasure is seeing the world through my own eyes and experiencing the wonders of the world in my own way and on my own clock. True treasure is being able to walk through the Roman Coliseum or climb inside the dome of St. Peter's and then be able to hold on to those memories for the rest of my life. No matter how hard things may get back home, I only have to close my eyes and conjure up the memories of walking along the stony beaches of Nice, or strolling among the ancient ruins of Pompeii and I'm at peace. Those memories and experiences are my treasure, and much like any treasure seeker I have an insatiable desire to have more. Enough is never enough! Much like Indiana Jones, my adventure is never over, it's always just beginning.